All the flavors and textures are here to brighten up even the dreariest day. These tangy lemon bars have a burst of lemon flavor in both the buttery crust and the creamy custard filling.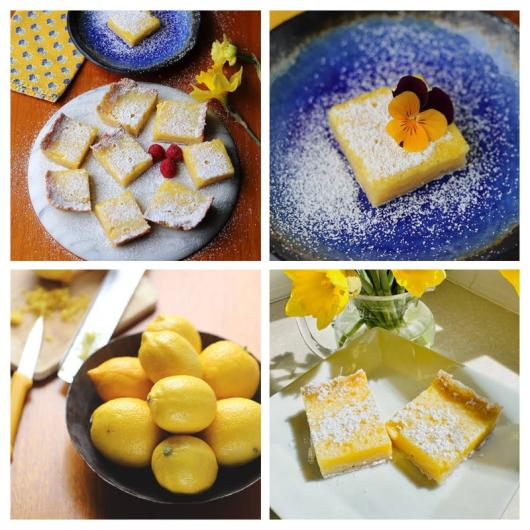 While these don't take long to make, you'll need a few hours to chill them, so don't wait when you get the urge! A batch will then keep, refrigerated, for up to two days. They can be frozen, too. For all the baking tips and substitution/addition ideas, read Baking Together #33: Tangy Lemon Bars for the Cure.
Makes 10 to 12 servings.
For the crust
8 tablespoons (4 ounces) unsalted butter, room temperature
1/3 cup (2 3/8 ounces) granulated sugar
2 teaspoons finely grated lemon zest
1/2 teaspoon poppy seeds
1/2 teaspoon table salt
1 cup (4 1/2 ounces) all-purpose flour
For the filling
3/4 cup (5 1/4 ounces) granulated sugar
1 tablespoon all-purpose flour
Pinch of table salt
2/3 cup (5 3/8 ounces) fresh lemon juice
2 tablespoons heavy cream (half and half or light cream)
3 large eggs
For serving
Confectioners' sugar
Berries (raspberries or sliced strawberries,optional)
Make the crust
1. Position a rack in the center of the oven and heat the oven to 350°F. Line the bottom and sides of an 8-inch square pan with foil and lightly grease.
2. Put the butter, sugar, lemon zest, poppy seeds and salt in the bowl of a stand mixer fitted with the paddle attachment (or in a large bowl using an electric handheld mixer fitted with wire beaters). Beat on medium speed until smooth and creamy, about two minutes. Add the flour and mix on low speed until the dough forms moist clumps. Scatter the dough into the prepared pan. Using lightly floured fingertips, press the dough into the pan and about one inch up the sides.
3. Bake until the top looks dry and the edges are light brown, 19 to 21 minutes. Move the pan to a rack. Reduce heat to 325°F.
Make the filling and bake
1. While the crust is baking, whisk the sugar, flour and salt together in a medium bowl. Add the lemon juice and heavy cream and whisk until blended.
2. Add the eggs, one at a time, and whisk until well blended before adding the next egg.
3. When the crust is baked, move the pan to a rack (see note) and give the filling a final whisking. Pour the filling into the baked crust. Bake until the filling jiggles slightly in the center when the pan is nudged, 16 to 18 minutes. Cool the pan on a wire rack until it reaches room temperature. Cover and refrigerate until well chilled, about three hours or up to two days before cutting into small squares. Just before serving, cover with a dusting of confectioners' sugar. (Add berries if you like).