When peaches are in season, there is no better destination than this crowd-pleasing cobbler. It's also delicious made with plums or a combination of stone fruits. The easy-to-make cobbler biscuits get a lift from orange and crystallized ginger. (Note that you will need about 2 large navel oranges in total to zest for the biscuits and filling.) The biscuit dough can be made ahead, and the stone fruit does not need to be peeled, making this recipe extra user-friendly. Be sure to read all of the tips and substitution ideas in Baking Together #26: A Crowd-Pleasing Peach Cobbler before you start making this recipe. Serve with vanilla ice cream (homemade No-Churn Vanilla Malted Ice Cream if you like!) while still warm.

Serves 8 to 10.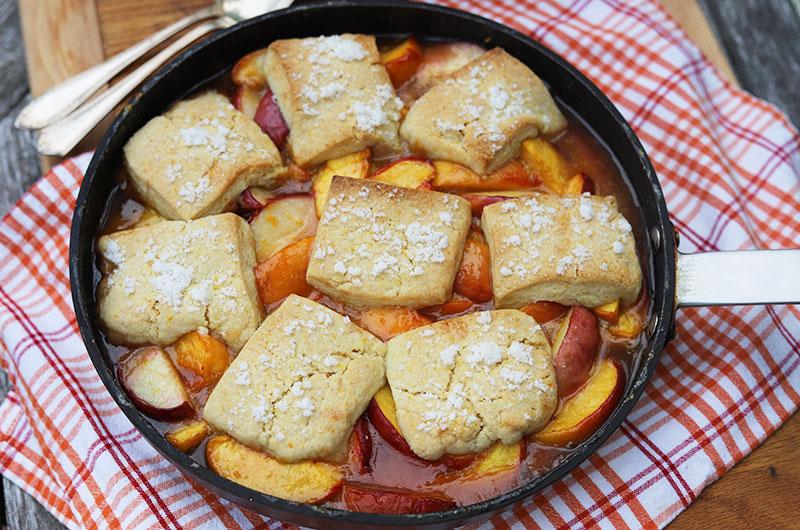 For the biscuits
1 1/2 cups (6 3/4 ounces) all-purpose flour
1/3 cup (2 3/8 ounces) granulated sugar
1 3/4 teaspoons baking powder
1/4 teaspoon table salt
4 tablespoons (2 ounces) unsalted butter, cut into 6 pieces and well chilled
1/2 cup (2 1/4 ounces) crystalized ginger, chopped medium-fine
1 teaspoon finely grated orange zest
6 tablespoons (3 ounces) heavy cream or buttermilk
For the filling
2/3 cup (4 5/8) granulated sugar
2 teaspoons cornstarch
Pinch of table salt
2 3/4 pounds ripe peaches, halved and pitted, each half cut into 4 to 6 wedges depending on size (see Baking Together #26 for how to slice a peach)
2 tablespoons (1 ounce) unsalted butter, cut into 4 pieces
2 tablespoons (1 ounce) orange flavored liquor, orange juice or water
2 teaspoons finely grated orange zest
For assembling
Sugar Topping (optional, see below)
For serving
Make the biscuits
1. In a food processor combine the flour, sugar, baking powder and salt. Pulse briefly to blend. Add the cold butter and pulse until they're the size of small peas. Scatter the crystalized ginger and orange zest over the dough and drizzle over the cream. Pulse just until moist crumbs form.
2. Scrape the dough onto a lightly floured work surface. Gather the dough and press it to form a 1 -inch-thick rectangle. Using a rolling pin, shape the dough into a rectangle slightly larger than 8 x 4 inches. It will be about 2/3-inch thick. Using a large, sharp knife, slice off the raggedy edges to make an 8 x 4-inch rectangle. Cut the rectangle in half lengthwise, and cut each half into four equal pieces to form eight squares. Arrange on a flat plate or cookie sheet, cover with plastic and refrigerate.
Assemble and bake the cobbler
1. Position a rack in the center of the oven and heat the oven to 375°F.
2. Whisk the sugar, cornstarch and salt in a 10-inch nonreactive, ovenproof skillet (8- to 10-cup capacity). Add the peaches, butter, liqueur or juice and orange zest and toss to coat the fruit with the dry ingredients. Cook over medium-low heat, stirring gently, until the mixture is just boiling and the juices have thickened slightly, about 5 minutes.
3. Slide the pan off the heat and spread the fruit into a relatively even layer. Arrange the biscuits randomly over the fruit, leaving some space between them (carefully—the filling is hot). Sprinkle some of the sugar topping, if using, evenly over the biscuits.
4. Bake until the filling is bubbling in the center and a pick inserted into a biscuit comes out clean, 30 to 35 minutes. Move the pan to a rack and let cool for about 10 minutes to allow the juices to settle before serving with ice cream or whipped cream, if desired.
---
Sugar Topping (optional)
Using a small spoon, mix 2 tablespoons granulated sugar and a scant 1/8 teaspoon water in a ramekin until well blended and the mixture forms small clumps. Use immediately or cover and stow at room temperature for up to 2 weeks (use a fork to break up any large clumps).