If you find a beautiful head of Romanesco, feel free to use it in any cauliflower recipe. Though it is supposedly a variation of broccoli, I think its firmer texture is more like cauliflower. It's delicious. Here we're cooking it fast and hot, leaving the color mostly in tact, and adding flavor with garlic, lemon zest, and Parmigiano.
Serves 2 to 3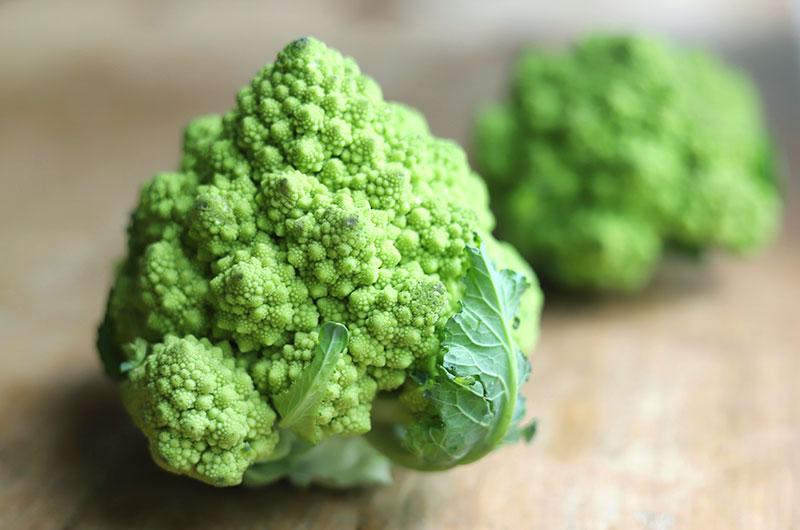 2 tablespoons neutral oil such as grapeseed
4 cups small Romanesco florets (from about two small heads)
½ teaspoon kosher salt
1 tablespoon unsalted butter
2 teaspoons minced fresh garlic
½ teaspoon freshly grated lemon zest
3 to 4 tablespoons coarsely grated Parmigiano Reggiano

1. In a large (12-inch) nonstick stir-fry pan, heat the oil over medium heat.
2. When the oil is hot, add the Romanesco and the salt and turn the heat to medium-high. Cook, stirring regularly, until all of the florets have some deep browning in several spots, about 8 to 10 minutes.
3. Add 2 tablespoons water to the pan and immediately take it off the heat, stirring until the water steams off. Return the pan to the heat, lower the heat to medium-low, and add the butter and the garlic, stirring until the butter is melted and the garlic softened, a minute or so.
4. Add the lemon zest and half of the Parmigiano and stir. Tip the contents of the pan onto a serving plate and garnish with the remaining Parmigiano. Serve right away.