The quickest way to produce handsome roasted carrots is to roast them, halved, on a heavy-duty sheet pan in a hot oven. It's one of three ways I like to roast carrots. The other two, Roasted Carrot "Fries" with Dipping Sauce and Butter-Roasted Carrots with Local Honey, have their advantages (and I have my opinions about each after much experimenting!), but this method is quickest and offers those who love the bitter edge of caramelization something to nibble on (in other words, the tips and edges of the smallest carrots are prone to excessive browning!). Try all three methods and see what you like best.
Before roasting, check your oven temperature with an oven thermometer. My oven, like many, runs 25 degrees hot, so I always think I'm setting it for 425 degrees F and then find out it is really 450! Plus, my oven is hotter in the back than in the front. So depending on your oven, you may want to play around with temperature and timing in this simple recipe, but you do want high heat or else the carrots won't brown before they're tender.
In this recipe, I brush on some butter and honey at the end, but you certainly don't need to do that if you want to serve the carrots with a dressing, or cheese and herbs, or in a salad once you've roasted them. Whatever works!
Serves 3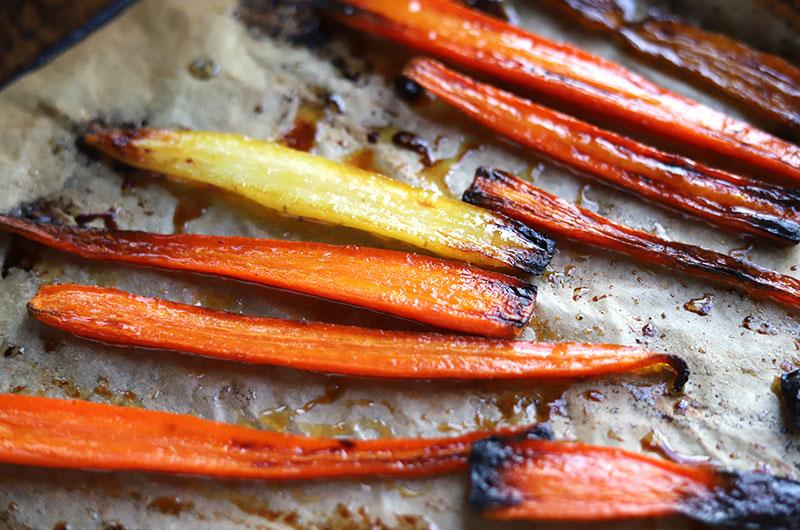 1 pound carrots, peeled, trimmed and cut in half lengthwise (use a very sharp knife to do this!)
2 tablespoons extra-virgin olive oil
½ teaspoon kosher salt
2 tablespoons unsalted butter, melted
1 tablespoon dark local honey, warmed to loosen if necessary
1. Preheat the oven to 450 degrees F. Line a heavy-duty rimmed sheet pan with parchment paper. (Or for easiest clean-up, completely cover the bottom and rims of the sheet pan with foil first, then put down a sheet of parchment paper.)
2. Combine the melted butter and honey and keep warm enough to be loose.
3. In a shallow bowl or dish, toss the carrots with the olive oil and the salt until thoroughly coated. Transfer to the baking sheet, scraping out any oil and salt with the carrots. Arrange in one layer on the pan.
4. Roast for 20 to 25 minutes, turning the sheet pan around once if desired. Remove the pan for easier handling and flip each carrot over with tongs. Brush the top side of the carrots with the butter-honey mixture.
5. Return the pan to the oven and roast for 5 to 10 minutes more, or until the carrots are tender and browned to your liking.