These moist muffins are a great place to tuck that extra zucchini you need to move along. You can make these ahead, too, since the flavor improves overnight. Wrap them in plastic, store at room temp overnight, or freeze for longer. Adapted from Fresh From the Farm (Taunton Press, 2014), by Susie Middleton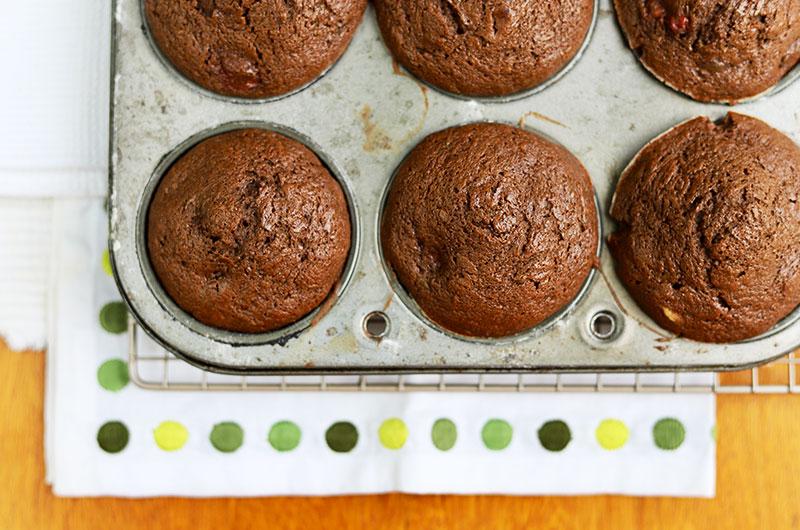 Makes 12 muffins
Butter, softened, for greasing pan (or baking spray or muffin cups)
1 2/3 cups (7.5 ounces) all-purpose flour, plus more for pan
1/3 cup plus 1 tablespoon cocoa powder (about 1 ounce total), sifted
1 teaspoon baking powder
1/2 teaspoon baking soda
1/2 teaspoon salt
2 large eggs
2/3 cup granulated sugar
2/3 cup light brown sugar
1/2 cup vegetable oil
1/3 cup sour cream
1 tablespoon instant espresso granules, dissolved in 1 tablespoon hot water (or 1 tablespoon strong coffee)
1 teaspoon vanilla extract
1 cup finely grated zucchini (ends trimmed, unpeeled, about 1 medium 6-to 7-ounce zucchini)
3/4 cup semisweet chocolate chips
4 ounces fresh raspberries
confectioners' sugar for dusting (optional)

1. Heat the oven to 350 degrees F. Arrange a rack in the middle of the oven. Butter and flour a 12-cup nonstick muffin tin. (Or use baking spray or muffin cup liners.)

2. In a medium mixing bowl, whisk together the flour, cocoa, baking powder, baking soda, and salt.

3. In the bowl of a stand mixer (or a large mixing bowl), beat the eggs and sugar together on medium speed until smooth, lightened and somewhat increased in volume, about 1 minute. Add the reconstituted espresso (or strong coffee), the vanilla, the oil, and the sour cream and mix again for 1 minute. With the mixer running on very low speed, gradually add the dry ingredients into the wet, beating just until combined, stopping to scrape down the sides of the mixer when necessary. Add the zucchini and mix until just combined. Stir in the chocolate chips and raspberries. Pour or spoon the batter (a 1/3-cup measure works well) into the muffin cups. (They will be quite full.)

4. Bake until the muffins are fully risen in the middle and a wooden pick inserted in the center of a muffin comes out clean, about 23 to 25 minutes. Cool the muffins in the pan for 10 minutes and transfer to a cooling rack to cool completely. Wrap in plastic and store at room temperature or in the freezer.
*