In the height of summer, juicy, supple tomatoes need little more than a sprinkle of salt to taste divine. 'Tis definitely the season to ditch the jars and cans and dress your pasta with homemade, simple, garden-fresh sauce. No need to cook the tomatoes for long or mask their flavor with other ingredients. To harness their best flavor, cook them just until they soften and their juices get a chance to thicken up. And for the best texture, slide the flesh away from the skin by quickly blanching the whole tomatoes before chopping them up.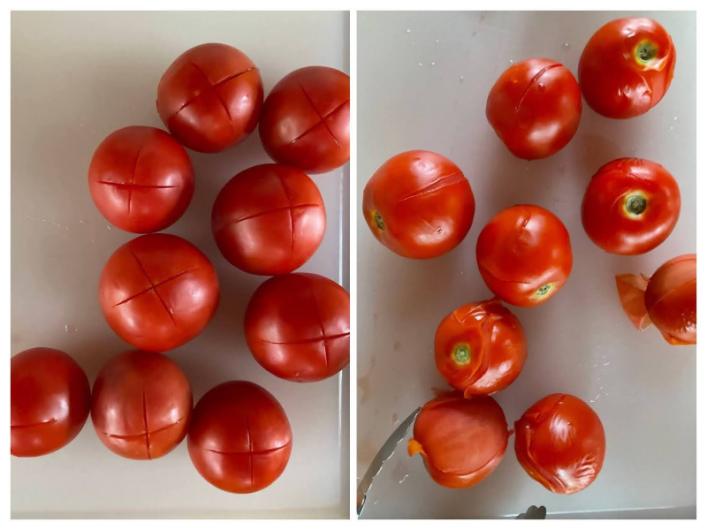 While olive oil is delicious and absolutely a staple of Italian cooking, butter makes the sauce creamier and more apt to cling to thick ribbons of pappardelle (my favorite pasta for carrying fresh tomato sauce). Butter also imparts a subtle sweetness that enhances the natural sugars of ripe tomatoes. Even if you're not a pasta person, make and save a batch (or more!) of this fresh, buttery tomato sauce for another use – stew some cannellini beans in it or even just spread it on some toasted crusty bread. It's the perfect way to catch and save a taste of summer.
Editor's Note: Katie Leaird is the creator of KL Pasta, and she developed this recipe for Cook the Vineyard readers to enjoy on her fresh pappardelle, which will be available this summer at Katie's booth at the Edgartown Village Market. (But of course you can enjoy it on any pasta – or in some of the other ideas Katie mentions.)

Makes 2½ cups
2½ pounds (8 to 9) medium vine-ripe or heirloom tomatoes
4 tablespoons unsalted butter, divided
4 garlic cloves, sliced thin
⅛ teaspoon red pepper flakes
1 teaspoon kosher salt
¼ cup chopped fresh basil
10 to 12 ounces fresh pappardelle, cooked (optional)

1. Using the tip of a sharp paring knife, cut a small X on the bottom of each tomato. Fill a large saucepan halfway with water and bring to a boil over high heat. Add the tomatoes to the saucepan and cook until the skins begin to wrinkle, 1 to 2 minutes. Strain tomatoes and let them cool slightly (until they are cool enough to handle comfortably).

2. Core each tomato (or slice off and discard the stem-side top). Peel away and discard the tomato skins. Roughly chop the skinned tomatoes and set aside.

3. Melt 2 tablespoons of the butter in a large (12-inch) skillet over medium heat. Add the garlic and red pepper flakes and cook, stirring, until fragrant but not browned, 2 to 3 minutes.

4. Add the chopped tomatoes and any accumulated juices from the cutting board. Stir in the salt, increase heat to medium-high, and bring mixture to a boil. Cook until the tomatoes are soft and the juices have thickened (and your spoon leaves a trail when stirring), about 10 minutes.

5. Off the heat, stir in the remaining 2 tablespoons of butter and the basil. Toss the pasta (if using) directly in the skillet with the sauce (over heat), or transfer the sauce to a heat-proof, airtight container to cool and save for another use.
*