Swiss chard isn't everyone's cup of tea, but you will be brewing up some converts if you make these toasts for your crew. The tart-sweet combination of honey, balsamic and lemon – plus the earthy umami from onions and garlic – tames the mineral-y flavor of chard. Add feta cheese, nuts and toast and you've got the texture and interest to turn a simple green into something satisfying and pleasing.
You don't have to put the sauté on toast; it works as a side dish too. If you've got a heatproof, shallow ceramic or Pyrex dish, you can also top the sauté with the feta and heat it under the broiler as you would for the toast.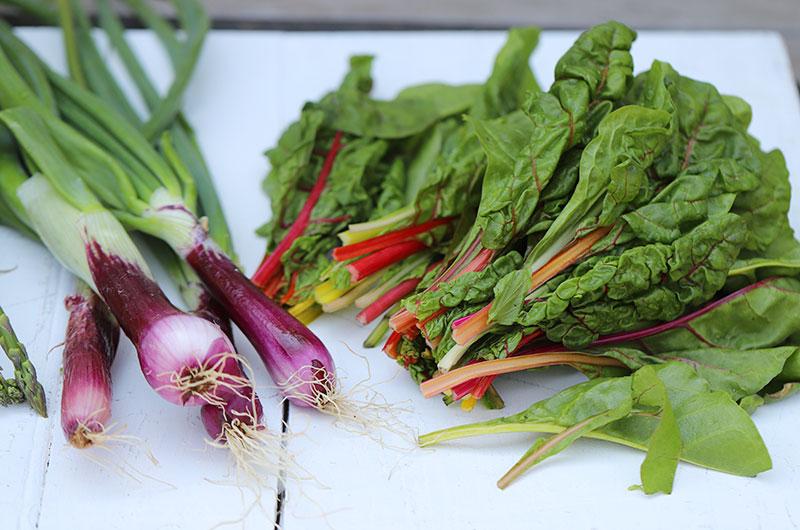 A young fresh bunch of chard with thin stems (and trimmed stems) from Morning Glory Farm weighs about 8 to 10 ounces. You're going to use the stems in this sauté so that's a good total weight. If you have a larger bunch of more mature chard, trim off some of the stems (before weighing) and save for another stir-fry. For this dish, you want a nice proportion of leaves to stem.
I picked up the Morning Glory spring onions at the same time as the chard, but if you don't see them, you can make this with shallots or red onions instead.
Serves 2
1 ½ teaspoons honey
1 teaspoon balsamic vinegar
1 teaspoon fresh lemon juice
1 small young bunch (8 to 9 ounces) Swiss chard, unstemmed, rinsed and dried (or one larger bunch with lower stems trimmed)
1 tablespoon extra-virgin olive oil, plus more for toast
3/4 cup sliced spring onions (or 1/3 cup sliced shallots or ½ cup sliced small red onion, alternatively)
Kosher salt
1 ½ teaspoons minced, peeled fresh garlic
2 teaspoons unsalted butter
2 tablespoons chopped toasted nuts (walnuts or pine nuts recommended but any kind will do)
1 teaspoon chopped fresh mint or basil
1/4 cup crumbled feta
2 large slices whole-grain bread, toasted and brushed with olive oil (optional)
1. In a small bowl, whisk together the honey, the balsamic vinegar, and the lemon juice.
2. Pull or cut away the stems from the chard leaves. Chop the leaves into large (2- to 3-inch) pieces. Slice the stems crosswise into short (1/2-inch) pieces.
3. (If planning to make toast, heat the broiler to high.)
4. Heat 1 tablespoon of the olive oil in a large nonstick skillet over medium-high heat. Add the chard stems, spring onions and ¼ teaspoon salt and cook, stirring occasionally, until the onions and stem pieces are shrunken and beginning to brown, 7 to 9 minutes. (The stems will begin to crackle in the pan as moisture evaporates. You want the browning for the flavor so don't undercook!)
5. Add the garlic, stir, and cook just until fragrant, a few seconds. Add all of the chard leaves and ¼ teaspoon kosher salt and toss until just wilted (45 seconds to 1 minute). Take the pan off the heat and scrape the honey mixture into the pan. Stir well, add the butter and toss and stir until it is melted. Stir in the herbs.
6. If making toasts, use tongs to transfer the greens mixture to the top of each piece of toast, arranging evenly. (Using tongs will leave a little of the liquid behind.) Arrange on a small baking sheet, top with crumbled feta, and broil until the feta is soft and warmed, a couple minutes. Top with nuts and serve right away. (Cut pieces in half first if you like.)
7. Alternatively, serve the chard as a side dish right away, garnished with feta and nuts. Or arrange the chard in a shallow, heat-proof baking dish, sprinkle with feta, and warm under broiler. Serve garnished with chopped nuts.