Serves 2 to 4
There are so many ways to cook on the grill – direct or indirect, flip or not to flip, charcoal or gas, using a fish basket. This is just one method, but feel free to experiment to find your favorite. In general, depending on the fish, it seems like 7 to 10 minutes per side, or up to 20 minutes altogether, is a rough estimation of cooking time. You can use a thermometer as a guideline: 140 to 145 degrees is the target for fish.
2 whole black sea bass, cleaned, scaled, and prepped from fish market
Green Herb Sauce (see recipe at right), plus optional extra herbs for stuffing the cavity
1 lemon, cut into thick slices

1. Preheat charcoal or gas grill. (Charcoal is preferred.)
2. Rinse fish and dry well. Rub the fish all over with olive oil. Season with salt. Stuff the cavity with lemon, plus herbs if you have any extra from making the Green Herb Sauce.
3. Clean the grate as best as possible and oil well. If using a charcoal grill, start the fire with a chimney starter and, when ready, place the charcoal on one side of the grill. If using a gas grill, fire up just one side to high heat. Place the two fish over the direct heat and grill for 2 to 3 minutes. Carefully flip the fish so that they are now sitting on the other side of the grate, not over the coals or heat. Cover and let cook for 10 to 15 minutes, depending on the size of the fish. (Alternatively, you can cook briefly over the coals and lift and turn the grill grate, rather than the fish, so that the fish finishes with indirect heat.) If using a thermometer, the fish should be done when it reaches 140 degrees.
4. Move the fish to a platter, cover loosely with foil, and let sit for 5 to 10 minutes. Serve with Green Herb Sauce or any combination of herbs, butter, and lemon.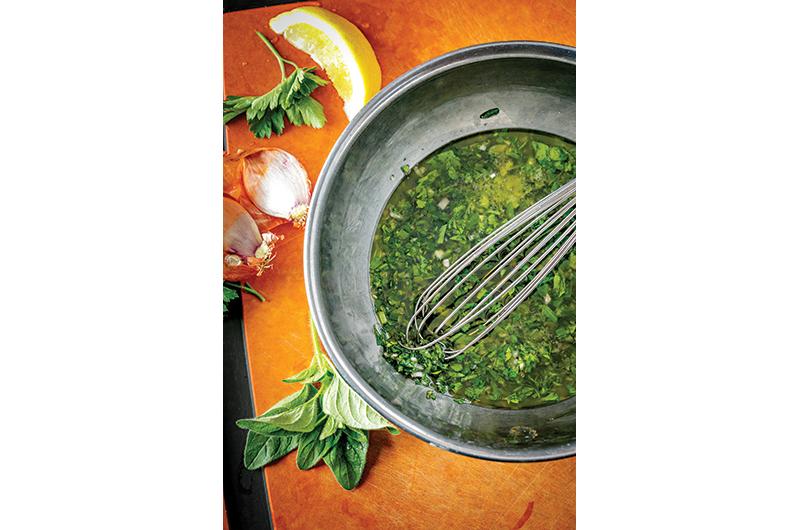 Green Herb Sauce
Makes about 1 cup
If you have access to an herb garden, a combination of herbs, such as parsley, mint, basil, or cilantro, offers really nice flavor. I might also add a taste of dill, chervil, tarragon, or chives. Some people like to include a pinch or two of red chili flakes for heat, but I personally do not.
½ cup extra virgin olive oil
1 tablespoon minced shallots (about 1 small shallot)
1/3 cup finely chopped parsley and mint (and a little basil, if desired)
1 tablespoon fresh lemon juice
1 tablespoon red or white wine vinegar
Salt and pepper to taste

In a small bowl, whisk together the olive oil, shallot, herbs, lemon juice, vinegar, salt, and pepper. Reserve for serving with the cooked fish. If you have leftover herbs, save them for stuffing the cavity of the fish prior to cooking.