While raw fennel is the darling of winter salads, I don't think the bulb gets enough love as a cooked side dish. Honestly, the caramelized flavor and tender texture of brown-braised fennel is sublime, especially with a little citrus-butter pan sauce.
In this recipe I'm also using Meyer lemons, the lovely citrus that's a marriage of Mandarin orange and lemon, with a tart, floral flavor. If you can't find Meyer lemons (they can be both elusive and expensive), feel free to use a combination of orange and lemon juices and slices. But you need the acidity from the citrus to cut the rich sweetness of the braised fennel.
Brown-braising is a technique where you sear or sauté something until golden brown and then add liquid, cover loosely, and simmer to finish cooking. For this recipe, you'll want a 10-inch straight-sided sauté pan that has a lid. (If you don't have a lid, you can use a sheet pan).
One trick is to arrange your raw fennel wedges in the pan (see photo below) before you start cooking to see how many will fit in one layer. All the pieces need to have some contact with the bottom of the pan. And having only one layer means even cooking as the liquids simmer and cook down.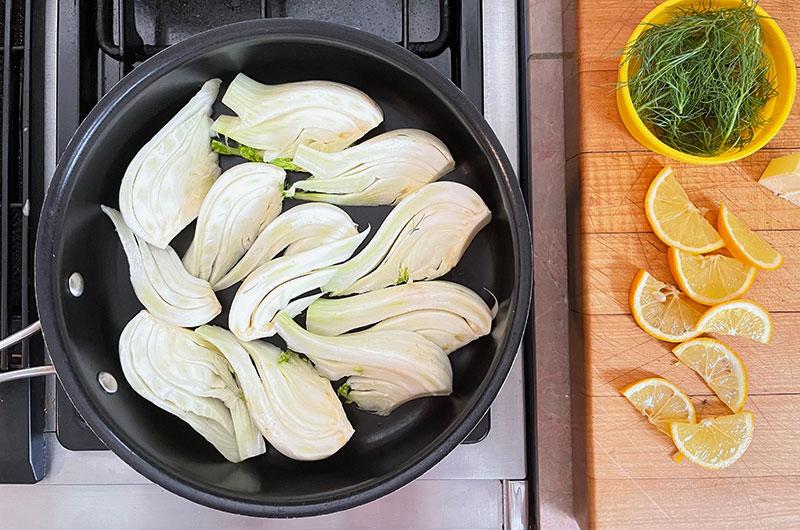 The fennel finishes cooking in chicken broth (be sure to use low-sodium as it will get saltier as it reduces and concentrates), but you could use a vegetable broth you like, too.
At the end, you'll remove the fennel pieces, add the citrus juice and zest to the pan, and stir in some cold butter just until creamy. That little sauce and a few fennel fronds pulls it all together.
Braised fennel is terrific with roast chicken and roast lamb. It can be draped over mashed potatoes for a vegetarian dish. And it is actually delicious at room temperature, so you can consider using it as part of an antipasto plate or as a condiment.
Serves 3 to 4 as a side dish.
1 large fennel bulb (about 1 1/4 pounds with stalks)
1 1/2 tablespoons unsalted butter (cut 1/2 tablespoon into two or three pieces and keep cold)
1 tablespoon extra-virgin olive oil
½ Meyer lemon, lemon, or orange thinly sliced into half moons
1/2 teaspoon kosher salt
1 (scant) cup low-sodium chicken broth (or regular chicken broth cut with water)
2 tablespoons fresh Meyer lemon juice (or a combination of lemon and orange juice)
Zest of one Meyer lemon or lemon (about ½ to ¾ teaspoon)
1. Make sure you have a 10-inch straight sided sauté pan with a lid. If you don't have a straight-sided pan, a Dutch oven is a better choice than a slope-sided skillet.
2. Trim the fennel bulb: Cut off the stalks, reserving and lightly chopping some fronds for garnish. Cut the bulb in half (stem to root). With a sharp knife, notch out most of the core from each bulb half, leaving a bit of the core in to hold the wedges together.
3. Cut each half into 5 or 6 wedges, about ¾-inch thick. You might only be able to fit 10 wedges in the pan; to check, arrange them in the dry pan before cooking (see photo).
4. Heat 1 tablespoon of the butter and the olive oil over medium heat. When the butter has melted, arrange the fennel wedges in one layer in the pan, tuck the citrus slices between the bulbs, and season with 1/2 teaspoon salt. Cook, uncovered, without stirring, until the bottom sides are browned, about 6 to 8 minutes. Use tongs to check to see if the wedges are browning; turn the heat to medium-high if not. Remember to move your pan around on your burner to brown everything evenly.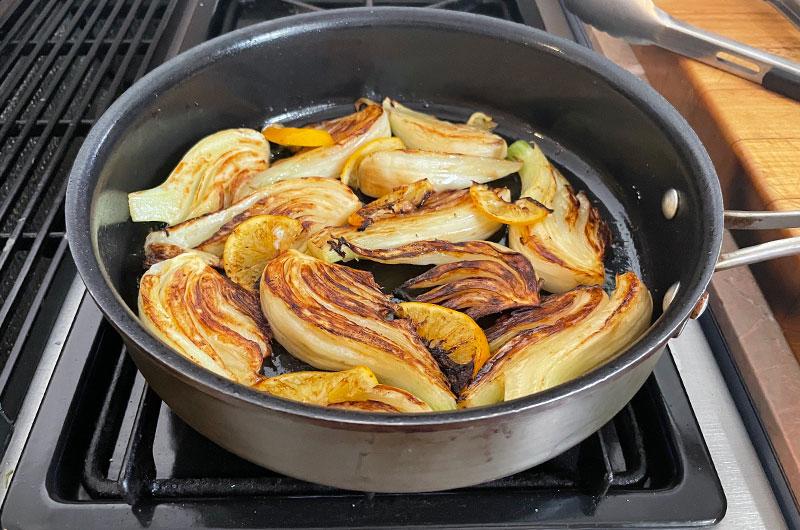 5. Carefully flip over the wedges (and the citrus slices) with the tongs and cook for 4 to 5 minutes on the other side, or until golden brown. Pour the chicken broth in the pan and cover loosely with the lid, leaving a bit of room for steam to escape. Bring the broth to a simmer and maintain a peppy simmer (not boiling, but something more than gently bubbling); raise the heat if necessary. Cook until the chicken broth has reduced to a few tablespoons (the wedges will be tender), about 12 to 14 minutes. Take the pan off the heat and carefully transfer the fennel wedges and citrus slices to a warm serving plate.
6. Return the pan to the heat, add the citrus juice and zest and quickly scrape up any browned bits on the bottom of the pan. (The liquids can thicken slightly but you don't want them to over-reduce so move quickly.) Immediately add the cold butter pieces, stir constantly until melted and the sauce looks creamy, and remove the pan from the heat. Stir and scrape the pan sauce over the fennel. Garnish with fennel fronds and serve right away.