Making a quick ground beef or bean taco filling that incorporates dried spices always presents one problem to me. The spices need to be "bloomed" or cooked in some way to transform their sometimes unpleasant "raw" flavor into something more fragrant. Just dumping the spices in with the cooked beef or beans won't taste the same. (And ground beef has to be drained of fat after cooking, so it's no use adding the spices to the pan with the raw beef). In Indian cuisines, spices are bloomed in hot oil; other cuisines make spice pastes for flavoring curries or stews. So I've taken to making an easy homemade spice paste from chili spices, garlic, oil, and tomato paste. It doesn't take long to make in a small (8-inch) skillet and can be stored in the fridge for a few days.
The amount I'm making here yields enough to flavor one can of black beans and one pound of ground beef (or two cans of black beans or two pounds of ground beef). But you could double everything and use a 10-inch skillet to make the paste if you are making taco fillings for a party. You can also use those taco fillings for rice bowls or quesadillas. (See Taco and Rice Bowl "Bar").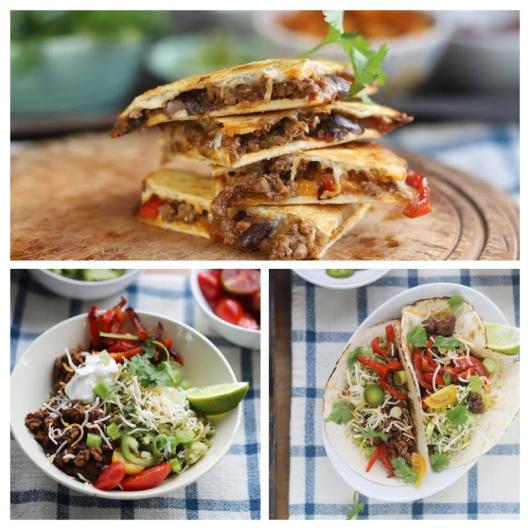 Once you have the paste, it's just a matter of adding it and a cup or so of water to your pan of beef or pot of beans and simmering for a short time. (See directions below.) You can do this right before serving or do it and then refrigerate the beef and beans to reheat at serving time.
By the way, following this method, you can substitute your own favorite combination of spices for the mix I've suggested here.
Yields about 1/3 cup
1 tablespoon chili powder
1 teaspoon ground coriander
1 teaspoon ground cumin
1 teaspoon paprika
¼ teaspoon ground cinnamon
¼ teaspoon chipotle powder or ½ teaspoon smoked paprika
½ teaspoon kosher salt
3 tablespoons olive oil
1 tablepsoon finely chopped garlic
3 tablespoons tomato paste

1. In a small bowl, stir together the chili powder, coriander, cumin, paprika, cinnamon, chipotle powder (or smoked paprika) and kosher salt.
2. In a small (8-inch) skillet over low heat, combine the oil, garlic and spices. Stir and scrape to mix well and turn the heat up to medium. When the mixture bubbles, drop the heat back down a bit and gently simmer and stir constantly for about 4 to 5 minutes total. Remove the pan from the heat and add the tomato paste. Return the pan to medium-low heat and using a silicone spatula, combine the tomato paste and oil mixture well. Use the spatula to flatten the tomato paste against the bottom of the pan as you stir; this will "toast" the paste to deepen its flavor. Stir and cook for about 2 minutes total (the mixture will be a very dark brick red) and remove the pan from the heat.
3. Let cool and scrape into a clean container to refrigerate or proceed to make your taco filling.

To make beef taco/rice bowl/quesadilla filling:
Over medium-low heat, brown 1 pound ground beef in a skillet and drain off the fat. Return the pan to the heat, add about 2 ½ tablespoons spice paste and 1 cup water. Stir well and bring to a gentle simmer. Stir and cook until the liquids have reduced by about three-quarters, leaving the mixture a bit saucy. (The meat also absorbs liquid as it cools.) Use right away in tacos, tacos bowls or quesadillas or cool and refrigerate to use later.
To make bean taco/rice bowl/quesadilla filling:
Combine 1 15-ounce can drained and rinsed black beans with 2 tablespoons spice paste and about 2/3 cup water in a medium pot over medium heat. Bring to a gentle simmer and cook, stirring, until the liquids have reduced by about half (or as much as you would like them to), leaving the beans somewhat saucy. (The beans will also absorb liquid as they cool.) Use right away in tacos, rice bowls or quesadillas or cool and refrigerate to use later.