A flavorful, rich tasting broth for noodles is possible without all-day cooking. In this recipe I use a lot of aromatics – ginger, garlic and shallots — as well as thinly sliced boneless pork country spare ribs to flavor my broth, and I add a seasoning mixture of lime, tamari, mirin, chili-garlic sauce and brown sugar at the end to really perk things up. I also use the cooking water from the noodles in my broth.
The star vegetable here is baby bok choy, but you could switch it out for some combination of cabbage (or any greens), peppers, and mushrooms if you like. Be sure to see the note and photos below about slicing and cleaning bok choy for this recipe.
Thick udon noodles are lovely here. I bought fresh (refrigerated) ones at Morning Glory last week. They were actually labeled "white lo mein" noodles by the Massachusetts (Chinese) manufacturer, but they were fresh, thick white wheat noodles so they seemed more like Japanese udon to me! Lo mein noodles (like the fresh Chinese egg noodles in the produce section of Cronig's) would work fine here, too. You could also used dried udon, which won't have quite the body of fresh but will be fine. You'll need to increase the noodle cooking time a bit.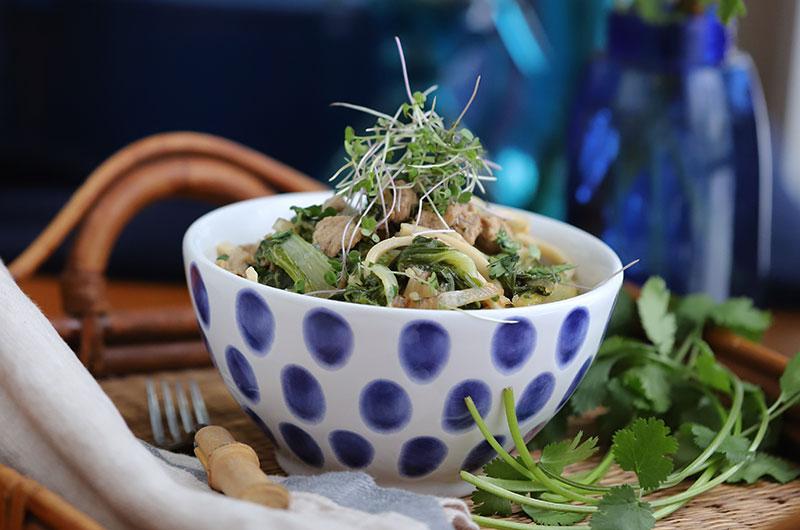 This makes a very hearty (main dish) portion for two people and smaller portions for 3 to 4.
Serves 2 as a hearty main, or makes 3 or 4 smaller portions
Kosher salt
8 to 10 ounces fresh udon or lo mein noodles
2 teaspoons toasted sesame oil
2 tablespoons low-sodium tamari
1 tablespoon fresh lime juice
1 tablespoon mirin (rice wine)
2 teaspoons dark brown sugar
1 teaspoon Asian chili-garlic paste
2 ½ tablespoons vegetable, grapeseed or other neutral oil
14 to 15 ounces (about 3 to 4 heads) sliced and washed baby bok choy (see note below)
3 boneless country style pork ribs (about 10 ounces), thinly sliced
2 large shallots (about 3 ounces), thinly sliced, crosswise
1 generous tablespoon chopped fresh garlic
1 generous tablespoon chopped fresh ginger
3 to 4 tablespoons roughly chopped fresh cilantro
Beans sprouts or micro-greens for garnish
1. Set a colander inside of a large mixing bowl in the sink. Bring a large pot of salted water to a boil. Add the udon or lo mein noodles and cook until just tender, about 3 to 4 minutes. Drain the noodles in the colander, reserving the cooking water. (You will need 3 to 4 cups.) Transfer the noodles to a bowl and toss with a big pinch of salt and 1 teaspoon of the sesame oil.
2. In a small bowl, stir together the tamari, lime juice, mirin, brown sugar, chili-garlic paste, and the remaining teaspoon of sesame oil. Set aside.
3. In a large (12-inch) nonstick stir-fry pan, heat 1 tablespoon of the vegetable oil over medium-high heat. Add the bok choy stems and 1/4 teaspoon salt and cook, stirring, for 5 to 7 minutes, or until the stems all have a bit of browning and have softened somewhat. Add the bok choy leaves and ¼ teaspoon salt. Turn the heat to high (the pan will be crowded) and cook, stirring, until the excess moisture has cooked off and the bok choy stems are tender, about 2 to 4 minutes more. Transfer the bok choy to a plate or sheet pan.
4. Return the pan to medium heat and add 1 tablespoon vegetable oil to the pan; add the shallots and a pinch of salt. Cook, stirring, for about 4 to 5 minutes or until the shallots are browned. Add the ginger and garlic and stir just to soften, 30 seconds. Add the remaining ½ tablespoon vegetable oil, the pork, and a pinch of salt. Cook, stirring, until the pork has lost most of its pinkness, about 2 minutes.
5. Add 3 cups of cooking water to the stir-fry pan, bring to a gentle simmer, and cook for 5 minutes. Mix in the bok choy and simmer for 1 more minute. Take the pan off the heat and stir in the tamari-lime mixture and half of the cilantro.
6. In warm bowls (2 large or 4 medium), arrange a portion of the noodles. Portion the broth and veggies evenly over the noodles and garnish with the remaining cilantro and sprouts.
Prepping Baby Bok Choy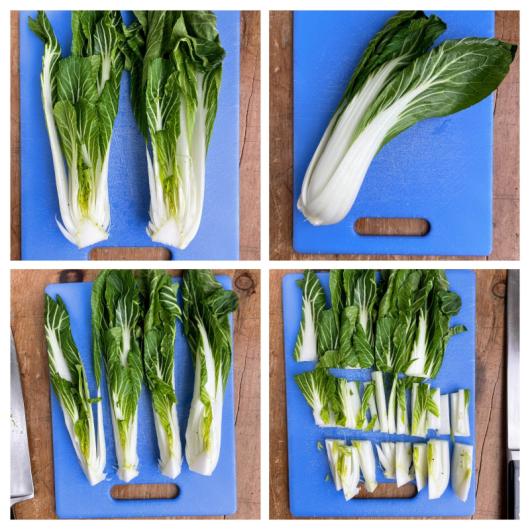 With vase-shaped baby bok choy, the upper half of the vegetable is mostly tender leaves, while the lower half is thick juicy stalks that need a longer cooking time. Therefore, to use the baby bok choy in a stir fry such as this one, I like to first cut each head in half lengthwise and then in quarters. Then I cut the vegetable in half horizontally. Usually I'll then slice the stem pieces again into two or three pieces. (Counter-clockwise starting in the upper right in photo collage above.)
I keep the leaves and the stems separate and put each into a bowl of tepid (not cold – a little warm is fine) water for several mintes to let any trapped dirt sink to the bottom. If the bok choy are particularly dirty, you might have to repeat a second time. I definitely think the dirt will fall away more easily from sliced heads than from whole or halved ones, where the curves can still trap dirt.