Is there any more invigorating naturally occurring compound for a cold winter day than capsaicin? The chemical found in all hot chili peppers has the ability to awaken the tongue and bring a flush to the face — not to mention the power to redirect any dish. I've harnessed this power in a bright red hot sauce that brings together classic New England flavors with serious Scoville levels to drive away the winter blues. The habaneros mean there is real heat here, but the addition of maple syrup makes a sweet-forward hot sauce which pairs wonderfully with the classic combination of cranberry and lime.
I usually make an extra large batch of this for gifts, but I've cut the recipe in half for you here. The amounts I'm calling for will yield about 48 ounces, or six 8-ounce jars (or 12 four-ounce jars!) – still enough to give away.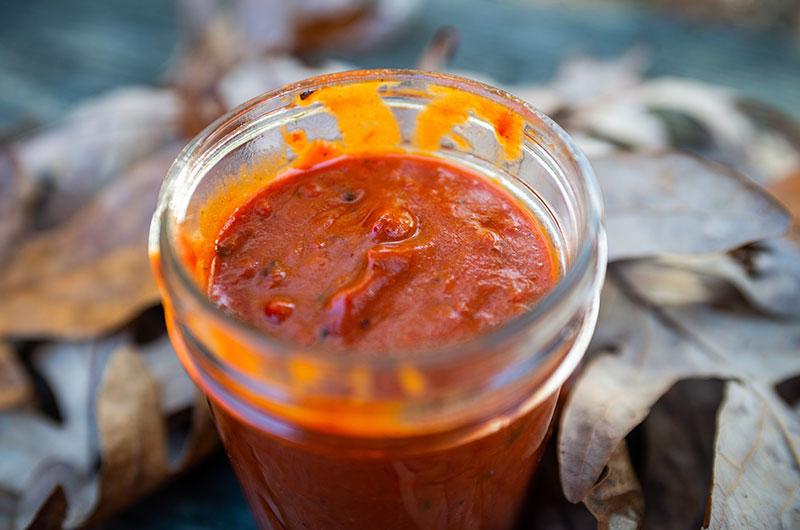 A few notes about peppers: The ratio of (milder) cayennes to (hotter) habaneros in this recipe is a suggested balance. After you make the recipe once, feel free to make changes, using more (or less) hotter or milder peppers as you like to adjust the overall heat. I am a heat fan, so if I was making this just for me, I would probably have many more habaneros than cayennes. But since I make my annual hot sauce batches to give away, I tend to tone things down a bit.
It's a good idea to taste your peppers if you can. Habaneros are almost always going to be very hot, but cayennes – like jalapenos and serranos – can vary a lot in heat level. You might want to know what you are getting into before committing to a ratio of peppers.
In terms of substitutions, you could try serranos in place of the cayennes. And in place of the habaneros, you could use scotch bonnets, scorpion peppers, or ghost peppers depending on preference and availability. Habaneros tend to be available in good colors that will work for this recipe and are hot but not HAWT…usually. Also, I think the citrusy brightness of habaneros works particularly well with these flavors. Again, try your peppers!
A note about cranberry sauce: I like to make my own cranberry sauce for this. It's so simple, and I've included the basic recipe here. But you can use store-bought cranberry sauce if it is high quality (not too much sugar or preservatives). You do not want to use cranberry jelly though! Cranberries contain a lot of pectin, which will add body to your hot sauce.

Yields about 48 ounces
1 pound cayenne peppers (about 30)
½ pound habanero peppers (about 15)
2 cups homemade (see recipe below) or store-bought cranberry sauce
6 cloves of garlic, finely chopped or crushed
½ cup chopped yellow onion
Olive oil
¼ cup maple syrup (more or less if you like)
1 teaspoon fine sea salt
1 teaspoon freshly ground black pepper
1 teaspoon whole cloves
1 tablespoon ground cinnamon
1 cup fresh lime juice (from about 8 whole limes) plus more to taste (have an extra 2 to 3 limes on hand)

Prepare the peppers and roast
1. Heat the oven to 400 degrees F. Lightly coat two large rimmed heavy-duty baking trays with olive oil.
2. Cut off the stems of the peppers, leaving as much of the pepper intact as possible. I do not recommend removing the seeds. There is a myth that the seeds are the hottest part of the pepper. This is not actually true — the highest concentration of capsaicin in most peppers is in the white flesh or pith around the seeds. This makes it difficult to remove seeds without removing that pith, so I just leave it all. You will be pureeing everything anyway, so no need to worry about the texture at this point.
3. Arrange the cayennes directly on one of the trays. Cut the habaneros in half. (They tend to roll around, and since we want as much contact with the tray as possible for charring and caramelization, it makes sense to halve these.) Arrange the habaneros on the other tray.
4. Scatter the chopped onion and garlic across the peppers on the trays. Season evenly with the salt, pepper, cloves, and cinnamon; finish by drizzling a bit of olive oil over all.

5. Place both trays in the oven and roast for 15 to 20 minutes or until you start to see a good amount of charring on the skins of the peppers. Take the trays out when done and let them cool.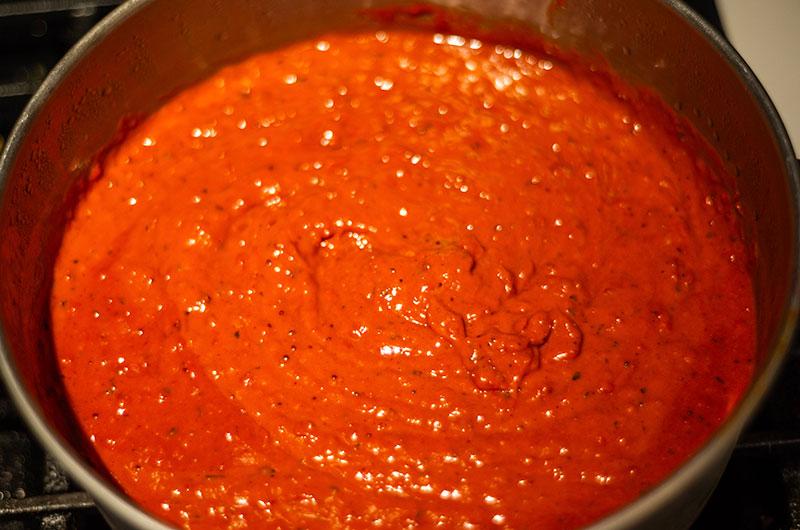 Simmer
1. In a large pot, combine 1 cup of water with your cup of lime juice and bring to a simmer. Add the roasted peppers, onions and garlic and cover. Simmer, stirring occasionally, for 15 to 20 minutes or until the liquid is mostly gone. Let cool completely.
Blend and season
1. Transfer the contents of the pot to a blender or a food processor. (Work in batches if necessary. It's best not to fill a blender more than 2/3 full.) Add the cranberry sauce and the maple syrup. (Again, if necessary, work in batches.) Puree until you like the consistency. (I prefer a thicker sauce with some chunks here and there, as I find that a sauce with some real texture holds on to food better than a thinner sauce.)
2. Taste and adjust salt and maple syrup to taste or stir in more lime juice if like.
Note: Tasting hot sauce can be tricky since the heat can be intense and can stop you from getting a good taste on the salt, sugar, and acid levels. I recommend resetting your palette with dairy like yogurt or cottage cheese in between each taste. Fat is the best way to counteract heat from capsaicin since the fat molecules absorb the capsaicin and soothe the taste buds at the same time.
---

Homemade Cranberry Sauce

Yields about 2 cups
12 ounces of fresh cranberries
¾ cup light brown sugar

1. Measure 1 cup water into a medium pot. Add the brown sugar and stir until it is dissolved.

2. Add the cranberries and boil for 10 to 15 minutes or until the cranberries have burst fully open and a thick saucy texture has been reached. Set aside the sauce to cool.