This "recipe" is really just inspiration for you if you find fresh figs at the grocery store and want to turn them into a pretty appetizer. Figs and prosciutto are a classic combination, and you could simply wrap fig quarters with the prosciutto and be done with it. But if you're making an appetizer for a party, the addition of blue cheese and either a drizzle of balsamic glaze or pomegranate molasses – with the prosciutto acting as more of a garnish – is a nice presentation. But use your imagination and have fun pairing something salty with the incredible sweetness of a ripe fig.
Yields as many as you like
Grape leaves, nasturtium leaves, or other edible leaves to line a plate (optional)
Fresh, ripe (but not overripe) Black Mission figs
Good quality blue cheese, such as Grey Barn's Bluebird
Very thinly sliced prosciutto
Balsamic glaze or pomegranate molasses
Tiny mint leaves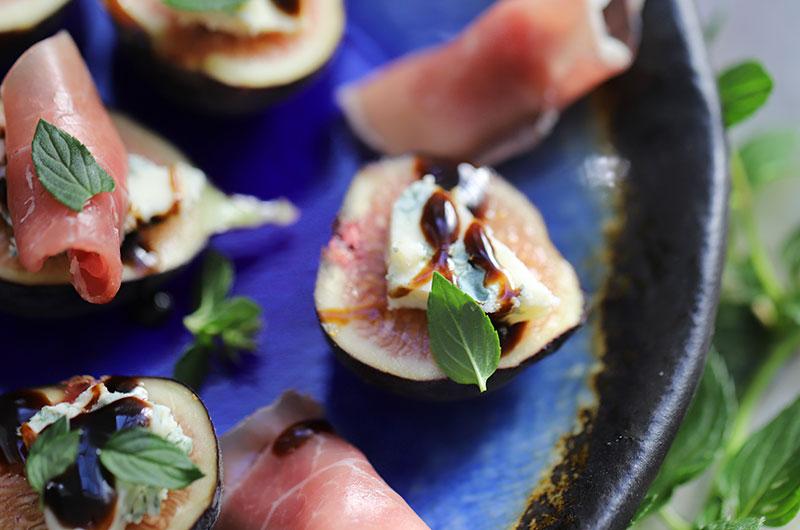 1. Line a plate or small platter with edible leaves (or whatever you like). Cut the figs in half with a very sharp knife and arrange them on the plate or platter.
2. Cut the blue cheese into small, thin slices (in triangular shapes if possible). You will want as many slices of cheese as you have fig halves. Don't worry if the cheese crumbles a bit. Top each fig half with a portion of cheese.
3. Drizzle lightly with balsamic glaze or pomegranate molasses.
4. Separate the prosciutto pieces and tear each into two or three lengthwise strips, each about an inch wide. (Again, don't worry if the strips look more like random pieces.) Roll the pieces of prosciutto into tight little cigars and arrange one on top or next to each fig half. Alternatively, you can wrap the fig in the prosciutto but it can become messy and doesn't look as nice. (You'd want to do the drizzling after wrapping.)
5. Sprinkle the tiny mint leaves over the fig halves. If not serving right away, cover the plate or platter (I use the clear plastic bottom bowl of my salad spinner, overturned) and refrigerate up to a few hours. Bring to room temperature before serving.