It's possible to improve on a classic, and this updated snickerdoodle is exhibit no. 1! Finely ground cornmeal adds just a hint of crunchy-crispness, while a combination of butter and a bit of vegetable shortening make for a plump, tender and sightly chewie cookie. The all-around perfect texture and classic vanilla + cinnamon flavor means these disappear fast. They freeze well (and defrost quickly) so stash a few away and don't tell anyone!) For more tips, see Baking Together #27.
Makes about 22 cookies.
1 1/4 cups (5 5/8 ounces) unbleached all-purpose flour
1/4 cup (1 1/8 ounces) finely ground cornmeal
1 teaspoon cream of tartar
1/2 teaspoon baking soda
1/4 teaspoon table salt
6 tablespoons (3 ounces) unsalted butter, softened (should be about 65 degrees F)
2 tablespoons (7/8 ounce) vegetable shortening, chilled
2/3 cup (4 5/8 ounces) granulated sugar
1 teaspoon pure vanilla extract
1 large egg, at room temperature
For rolling
3 tablespoons granulated sugar
2 teaspoons ground cinnamon

1. Position a rack in the center of the oven and heat the oven to 350°F. Line two cookie sheets with parchment. Whisk the flour, cornmeal, cream of tartar, baking soda, and salt in a small bowl until well blended.
2. Put the butter, shortening, sugar and vanilla in the bowl of a stand mixer fitted with the paddle attachment (or in a large bowl using an electric handheld mixer fitted with wire beaters). Beat on medium speed until blended, about 1 minute. Add the egg and mix on medium speed until well blended, about 1 minute. Add the flour mixture and mix on low speed until the dough is just barely blended, about 1 minute.
3. Using a 1 tablespoon scoop, scoop the dough and roll in the cinnamon-sugar mixture to cover completely. Arrange about 2 inches apart on the prepared cookie sheets. Do not press down.
4. Bake, one sheet at a time, until the cookies are puffed and golden brown around the edges, 8 to 10 minutes. Move the cookie sheet to a rack to cool for about 5 minutes, then transfer the cookies from the sheet to a rack until completely cooled.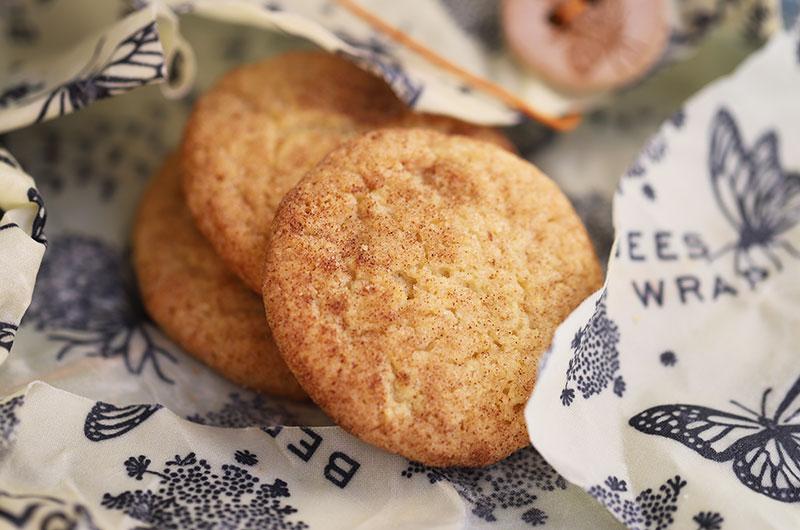 ,