This loose recipe is really just a cooking technique. Instead of sauteing peppers and onions on the stovetop or roasting them in the oven, cooking them in a cast iron skillet in a covered gas grill offers a hybrid of direct and indirect cooking. The skillet gets hot but the ambient air around the pan is also hot. The vegetables give off liquid and steam in the hot atmosphere as they start cooking, and then they begin to brown. A quick stir every five minutes or so is all they need (a little more often towards end of cooking).
When they are softened and browned to your liking (about 25 minutes), take them off the heat, transfer to a bowl, and toss with garlic and a mixture of balsamic (agro) and either maple syrup or honey (dolce). The result is a heady side dish or condiment to serve with grilled meat or other grilled vegetables like eggplant and zucchini.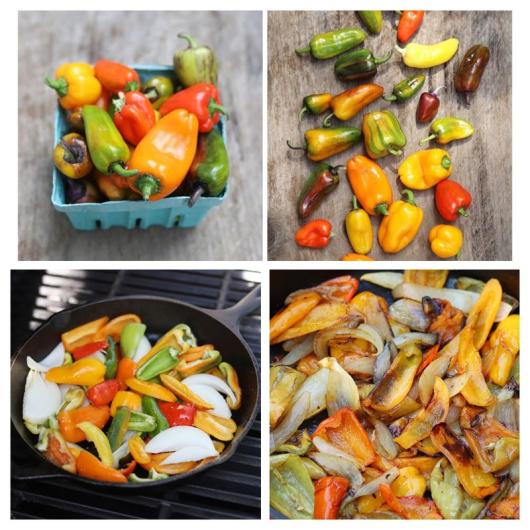 The small "Lunchbox" and other mini-bell peppers found at the late August farmers' market inspired this recipe. They are so easy to prep and beg to be highlighted.
The amounts I'm listing here are approximate. Adjust according to the size of your cast-iron skillet. (I use a 10-incher). Add more vinegar-maple syrup mixture or garlic if you like, too.
Serves 3 to 4 as a side dish or condiment
2 teaspoons balsamic vinegar
1 teaspoon maple syrup
8 to 10 ounces (about a pint and a half) Lunchbox or other small sweet peppers, seeded and halved or quartered (thick strips)
1 medium (5 to 6 ounce) yellow or sweet onion, cut into wedges (stem end intact if possible)
Olive oil
Kosher salt
1 ½ teaspoons minced fresh garlic
Small fresh herb leaves (such as basil, thai basil, mint, or parsley) or roughly chopped herbs
1. Put a 10-inch cast-iron skillet on the grates of a gas grill and heat the grill to medium-high.
2. In a small bowl, stir together the balsamic and maple syrup. Set aside.
3. Put the peppers and onions in a medium bowl and season with salt.
4. Carefully pour a few tablespoons of olive oil into the cast-iron skillet that has been heating on the grill. Add the peppers and onions and toss well with tongs.
5. Cover the grill and cook, checking and stirring every five minutes or so (at first the vegetables will give off a lot of moisture), until the vegetables are caramelized and shrunken, about 25 minutes.
6. Transfer the vegetables to a medium bowl and add the garlic and the balsamic-maple mixture. Toss well. Toss in some herb leaves or chopped herbs, stir, and serve (either in a serving bowl or on individual plates), garnished with more herbs if you like.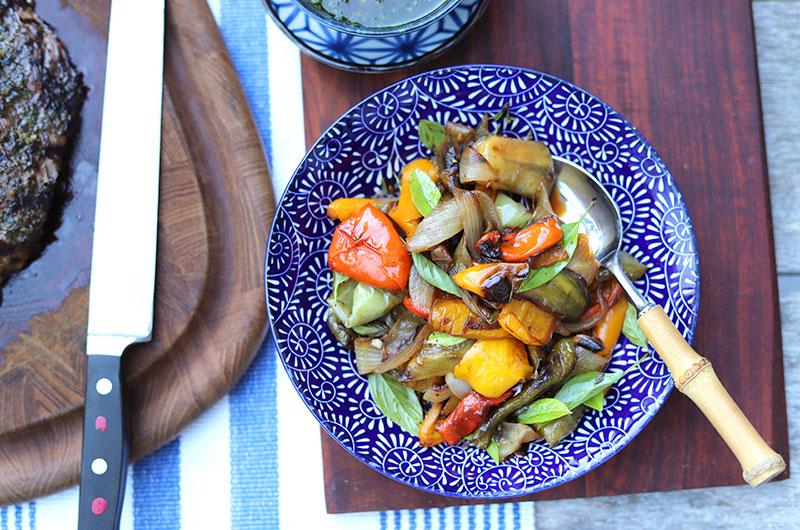 .