Deceptively easy to make, this scrumptious upside-down cake is the perfect showcase for summer blueberries. No mixer required; no fussy caramel (just brown sugar and butter); tons of flavor. Read Baking Together #25: An Upside-Down Cake With Everything Right before baking.
If you have leftovers, cover them with a cake dome or bowl, or wrap gently in plastic and keep at room temperature for a couple days.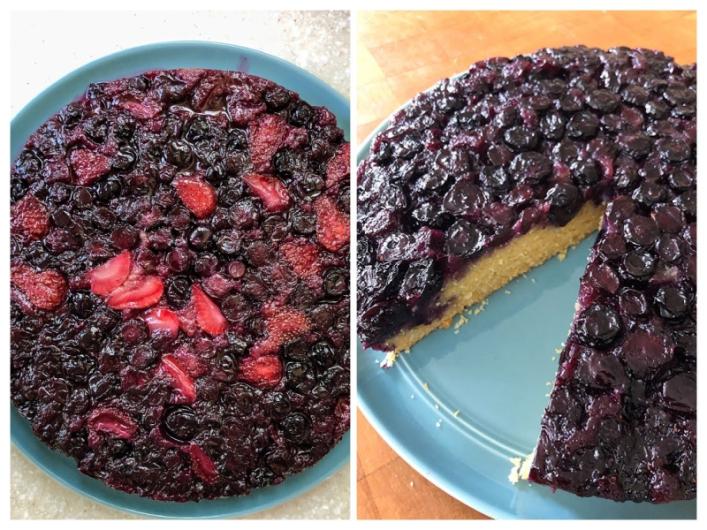 Serves 8
For the topping
2/3 cup (4 5/8 ounces) firmly packed brown sugar (light or dark)
3 tablespoons (1 1/2 ounces) unsalted butter, cut into 3 pieces
2 1/2 cups (12 1/2 ounces) blueberries, rinsed and dried
For the cake
1 1/4 cups (5 5/8 ounces) unbleached all-purpose flour
3/4 cup (3 3/8 ounces) finely ground cornmeal
1/2 cup (3 1/2 ounces) granulated sugar
1 1/2 teaspoons baking powder
1/4 teaspoon table salt
3/4 cup (6 ounces) buttermilk, at room temperature
1 large egg, at room temperature
1 1/2 teaspoons finely grated lemon zest
1 teaspoon pure vanilla extract
6 tablespoons (3 ounces) unsalted butter, melted and cooled
Position a rack in the center of the oven and heat the oven to 375°F. Lightly grease the sides of a 9x2-inch round cake pan.
Make the topping
1. Put the brown sugar and butter in a small saucepan. Cook over medium-low heat, stirring often, until the butter is melted and the mixture is combined. Bring to a boil and pour into the prepared pan. Using a spatula, spread the sugar mixture to evenly coat the bottom of the pan. Scatter the blueberries evenly over the caramel and gently press down.
Make the cake
1. Put the flour, cornmeal, flour, sugar, baking powder, and salt in a medium bowl and whisk until well blended. Put the buttermilk, egg, lemon zest and vanilla in a small bowl (or measure the buttermilk in a 2-cup glass measure and add the other ingredients) and whisk until well blended. Add the buttermilk mixture and melted butter to the dry ingredients and use a spatula to fold until just blended.
2. Spoon dollops of the batter evenly over the fruit and carefully spread in an even layer. Gently tap the pan on the counter to settle the batter. Bake until the top is golden brown and a pick inserted in the center of the cake comes out clean, 37 to 39 minutes.
3. Move the pan to a cooling rack and set aside for 5 minutes. Run a paring knife around the inside edge of the pan to loosen the cake. Set a flat serving plate on top of the pan and, using pot holders, grip the pan and the plate and invert. Let the inverted pan rest for about 2 minutes to let the topping settle. Gently lift off the pan and set aside to cool. Serve warm or at room temperature.