The frittatas I learned to make at Al Forno restaurant in Providence, Rhode Island, were full of hearty ingredients like pasta or potatoes, along with other vegetables. While I learned the easy stovetop-to-oven technique at the restaurant, I also learned that frittatas were a good place to use up what you had on hand. Most any cooked vegetable (as long as it isn't too watery) can work in a frittata, but so can leftover pasta. (I'm particularly fond of using leftover Spaghetti with Roasted Cherry Tomatoes and Spicy Garlic Oil – in fact, I often make a double batch just so I'll have enough leftover for a frittata!) But you can use any leftover cooked pasta.
My cheeses are just suggestions here. Pick your favorites (and most definitely use what you've got on hand) and vary amounts as you like. Remember that egg custards need exuberant seasoning before cooking, so be generous with the salt, pepper, and herbs. Whole herb leaves make a pretty garnish for the top of the frittata.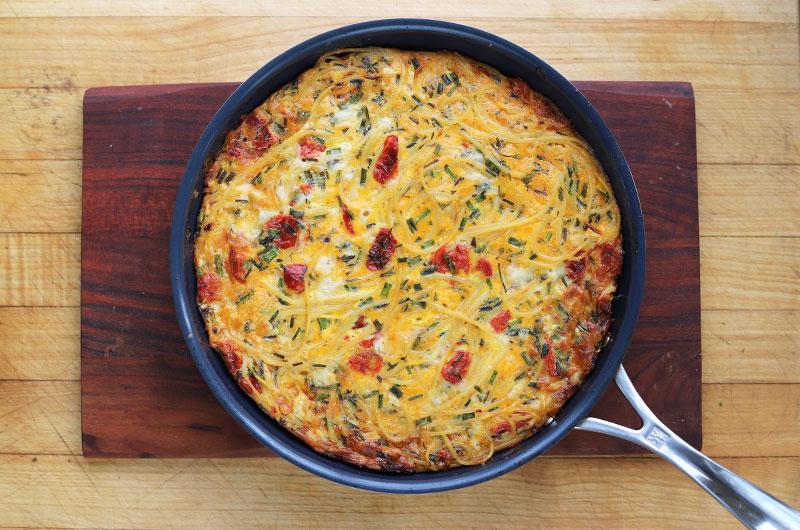 Frittatas are also great make-aheads for a brunch or potluck (the flavor improves with time). Cut them into small squares instead of wedges for serving.
Serves 4
8 large eggs (ideally at room temperature)
2/3 cup half 'n' half
Kosher salt
Freshly ground pepper
Optional add-ins (lemon zest, Worcestershire, Dijon)
1 ounce grated Parmigiano-Reggiano (about ¾ cup if finely grated, 1/3 to ½ cup if coarsely ground) or aged Cheddar, gouda, Pecorino, Jarlsberg or other grating cheese
4 ounces cold fresh goat cheese or feta cheese, well-crumbled while still chilled (or use 3 to 4 more ounces of grating cheese)
1 to 2 tablespoons chopped fresh herbs such as parsley, mint, thyme, basil or chives
2 to 2 1/2 cups leftover Spaghetti with Roasted Cherry Tomatoes with Spicy Garlic Oil (or other leftover pasta), at room temperature
1 tablespoon unsalted butter
1 tablespoon extra-virgin olive oil
1. Heat the oven to 375°F. Arrange a rack in the middle of the oven.
2. In a large mixing bowl, whisk together the eggs, half 'n' half, 1/2 teaspoon kosher salt, several grinds of fresh pepper, and any optional add-ins. Stir in the Parmigiano (or other grated cheese), the goat cheese or feta, and most of the herbs. Add the leftover spaghetti and stir well to incorporate all the ingredients.
3. In a 10-inch heavy nonstick (ovenproof) skillet, melt 1 tablespoon of the butter with 1 tablespoon of the olive oil over medium heat. When the butter has melted, turn the heat to medium-high. When the butter is sizzling, pour and scrape all of the custard mixture into the skillet. Using a silicone spatula, gently stir the ingredients so that everything is evenly distributed. Sprinkle the top with remaining herbs. Let the pan sit on the heat until the custard is just beginning to set all the way around the edge of the pan, 1 to 2 minutes. Transfer the pan to the oven and bake until the frittata is golden and set in the middle (it might be puffed in places), about 26 to 30 minutes.
4. Let the frittata cool in the pan for 15 to 20 minutes before transferring to a cutting board and serving warm. Or let sit for 30 minutes to heighten flavor and serve at room temp. Cut into squares or wedges and serve.