This comforting all-in-one side dish (or light supper for vegetarians) features a great technique for cooking carrots so that they get tender and browned, with just the right texture that is silky but still firm. For a delicious sauce, I add a bright, acidic combination of orange juice, lemon juice and zest, Dijon, and vinegar to the finished sauté and then toss in some very cold butter that melts and give the sauce a creamy consistency with great body. The vegetables and their glazy sauce find a perfect home on a bed of pearl couscous, but they'd be comfortable on a bed of noodles, brown rice, or other grain. A version of this recipe appeared in my cookbook, Simple Green Suppers.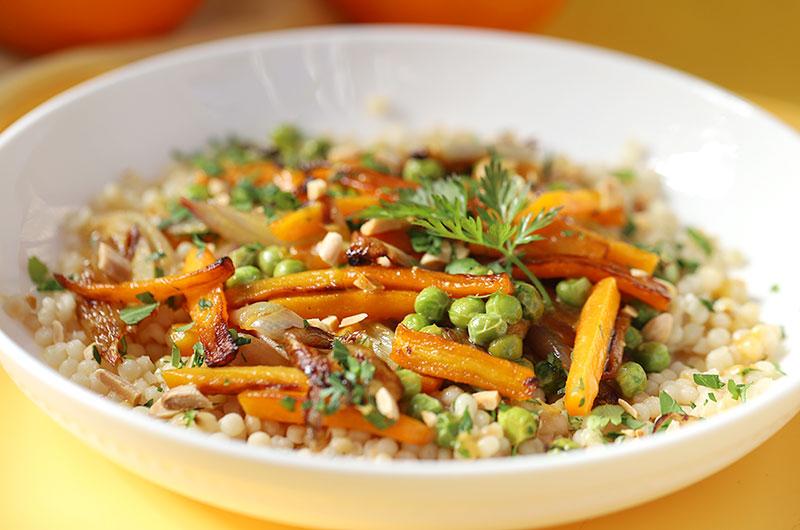 Serves 2 to 3
For the pearl couscous:
1 tablespoon unsalted butter
1/4 cup small-diced onion
1 cup pearl couscous (also called Israeli couscous)
Kosher salt
For the vegetables:
¼ cup orange juice
1 ½ teaspoons Dijon mustard
1 teaspoon freshly grated lemon zest
1 teaspoon lemon juice
1 teaspoon white balsamic vinegar or cider vinegar
3 tablespoons unsalted butter (1 1/2 tablespoons cut into 6 pieces and kept chilled in the refrigerator)
Kosher salt
1 tablespoon extra-virgin olive oil
12 ounces carrots, peeled and cut into sticks between 2 and 3 inches long and 3/8 to ½ inch wide (to yield about 9 ounces or about 3 cups)
2 large shallots, peeled and cut lengthwise into ½-inch wedges
½ cup peas (thawed if frozen; microwaved for 20 to 30 seconds if fresh)
2 teaspoons finely chopped fresh tarragon, parsley, mint or combination
1/4 cup coarsely chopped toasted hazelnuts or almonds (optional)
For the pearl couscous:
1. In a large saucepan (which has a lid), melt the butter over medium-low heat. Add the ¼ cup onion and a pinch of salt. Cook, stirring frequently, until the onions have softened and are beginning to brown, 4 to 6 minutes.
2. Add the pearl couscous and ½ teaspoon salt. Raise the heat to medium and cook, stirring frequently, until much of the couscous has taken on some browning, 3 to 5 minutes.
3. Add 1 ¼ cups water to the pan, bring to a boil, reduce to a simmer, cover and cook until the water has been absorbed and the couscous is tender, 9 to 12 minutes. Remove from the heat. Fluff the couscous with a fork, cover, and keep warm in the pan.
For the vegetables:
1. In a small bowl, combine the orange juice, Dijon, lemon zest, lemon juice, and vinegar.
2. In a 4- to 5-quart Dutch oven or other deep, wide pan, heat 1 1/2 tablespoons of the butter and the olive oil over medium-low heat. When the butter has melted, add the carrots and 1/2 teaspoon salt. Cover loosely and cook, stirring gently but frequently, about 5 minutes.
3. Uncover, add the shallots and a pinch of salt, stir, cover loosely, and continue cooking and stirring frequently, until the carrots are tender and very nicely browned, about 8 more minutes.
4. Add the peas and the orange juice mixture and quickly stir well to scrape up any browned bits. Immediately remove the pan from the heat and stir in the cold butter until just melted and creamy. Stir in most of the chopped herbs.
To serve:
1. Portion the couscous between two or three bowls or one platter and spoon the saucy vegetables over the couscous. (You may have extra couscous if only serving two.) Garnish with remaining herbs and nuts if using. Serve right away.