The pairing of lemon, tahini, and maple syrup is so alluring to me that I have two different dressings that use it. My Double Lemon Tahini Dressing has more tahini in it and works with hearty warm salads or roasted vegetables. The vinaigrette I'm offering here is lighter and based on a more standard vinaigrette ratio, starting with plenty of olive oil, followed by a good bit of lemon. The tahini is really here as a binder and a background flavor but if you want a slightly thicker or sesame-flavored dressing you can always add more tahini (and/or a tiny amount of roasted sesame oil). Remember to whisk or stir your tahini really well (or throw in a food processor to whiz together) before measuring.
I like this vinaigrette so much that it has become our winter staple, replacing our summer Farmhouse Vinaigrette. We make a lot of what I call "salad-slaws" in the winter to take advantage of long keeping greens like iceberg lettuce and cabbage (always with a bit of arugula and radicchio added in), and this vinaigrette stands up to those combinations.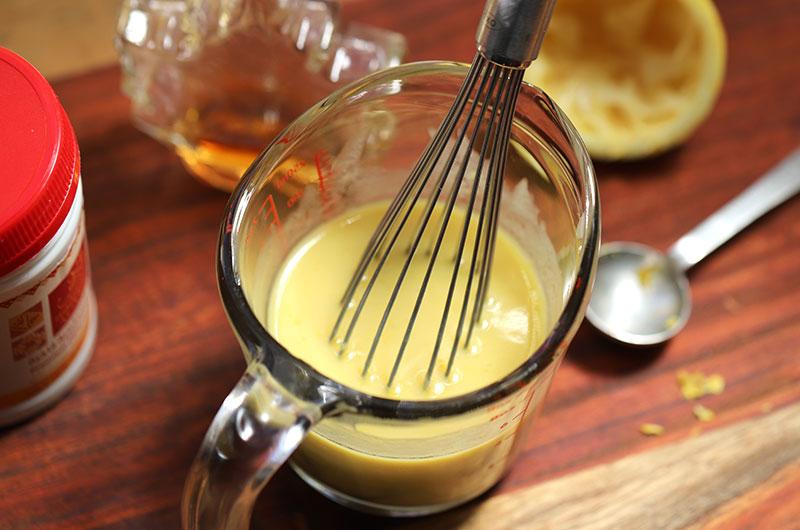 Makes about 1 generous cup
6 tablespoons olive oil
2 tablespoons freshly squeezed lemon juice
1 tablespoon apple cider vinegar
1 tablespoon tahini (well-stirred), more if you like
Freshly grated zest of one lemon
2 teapoons maple syrup
Kosher salt
1. In a glass measuring cup, combine the olive oil, the lemon juice, the apple cider vinegar, the lemon zest, the maple syrup and a good pinch or two of kosher salt.
2. Using a small whisk, whisk until very well combined.
3. Store in a glass container in the fridge. Re-whisk if necessary before using. (Or if using a tightly sealed glass container, shake well.)