In our family, popovers are a Christmas morning tradition. My Dad, now 91, still makes them. In the old days, we used a cast-iron muffin tin. These days we use a nonstick popover pan (pictured in top photo in collage above). But while the popovers coming out of the popover pan are impressive, the humble popovers you get from a cast-iron muffin tin (lower photos in collage above) are delicious and have their merits, too – namely more eggy custard to spread butter on! Either way, keep in mind a few tips from Dad for the best popovers.
1) The night before you want to make popovers, leave the milk and eggs out so that they'll be at room temperature in the morning. 2) For the best rise, start the oven out at a high temperature. After 20 minutes, drop the temperature to finish baking. Don't open the oven during baking! 3) For the biggest, tallest popovers, use a 6-cup nonstick popover pan. For denser, more eggy popovers, use a cast-iron muffin tin. (Be sure to grease the pan.) 4) Make sure everyone is at the breakfast table the minute the popovers come out of the oven!
Makes 6 large or 10 to 12 small popovers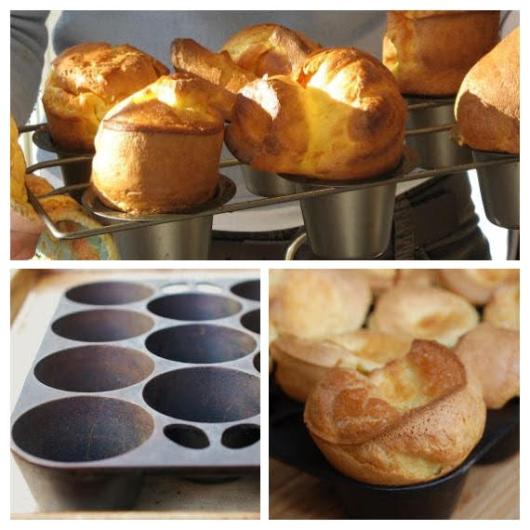 2 tablespoons unsalted butter, melted and slightly cooled, more softened butter for rubbing the pan and for serving
Vegetable shortening (if using cast-iron pan)
4 large eggs, at room temperature
1 1/4 cups whole milk, at room temperature
1 1/4 cups (5.6 ounces) all-purpose flour
1/2 teaspoon table salt
_____________________
1. Heat the oven to 425°F. Arrange a rack in the center of the oven.
2. Grease the cups of a nonstick (6-cup) popover pan very generously with softened butter or the cups of a cast-iron pan generously with vegetable shortening.
3. Combine the milk, flour, and salt in a blender and blend thoroughly. Add the eggs to the blender and blend until smooth. Lastly, blend in the melted 2 tablespoons butter.
4. Pour the batter into the cups (they will be about 3/4 to 7/8 full), dividing it evenly. Put the pan in the oven and do not open the oven door for the entire baking time.
5. Bake for 20 minutes and then reduce the oven temperature to 325°F and continue baking (without opening the oven door) until the popovers are very puffed and a deep golden brown, about another 10 to 12 minutes for the cast-iron pan popovers and about 15 minutes for the popovers in the nonstick popover pans.
6. Serve right away with lots of butter.