These flavor-packed slice-and-bake cookies are perfect for both snacking and holiday gift giving. Be sure to leave time in your schedule for chilling the cookie dough (from four hours to overnight). Once the dough is made you can slice off and bake as many or as few cookies as you like at a time. To grab all the tips before you bake, read Baking Together #19: Lemon Ginger Butter Cookies to Slice and Bake.
Makes 28 two-inch cookies.
8 tablespoons (4 ounces) unsalted butter, softened
1/3 cup (2 5/8 ounces) granulated sugar
1 3/4 teaspoons finely grated fresh ginger
1 teaspoon freshly grated lemon zest
1/2 teaspoon pure vanilla extract
1/4 teaspoon table salt
1 1/4 cups (5 5/8 ounces) unbleached all-purpose flour
1/4 cup (1 1/8 ounces) finely chopped crystalized ginger
Make the dough
1. Put the butter in the bowl of a stand mixer fitted with the paddle attachment (or in a large bowl using an electric handheld mixer fitted with wire beaters). Beat on medium speed until creamy and smooth, about 1 minute. Add the sugar, ginger, lemon zest, vanilla and salt and beat on medium speed until fluffy and lighter in color, about 2 minutes. Add the flour and chopped crystalized ginger and mix on low speed until the mixture is just blended.
2. Scrape the dough onto a large piece of plastic wrap, press and shape into 7-inch log and wrap in the plastic. To help the log keep its round shape, set it in empty cardboard paper towel tube that has been cut lengthwise and refrigerate until very firm (see photos here), at least 4 hours or up to 2 days.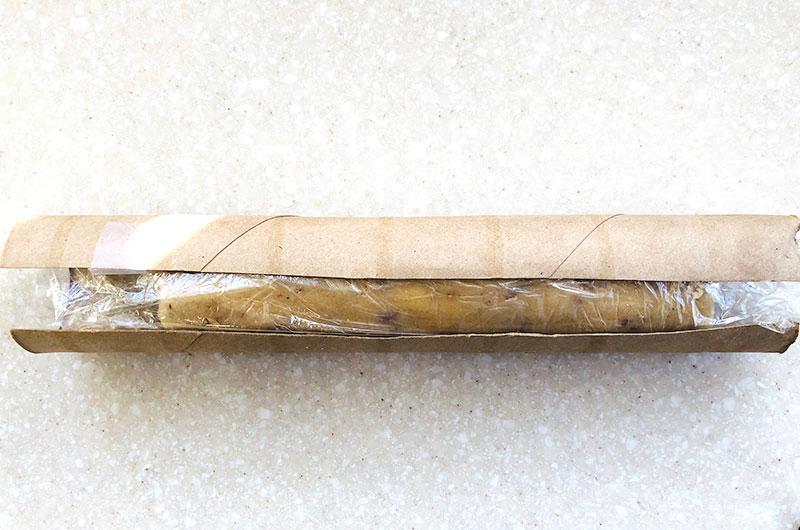 Bake the cookies
1. Position a rack in the center of the oven and heat the oven to 350°F. Line two cookie sheets with parchment or nonstick liners.
2. Unwrap the log and set on a cutting board. Using the tip of a thin, sharp knife, score the log at 1/4-inch intervals. Cut the log and the arrange the cookies about one inch apart on the prepared sheets. Bake, one sheet at a time, keeping the second sheet in the refrigerator, until light golden brown around the edges, 11 to 13 minutes. Move the sheet to a rack and let cool for 5 minutes. Using a spatula, move the cookies from the sheet and set on a rack until cooled completely. Cover and stow at room temperature for up to five days. Or store, well-wrapped, in freezer.