This hearty seasonal dish honors Indigenous ingredients and makes a nice vegetarian option for the holiday table or a casual supper any time. Corn pancakes can be frozen and reheated if you want to make them ahead. I've given you two options for roasting the squash – in cubes (peeled) or rings (unpeeled). If making for Thanksgiving, the squash can be roasted once the turkey comes out of the oven and is resting.
Serves 6 as a side dish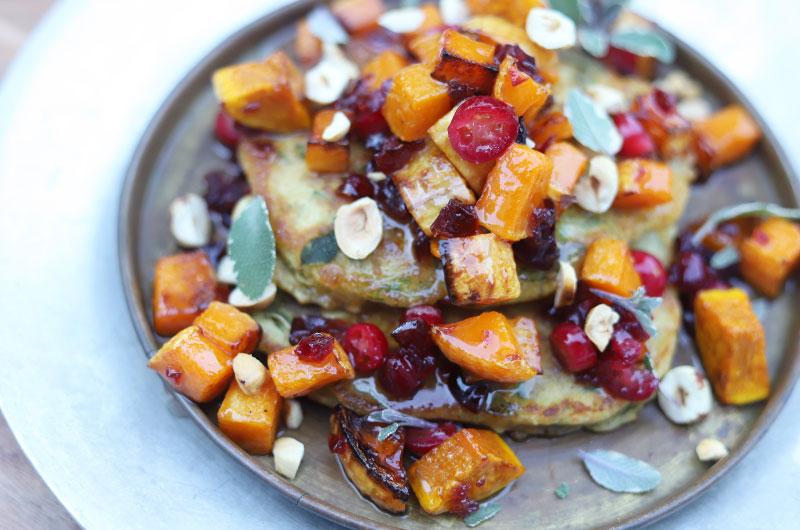 For the squash:
• 1 to 1 1/4 pounds peeled butternut squash, cut into 1/2-inch dice; or 3 pounds (about 3 small) acorn or other small winter squash, unpeeled, halved lengthwise, seeded, and cut crosswise into ¾-inch rings
• 3 tablespoons extra-virgin olive oil
• Kosher salt
• Maple syrup (optional)
For the pancakes:
• 1/2 cup plus 1 tablespoon all-purpose flour
• 1/2 cup plus 1 tablespoon stone-ground cornmeal
• 2 teaspoons sugar
• 1/2 teaspoon baking powder
• 1/2 teaspoon baking soda
• 1/2 teaspoon dried sage
• 1 large egg, beaten
• 2/3 cup whole milk
• 2 tablespoons sour cream
• 2 tablespoons unsalted butter, melted 
and cooled slightly, more for frying
• 1 1/2 cups fresh corn kernels (from about 
2 large ears), lightly sautéed or blanched; or 1½ cups frozen corn, microwaved 
briefly and patted dry
• 3 tablespoons chopped fresh herbs, 
such as parsley and chives
• Olive oil, for frying
For the sauce and assembling:
• 3 tablespoons unsalted butter
• 2 tablespoons maple syrup
• 1/3 cup chopped frozen whole cranberries (thawed)
• 1/2 teaspoon lemon or lime juice
• 1/4 cup chopped toasted and skinned
hazelnuts
• Chopped parsley, chives, or small sage leaves for garnish
For the squash:
1. Heat the oven to 425 degrees. Line a large heavy-duty rimmed sheet pan with parchment. Toss the squash with the olive oil and 1 teaspoon salt. Spread the squash in one layer on the sheet pan. Brush the tops with a bit of maple syrup if you like.
2. Roast, flipping once after 15 minutes (brushing again with maple syrup), until the squash are tender and browned, about 10 to 12 minutes more. Set aside.
For the pancakes:
1. In a medium bowl, whisk together the flour, cornmeal, sugar, baking powder, baking soda, sage, and 1/2 teaspoon salt.
2. In a small bowl, whisk together the egg, milk, sour cream, and the melted butter. Make a well in the center of the dry ingredients and pour in the liquids, whisking until they are just combined. Stir in the corn kernels and herbs. Let the batter sit for 5 minutes or up to 30 minutes.
3. In a large nonstick skillet, heat 1/2 tablespoon butter with 1 tablespoon olive oil over medium heat. When the butter has melted, use a one-third cup measure to scoop batter into the pan, forming 2 or 3 medium-large pancakes. Cook for 2 to 3 minutes, until the pancakes are golden brown on the bottom (bubbles will appear on top), then flip. Cook for 1 to 2 minutes more. Transfer to a paper towel–lined plate. Repeat with the remaining batter, adding butter and oil and adjusting heat as necessary. You should have six or seven pancakes.
To assemble and serve:
1. In a small saucepan, melt the 3 tablespoons butter with the 2 tablespoons maple syrup over medium-low heat. Add the cranberries and stir to heat. Take the pan off the heat and add the lemon or lime juice.
2. Arrange one or two pancakes on each serving plate. Top with equal portions of roasted squash. Spoon an equal amount of the butter sauce over the squash. Garnish with toasted hazelnuts and herbs and serve right away.