A bit of leftover fresh Blueberry Sauce inspired me to conjure up these pops one day. I can't really call this a recipe – it's more of a start to inspire you to make your own frozen fruit pops however you like. I added fresh raspberries, lemon juice and maple syrup to jazz this one up, and I used coconut milk for creaminess. I'd like to try it again with Greek yogurt in place of the coconut milk, and lime juice instead of lemon.
While this takes very little time to make, you'll want to freeze the pops for at least five hours because coconut milk tends to slow down freezing. (You can also turn your freezer temperature down or put the pops in a chest freezer – on a flat surface of course.)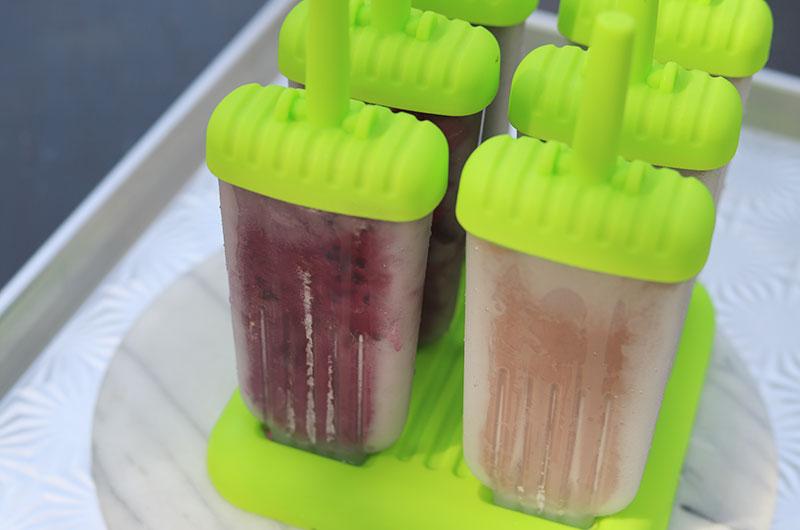 You'll want to get ahold of ice pop molds (LeRoux in Vineyard Haven carries an assortment), as they are much easier to handle than improvising your own. That said, in a pinch you can use cups or ice cube trays with popsicle sticks. Cover the cups or tray first with aluminum foil and then cut slits in the foil to hold the popsicle sticks in place.

Makes four or five 4-ounce pops.
1 13.5-ounce can of coconut milk (full-fat), well whisked to combine
¾ cup (or a scant 1 cup) Simple Blueberry Sauce (or blueberries simmered and reduced with a bit of sugar)
2 tablespoons maple syrup
2 tablespoons lemon juice
Big pinch of salt
Pinch of cinnamon
½ pint raspberries (or less)

1. Combine the coconut milk, blueberry sauce, maple syrup, lemon juice, salt and cinnamon and whisk until well-combined. Stir in some of the raspberries.
2. Pour and scrape the mixture into a large Pyrex measure for pouring.
3. Drop several raspberries into each of four or five pop molds. Pour the blueberry mixture into each mold until full.
4. Freeze the pops for five hours or overnight. To unmold, run warm water over the molds for several seconds.
5. Eat right away!