This June on the Vineyard, the variety and bounty of fresh greens at farmstands and the farmers' market is astounding. It's making me want to eat everything on a salad – and luckily roasted (and sautéed) vegetable salads are delicious and easy. (And they don't have to be served hot – room temp is fine.) This one started with some fingerling potatoes, spring onions, and arugula I picked up at Morning Glory. I added purple snowpeas (and some chopped garlic scapes) from my own garden, shiitakes and a bunch of different greens from the farmers' market and Ghost Island Farm.
Despite the specific ingredients I used here, this is truly a recipe where you can substitute whatever you find in your own garden or while market shopping. The only real trick to these salads is to arrange them on a platter – not in a deep bowl. You want to scatter on the ingredients in light layers and dress the salad just before serving.
By the way, there is a little recipe within a recipe here – the roasted fingerlings take on a pretty twist when roasted cut-side down on top of fresh sage leaves.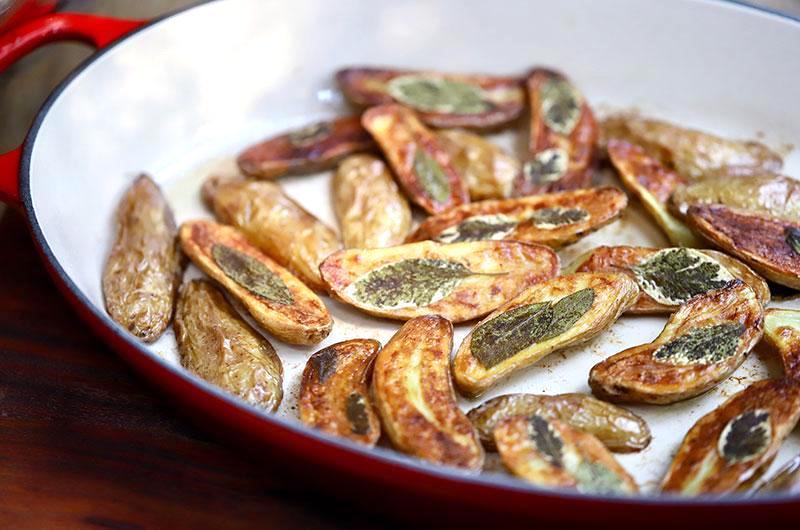 Serves 2 as a main dish or 3 to 4 as a substantial side with grilled or roasted sausages or other meat on the side.
4 cups or 5 to 6 handfuls greens (use as much variety as you can – consider arugula, spinach, baby red and green lettuces, pea greens or pea shoots, escarole, radicchio, nasturtium leaves, mizuna, mustard and sliced napa cabbage), washed and dried
¾ cup (more or less) Farmhouse Vinaigrette or other favorite dressing (Herbed Buttermilk Dressing, Crystallized Ginger-Miso Dressing)
1 pound fingerling potatoes, cut in half
Fresh sage leaves (enough to arrange one or two on each fingerling half)
3 tablespoons olive oil (more for sautéing)
Kosher salt
½ pound mixed tender vegetables, sliced or chopped (I used sliced spring onions, sliced shiitakes, and chopped garlic scapes but bell peppers, zucchini, eggplant or any mushroom would work)
¼ cup (more or less) torn fresh herbs and/or edible flowers (I used Thai basil, nasturtiums, cilantro blossoms and pinks)
1 cup sliced snowpeas or sugar snap peas (optional)
1/3 cup crumbled cheese, such as feta, goat, or blue cheese (optional)
¼ cup toasted nuts, roughly chopped (optional)
Sea salt

1. Have ready a large platter for serving. Keep your washed and dried greens in a bowl in the fridge covered with a damp towel. Bring your vinaigrette to room temperature.
2. Heat the oven to 425 degrees. Toss the fingerling halves with 3 tablespoons olive oil and 1 teaspoon kosher salt. Scrape into a heavy rimmed 3-quart baking dish and turn the fingerlings cut-side up. Arrange a sage leaf or two on each potato and flip it over so the cut side with the sage is down (in contact with the bottom of the pan). Roast for 30 to 35 minutes, or until the potatoes are tender and very crisp on the bottom. Use a metal spatula to carefully turn each potato over and let cool in pan for a few minutes or until ready to serve.
3. In a medium skillet over medium heat, sauté the sliced or chopped tender vegetables (seasoned with a bit of salt) in a few teaspoons of olive oil until lightly browned, 8 to 10 minutes. Set aside.
4. On your large serving platter, arrange your greens loosely over the bottom. Tuck the fingerling potatoes in amongst the greens. Sprinkle over the sauteed tender vegetables and garnish with the herbs and peas (as well as nuts and cheese if using). Drizzle with 5 to 6 tablespoons of vinaigrette or other dressing, sprinkle generously with sea salt, and serve with additi