These pancakes were the result of a fortunate mistake I made when developing the recipe for the Asparagus and Spring Onion Puff-Pastry Tart. I knew I wanted a ricotta topping for the tart, but I added too much cream to the egg and ricotta mixture on the first round and immediately knew it was not going to thicken up enough in the oven. Instead of discarding that batch of egg, cream, and ricotta, I saved it, whisked some flour and baking powder in later, and made pancakes. It was the first time I had made ricotta pancakes, though I'm not sure why as the ricotta gives an absolutely lovely body to the pancakes (a well-known fact!).
I scribbled something down but only recently got back to finessing the recipe (I added orange zest, vanilla and blueberries). By the time I'd made and photographed the pancakes it was too late to eat them for breakfast or brunch, so we ate them with grilled pork for dinner. They were delicious. So I'd say these can be served at any meal you like, any way you like – with honey, maple syrup, melted butter, or naked next to a juicy steak!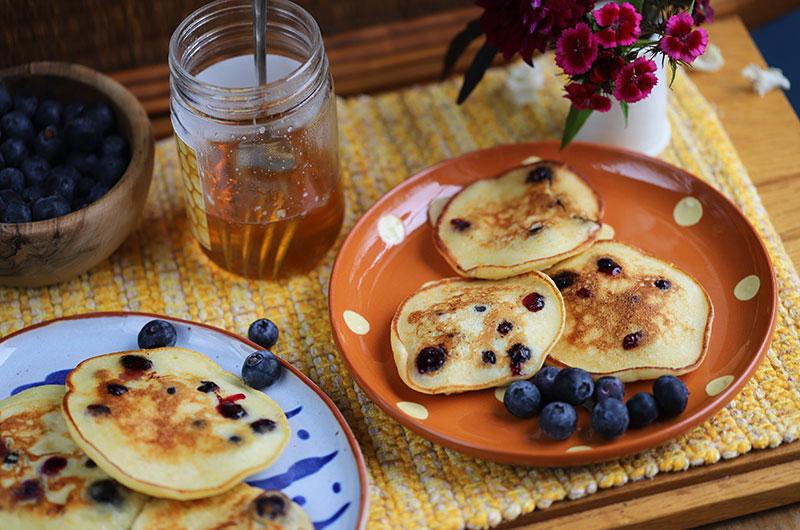 I cooked the pancakes in butter that I melted in the microwave and then let sit to allow the milk solids to drop down, leaving a quick clarified butter (or ghee). This means you can cook your pancakes in butter without worrying about them burning around the edges. But a combination of vegetable oil and butter would be fine, too.
Makes 14 to 16 pancakes
1 cup flour
2 tablespoons sugar
1 teaspoon baking powder
½ teaspoon table salt
3/4 cup ricotta (drained of excess liquid if necessary)
1 egg
1 teaspoon vanilla
¾ cup half 'n' half
1 teaspoon fresh citrus zest (any kind, though I like Cara Cara orange)
1 cup blueberries
Melted unsalted butter (melt in microwave and let solids separate from fat), ghee, or vegetable oil for cooking; more butter for serving (if desired)
Maple syrup or honey for serving
1. Heat the oven to 200 degrees F if you plan to hold each batch of pancakes. In a large mixing bowl, whisk together the flour, sugar, baking powder, and salt.
2. In a medium mixing bowl, whisk the egg. Add the half 'n' half and the vanilla and whisk until combined. Add the ricotta and whisk until well combined. Whisk in the citrus zest.
3. Make a well in the center of the dry ingredients. (Be sure the bowl is stabilized by putting a damp towel under it if necessary.) Gradually pour the liquids into the well of the dry ingredients, whisking gently (starting from the center and moving outwards as more liquid is added) until the liquids and dry ingredients are just combined. Stir in the blueberries.
4. Heat a couple teaspoons of butter fat or vegetable oil (or a combination) in a large nonstick skillet over medium heat. (Or use a griddle if you have one.) Using a one-quarter cup measure, pour batter into the skillet, creating three medium or four small pancakes.
5. Cook on one side until little bubbles form on the top, starting around the edges (one to three minutes). Check the undersides of the pancakes to be sure they are browned to your liking, flip, and cook for a minute or two more. (Be sure the pancakes are not browning too quickly or the middle of the pancake will not fully cook by the time the two sides are browned.)
6. Hold that batch of pancakes in the warm oven and repeat until finished cooking. (Or serve right away.) Serve warm with maple syrup, honey and/or melted butter.