These moist, chocolately muffins are the perfect destination for bananas that are past their prime. The recipe is for a small batch (six muffins) and is super quick and easy to make. I'm a fan of small batches of baked goods because they yield just enough to satisfy a craving. Leftovers lingering on the counter can pose too much temptation for this sweet-toothed gal and her clan! For helpful tips on baking with bananas (including how ripe they should be), be sure to read Baking Together #15: A Small Batch of Chocolate Banana Muffins. FYI, I think the muffins are best served the day they are baked, but I have been known to split and toast day-olds on a griddle and serve with a salted butter smear.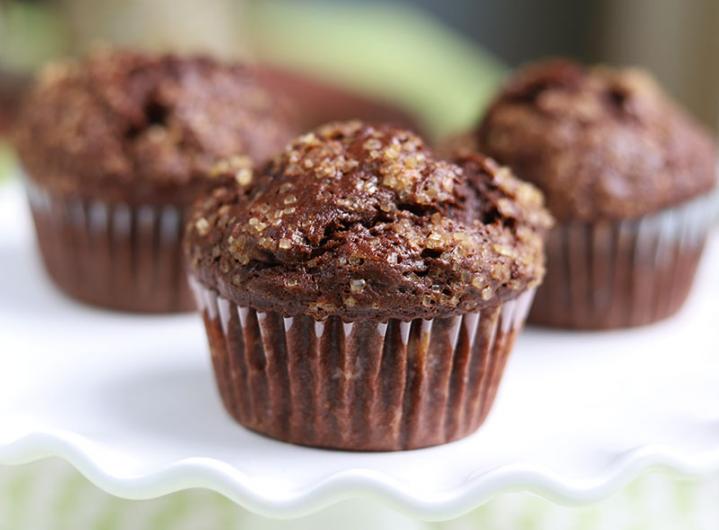 Makes 6 servings
3/4 cup (3 3/8 ounces) all-purpose flour
1/2 cup (3 1/2 ounces) granulated sugar
1/3 cup (1 ounce) natural unsweetened cocoa powder, sifted if lumpy
1/2 teaspoon baking powder
1/4 teaspoon table salt
1/8 teaspoon baking soda
3/4 cup (6 3/4 ounces) mashed banana
1/4 cup (1 7/8 ounces) neutral oil (canola, corn or vegetable)
1 large egg, at room temperature
1 teaspoon pure vanilla extract
1/3 cup (2 ounces) finely chopped bittersweet chocolate or mini chips (substitute white chocolate chips if you like)
Coarse sanding sugar (such as Sugar in the Raw or Demerara , for sprinkling (optional)

1. Position a rack in the center of the oven and heat the oven to 375°F. Line six regular-sized muffin cups with paper or foil liners.
2. Whisk the flour, sugar, cocoa powder, baking powder, salt and baking soda in a medium bowl until well blended.
3. Combine the banana, oil, egg and vanilla in a small bowl and, using a fork, mix until well blended. Pour the wet ingredients over the flour mixture and add the chopped chocolate. Using a rubber spatula, gently stir and fold until just blended.
4. Portion the batter evenly among the prepared muffin cups. The batter will fill the cups. Sprinkle the tops with coarse sanding sugar, if using. Bake until a pick inserted in the center comes out clean, 22 to 24 minutes. Move to a rack and let cool for 10 minutes. Carefully remove the muffins from the pan, set them on a rack, and let cool a bit before serving.