A cross between a crisp and a cracker with a definite nod to pie crust, these buttery nibbles are fun to make and perfect for any occasion. Beware, they will get gobbled up quickly! Before you make them, be sure to read Baking Together #14: Parmesan Crisps for Spring Flings (or Just Nibbling.)
Makes at least a few dozen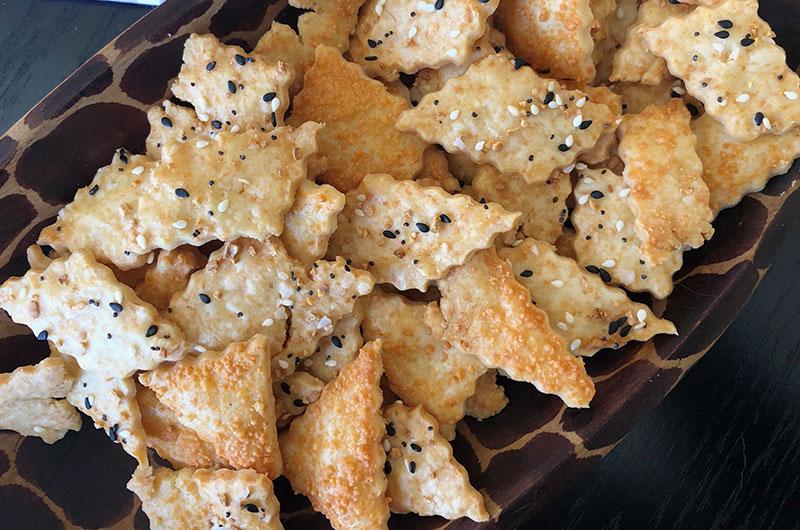 1 1/2 cups (6 3/4 ounces) unbleached all-purpose flour, plus more for rolling
2/3 cup (2 5/8 ounces) finely ground Parmigiano Reggiano cheese
1 teaspoon table salt
Pinch of cayenne pepper
8 tablespoons (4 ounces) unsalted butter, very cold and cut into 8 pieces
2 tablespoons (1 ounces) very cold water
For topping
1 egg white, lightly beaten
Finely ground Parmigiano Reggiano cheese, for sprinkling (optional)
Coarse sea salt, for sprinkling (optional)
Everything seasoning, for sprinkling (optional)
Make the dough
1. In a food processor, combine the flour, cheese, salt and cayenne and process until blended, about 5 seconds. Add the butter and briefly pulse twice until the butter is coated with flour and slightly chopped, about 2 seconds. Sprinkle the water over the flour and process until the dough comes together in medium, moist crumbs, 30 to 40 seconds. Scrape the dough onto a large piece of plastic wrap, divide in half (it doesn't have to be exact) and shape into discs about an inch thick (5 or 6 inches across). If the dough is crumbly, don't worry about using your hands to press it together as much as necessary.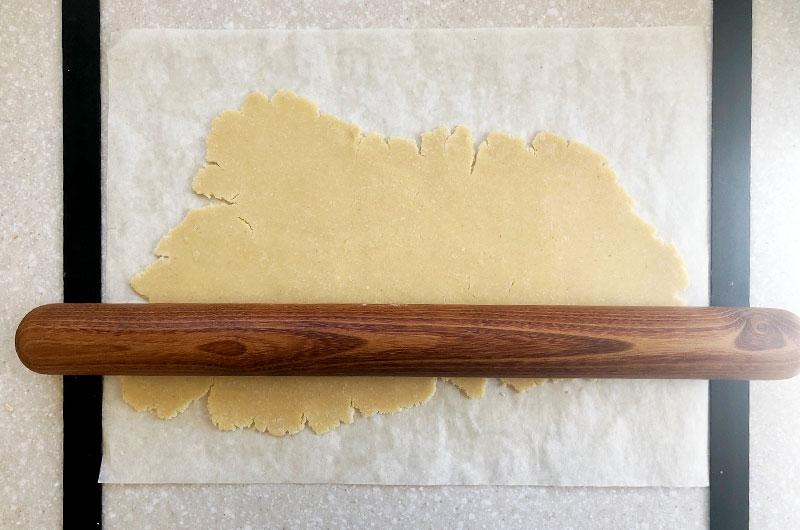 2. Work with one disc at a time and keep the second one covered with plastic (see #3, below, about refrigerating or freezing the second disc for another time). Put the disc of dough on a large piece of parchment paper. Using a rolling pin, roll the dough to a very rough rectangle that's 1/8-inch thick, lightly flouring throughout the rolling as needed. Slide a cookie sheet under the parchment, cover the dough with plastic and refrigerate until ready to bake, 15 minutes or up to 6 hours.
3. If you are using the other disc, repeat the rolling on a fresh piece of parchment and refrigerate. If you aren't using the remaining dough, wrap tightly in plastic wrap, slide it into a freezer bag and refrigerate up to 2 days before using. The disc can also be frozen up to 3 months and thawed in the refrigerator overnight before using. Before rolling, remove the disc from the refrigerator and set it out at room temperature until it's just pliable enough to roll, 10 to 20 minutes.
Bake the Crisps
4. Position a rack in the center of the oven and heat the oven to 375°F. While the oven heats, remove the plastic from the rolled sheet of dough.
5. Using a pastry brush, thinly coat the entire surface with the egg white and sprinkle the surface with some parmesan cheese or coarse sea salt or the everything seasoning. For a combination of different toppings in one batch, evenly scatter the toppings over different areas of the dough.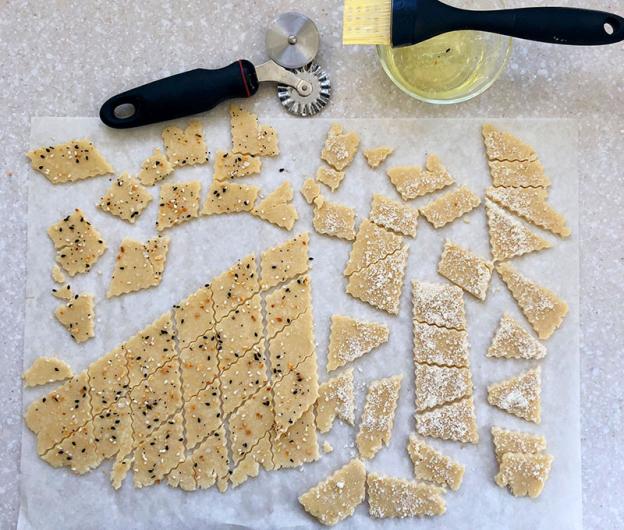 6. Using a pizza wheel or fluted pastry cutter, cut the dough directly on the parchment and cookie sheet (the pastry wheel won't cut the parchment) into about 1-inch randomly shaped pieces. Feel free to be loose and casual with the shapes. Using your fingertips or a paring knife, separate the pieces slightly so they aren't touching. Bake until golden brown, 11 to 13 minutes. Move the sheet to a rack and let cool for 5 minutes.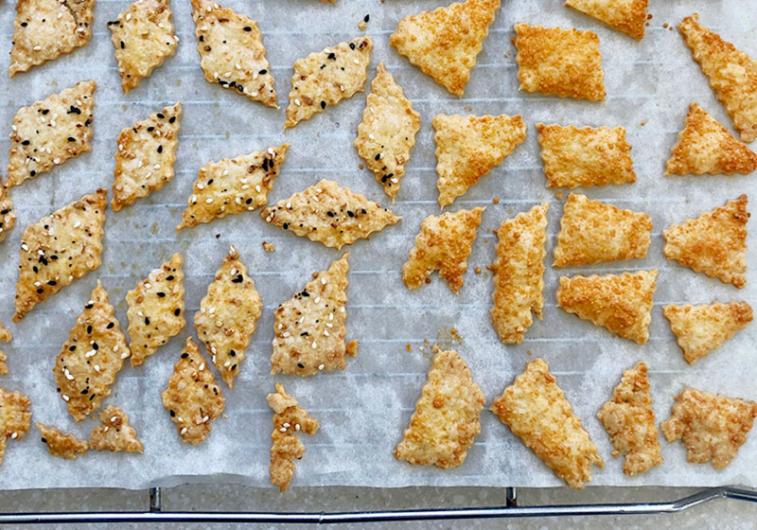 7. Using a wide spatula, move the crackers to a wire rack until cool enough to eat. Or let cool completely and stow in an airtight container at room temperature for up to 2 days.