Thanks to a 500-degree oven, popping open a couple dozen littlenecks (aka littles) for lunch or hors d'oeuvres — no guests required! — is easier than you'd think. Plus it's an excuse to patronize our local fish markets during the off-season. Top the littles with a quick-infused oil of garlic and finely chopped chile, finish with a little spinach, and serve warm. Scale up or down the garlic or chile as you like. I like to use Thai bird chiles, but if you can't find these, substitute another favorite fresh hot chile.
Serve with cold lager or a Thai beer (such as Tiger) or a dry white wine (such as Sancerre or Chablis).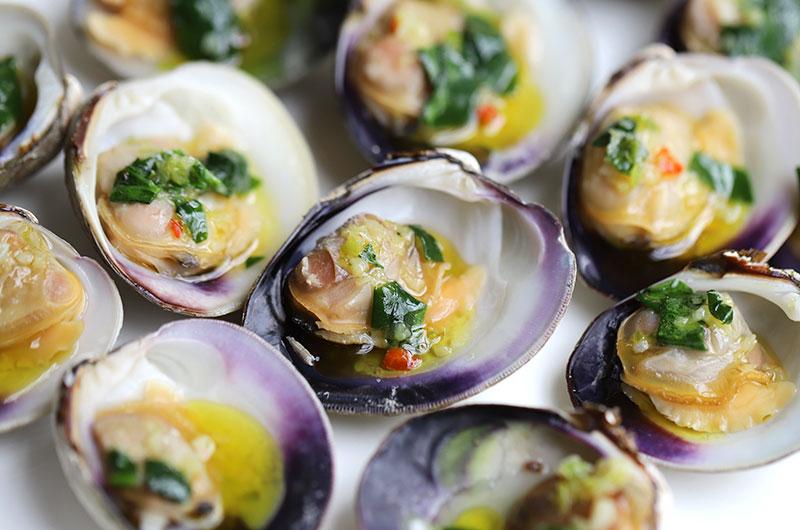 Serves 2 as a light lunch, 4 as a starter
2 dozen littleneck clams
3 tablespoons olive oil
3 cloves garlic, finely chopped
1 Thai chile pepper, seeds and veins removed, finely chopped
A small handful of coarsely chopped spinach
1. Heat the oven to 500 degrees F. Rinse the clams in cold water and arrange them in a baking dish. Roast until the clams open, about 8 to 10 minutes.
2. Meanwhile, heat the olive oil, the garlic, and the chile gently in a small sauté pan over medium-low heat. Cook until the garlic is just starting to color, a couple minutes. (The color of the garlic should be tan, not any darker.) Add the spinach to the pan, stir until wilted, and remove from the heat. Cover loosely to keep warm.
3. Remove the empty shell half from each clam by twisting it off. Take care as the clams will be hot, and use a cloth if you like. Hold the clam in one hand (or with tongs if that is comfortable for you) and twist with the other.
4. Put a half teaspoon of the infused oil-spinach mixture on top of each clam in its shell and serve right away.