A casserole of macaroni and cheese is a popular Kwanzaa potluck addition. In this version, the traditional cheese-flavored dish meets up with the African-American love for things hot and well-seasoned with the addition of pepper Jack and a dash of hot sauce. The pepper Jack joins cheddar and parmesan, too. While we may not be going to a potluck for Kwanzaa this year, this recipe is a perfect size for just the family.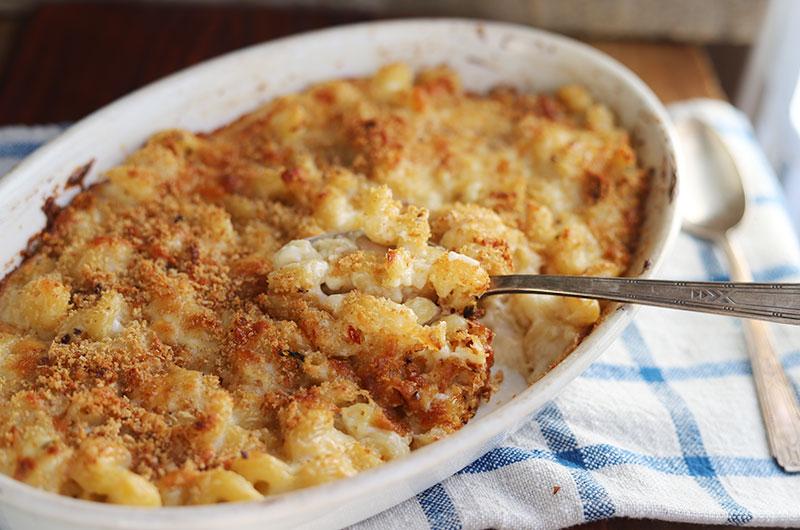 Serves 4
2 tablespoons unsalted butter, more for greasing the baking dish
1 ½ cups medium elbow macaroni (about 5 to 6 ounces)
2 tablespoons all-purpose flour
1 ¼ cups milk
¾ cup (about 2 ¼ ounces) freshly grated extra-sharp Cheddar cheese
½ cup (about 1 ¾ ounces) freshly grated pepper Jack cheese
¼ cup (about ½ ounce) freshly grated parmesan cheese
¼ cup fine dry bread crumbs
1 teaspoon hot sauce or to taste
Salt and freshly ground pepper, to taste
1. Heat the oven to 350 degrees F. Lightly grease a 1 ½ quart ovenproof baking dish. Cook the macaroni (or other pasta) according to package directions until tender but still firm. Drain it and place it in the baking dish.
2. Melt the 2 tablespoons butter over medium heat in a small saucepan and whisk in the flour. Cook for about two minutes, stirring constantly, or until the mixture is smooth and like a loose paste. Gradually drizzle in the milk, whisking constantly, and bring to a gentle simmer. Cook, stirring constantly, for 2 to 4 minutes, or until the sauce has reduced slightly and thickened enough to drizzle off of a spoon. Remove the sauce from the heat but keep it warm.
3. Reserve one tablespoon of each of the cheeses in a small bowl. Add the remaining cheese to the white sauce and stir in until smooth. (You may have to return the pan to the stove over low heat to melt the cheeses.) Add the hot sauce, salt, and fresh pepper to taste.
4. Pour and scrape the sauce over the pasta in the casserole and stir it well to make sure everything is well-mixed. Add the bread crumbs to the 3 tablespoons reserved cheese, mix them well, and sprinkle the mixture over the top of the pasta.
5. Bake for 32 to 36 minutes, or until hot, bubbly, and lightly browned on top.