This is my go-to gingerbread recipe for decorating and giving. The cookies are thin and crisp and fragrant with spices, and you can decorate them however you like. This is the cookie that won me a blue ribbon at the Ag Fair a few years ago (I submitted brown-and-white decorated cows), but you don't need to be a pro or a perfectionist to do the glazing. In fact for these cookies, a simple drizzle adds a lot of pizzazz. This year I had fun taking a jaunty approach with colored glaze and sparkles, but you can simply drizzle white glaze with a fork or spoon and you'll be all set. I usually do the decorating after dinner as the glaze needs to harden overnight.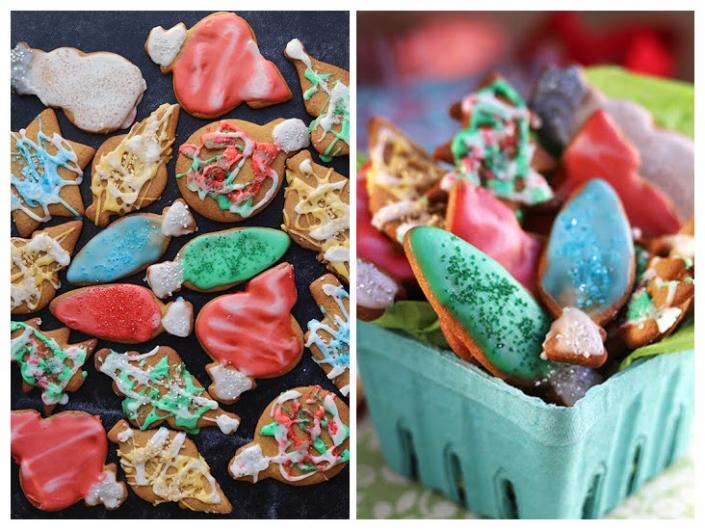 I like to use small (2-inch) cookie cutters for this nicely-spiced recipe — a two-bite cookie is something everyone can enjoy! But you can do any size or shape you like. And you can do stars, hearts, and crescent moons if you're making them for a non-holiday occasion.
Be sure your spices are fresh before making this cookie. Also, plan ahead for chilling your dough (at least two hours and preferably overnight), as gingerbread dough is too sticky to roll out unless well-chilled. You don't have to bake all of the cookies at once. The dough will keep, well-wrapped, in the fridge for two days and in the freezer for several weeks. Defrost frozen dough overnight in the fridge before using.
Yields about 4 ½ dozen two-inch cookies
2 ½ cups all-purpose flour (11 ¼ ounces)
1 ½ teaspoons ground ginger
1 teaspoon cinnamon
1/2 teaspoon ground cloves
1/2 teaspoon baking powder
1/4 teaspoon table salt
½ cup butter (8 tablespoons) unsalted butter
½ cup sugar
½ cup molasses
1 large egg
Confectioners' Sugar Glaze for drizzling (below)
1. Arrange a rack in the center of the oven and heat the oven to 350 degrees F. Cover two heavy-duty cookie sheets with parchment paper or nonstick liners.
2. In a medium bowl, whisk together the flour, ginger, cinnamon, cloves, baking powder and salt.
3. In the bowl of an electric mixer, combine the butter, sugar, and molasses. Beat on medium speed until very fluffy. Stop the mixer and scrape the sides down. Turn the mixer back on medium-low speed and add the egg. Turn up the speed to medium and beat until thoroughly combined. Stop and scrape down the sides again.
4. Turn the mixer to low and begin adding the flour mixture in small amounts. Continue to add the flour gradually until it is all in the bowl. Mix until just combined.
5. Chill the dough (either in the bowl, covered, or wrapped in plastic) for at least two hours, and preferably overnight.
6. Arrange cookie cutters and extra flour around your rolling surface. Lightly flour your work surface and your rolling pin. Working with small pieces of dough, roll the dough out to a thickness of 1/8 inch. Cut out desired shapes and transfer to baking sheets. Reroll scraps and cut again.
7. Bake for 9 to 12 minutes, depending on the thickness of your cookies. You want to take them out before they begin to turn dark brown around the edges and when they are just set.
8. Let cool for a minute or two and transfer to racks to cool completely before decorating. Repeat with remaining dough.
9. To decorate cookies with quick drizzling, arrange them close together on a flat sheet covered with wax paper or parchment paper. Drizzle with the glaze and let dry overnight. Break apart and store in an airtight container.

Confectioners' Sugar Glaze for Drizzling
2 cups of confectioners' sugar
3 tablespoons of warm water or milk
½ teaspoon of vanilla
Coloring as desired
1. Measure confectioners' sugar into a small bowl. With a whisk or a fork, slowly add your liquid and the vanilla until you get a slightly runny consistency. Adjust with more sugar or liquid as necessary; you are looking for the glaze to drip off a spoon smoothly.
2. Divide and add food coloring if desired.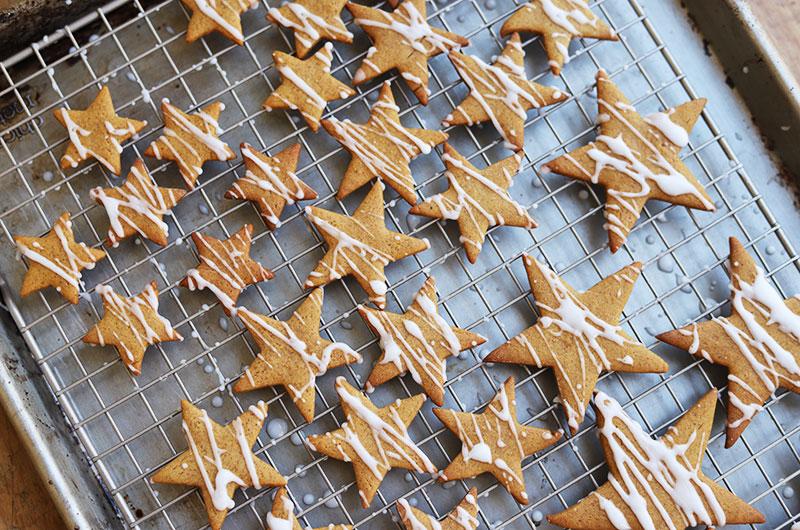 *
*