Recently, I went looking for a tender chocolate sugar cookie in my stacks of recipes. I was thinking about something thin and chewy, the kind of thing that would be perfect for an ice cream sandwich. I couldn't find what I wanted, so I went into the kitchen with some notes. It turns out that what I created was very close to what I imagined, only it didn't really feel right for this time of year, not holiday-ish enough. So I made some changes (a bit less butter, more flour, and more chocolate chips) and got a very delicious and perfectly sized chocolate cookie perfect for gift giving (and munching). That is the recipe I'm giving you here, but if you want to make the thinner cookies, directions are below.
With both cookies, I experimented with pressing crushed peppermint candy (candy canes, actually!) into the dough balls before baking. This works because the peppermint pieces hold their shape and color for about as long as it takes to bake the cookies; any longer and they begin melting. But you don't want to overcook the cookies anyway; I took mine out when they still looked like they weren't quite set because they continue to cook out of the oven. Think flourless chocolate cake here; the center of the cookie can be a bit gooey right out of the oven. They are so good!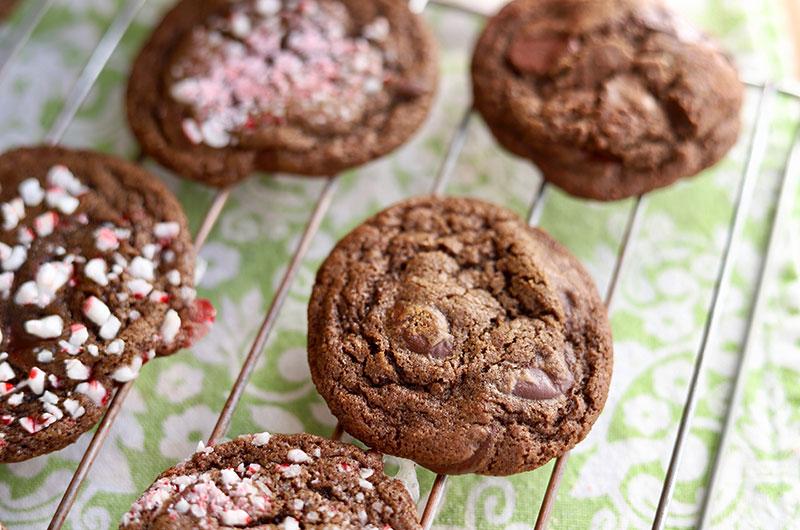 With the thin cookies, I also experimented (quickly, no finessing) with making an ice cream sandwich, and I'm happy to say they were perfect for this.
Last note: I also experimented with adding finely chopped crystallized ginger to this cookie dough. I tried just pressing some of the ginger to the top, but in the oven, it shifts and disappears visually. The flavor combo is amazing, but you'd have to invest in a lot of crystallized ginger to mix into the entire batch of dough. But you could always take just a small part of the dough and press in some crystallized ginger (for flavor, not looks).
Makes about 50 cookies
2 ¼ cups (10 1/8 ounces) all-purpose flour
2 ounces (about ¾ cup) unsweetened cocoa powder, sifted
1 teaspoon baking soda
1/2 teaspoon table salt
1 cup (1/2 pound) unsalted butter, softened at room temperature
1 1/4 cups sugar
3/4 cup dark brown sugar
1 teaspoons vanilla extract
2 large eggs, at room temperature
12 ounces (1 bag) bittersweet or semisweet chocolate chips (I like Ghirardelli bittersweet)

1. Heat the oven to 350 degrees F. Line two heavy-duty baking sheets with parchment paper.
2. In a large bowl, whisk together the flour, cocoa powder, baking soda, and table salt.
3. In the bowl of a stand mixer, combine the butter, the sugar, the brown sugar, and the vanilla. Beat on medium speed until well combined.
4. Turn off the mixer, scrape down the sides, and turn it back on to low speed. Add the eggs, one at a time, beating until well-combined after each addition.
5. Gradually add the flour-cocoa mixture and mix on medium speed just until well-combined. Remove the bowl from the mixer and stir in the chips.
6. Using your hands, roll dough balls about 1 inch in diameter for smaller cookies, 1 1/2 inches for bigger cookies, and arrange on baking sheets about 3 inches apart.
7. Bake the cookies one sheet at a time, rotating the sheet pan halfway through cooking, until the edges are firm and the middles are just still slightly soft, about 8 to 10 minutes. Let the cookies cool on the sheet pans for a minute before transferring to a cooling rack. Repeat with remaining dough.
---
To make thinner cookies:
Follow the directions above, decreasing the flour to 2 cups, increasing the butter to 1 ¼ cups, and using 1 ½ teaspoons vanilla. Reduce the amount of chips or eliminate them.
*