I am a fan of quick-roasting — slicing vegetables thinly, tossing with oil and salt, spreading them out on sheet pans and cooking in a hot oven until browned and cooked through. This method brings great flavor and needed texture to eggplant. The eggplant can be sliced crosswise into rounds or lengthwise into strips before roasting. The resulting slices are delicious right off the sheet pan, but they can also be used in a lot of different ways.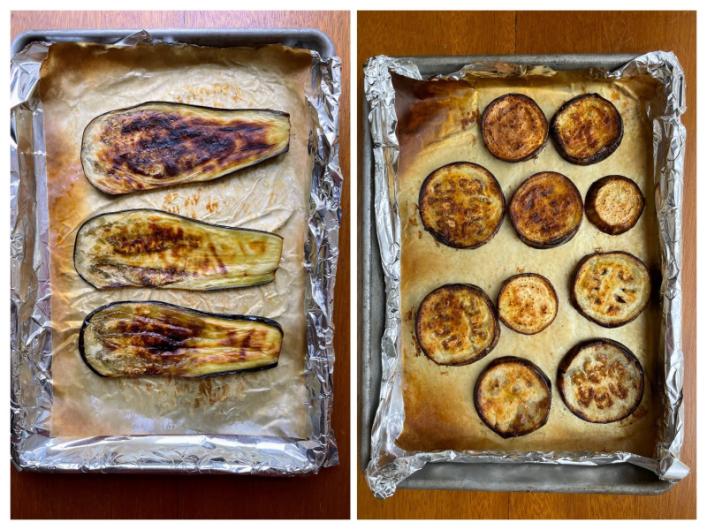 Sometimes I use them as an ingredient in savory tarts, toasts, pastas, or salads. But one of my favorite ways to use them is in an appetizer with either fresh mozzarella or goat cheese, tomatoes (roasted, fresh, or sundried), and fresh basil leaves. I serve the topped rounds open-faced, with a drizzle of balsamic glaze, or sandwich-style with a second eggplant slice on top. The sandwich can be topped with Parmigiano and reheated briefly. You can even double all the layers and make "stacks."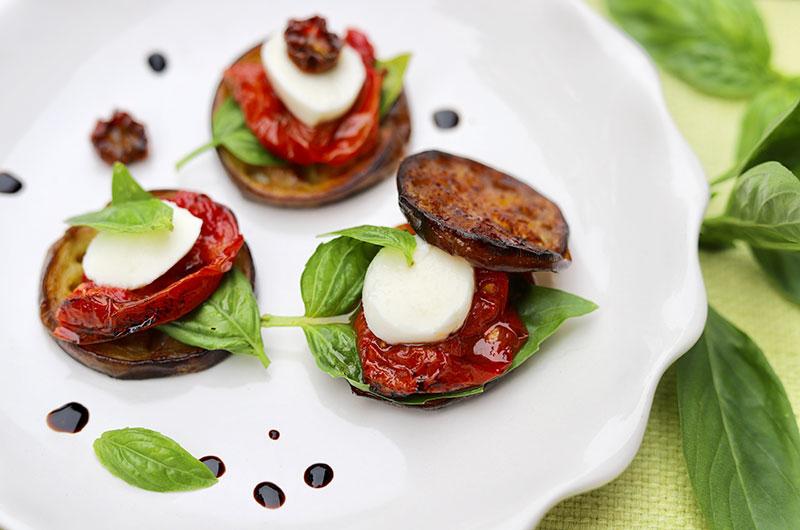 I also love to make rollups (or involtini) with the roasted strips (cut lengthwise). I put the basil, tomatoes (roasted cherry tomatoes are my favorite), and goat cheese at one end of the strip (preferably while the eggplant is still warm from the oven) and roll it up. These can be served warm or at room temperature as part of an antipasto or alongside a salad. Or they can be topped with some grated Parmigiano, briefly reheated, and served as a side dish or first course.
I hope these ideas will inspire you to get creative with roasted eggplant – and will help you use up those random pretty eggplants you've been tempted by at the summer farmers' market.
This method will work with any kind of eggplant.
Yields as much as you like.
• Skin-on eggplant (any amount)
• Olive oil
• Kosher salt
1. Heat the oven to 425 degrees F. Line a heavy rimmed sheet pan with parchment paper.
2. If eggplant skin bothers you, score the eggplant with a fork before slicing it. (By scoring I mean running the fork down the length of the eggplant all the way around. You will need to apply pressure for the fork to break the skin.) Cut the eggplant crosswise or lengthwise into ½-inch slices, discarding ends or outsides.
3. Arrange the eggplant slices in one layer on the baking sheet. Brush both the tops and the bottoms of the slices generously with oil. Sprinkle kosher salt across the tops.
4. Roast, flipping once and rotating the sheet pan if necessary, until the slices are well-browned, about 24 to 28 minutes, depending on the type of eggplant. They will be somewhat crisp around the edges and very tender.
Let cool and enjoy or use in other preparations.