This recipe (number six in our Baking Together series) features my favorite shortcake biscuit, which makes a wonderfully versatile foundation for endless summer fruit desserts. When strawberry season wanes, use this biscuit with blueberries, peaches, or plums — or whatever ripe and delicious fruit you find at the farm stand or the grocery. You can also change the flavor profile of the biscuits to suit your taste buds (see the fun variations below the recipe).
As an added bonus, I've included my recipe for a stabilized whipped cream that you can make and refrigerate for up to one day before serving. For those of us who have suffered through watery whipped-cream disasters, this mascarpone whipped cream is a dream come true and a lifesaver for those who like to make things ahead of time. Mascarpone is a thick, smooth Italian cheese that lends an added richness along with a slight tang to the whipped cream. You can find it at Cronig's.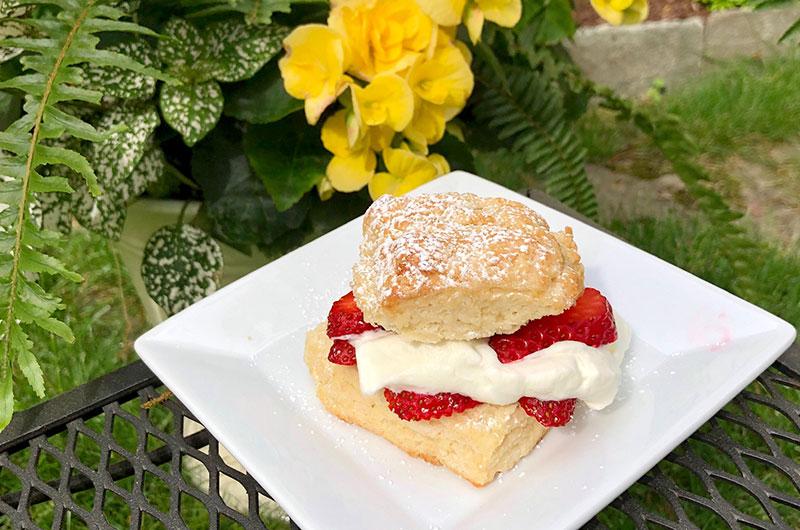 Serving these beauties needs little explanation: Just split and stack with cream and berries. That said, I will share that last night my daughter served herself a deconstructed version in a small bowl: shortcake crumbles, sweetened berries, and a dollop of whipped cream. In its simplicity, it was glorious to look at and, according to the maker, just as delicious. On a personal note, leftover biscuits (if you're lucky enough to have them) are one of my favorite morning treats. A smear of strawberry jam on a split, toasted, biscuit starts my day on an inspiring note and pairs beautifully with my morning tea.
Once you've made the shortcakes, be sure and leave us a note in the comments section below about how you served them or what variations you've tried. Tell us if you did anything differently with the biscuits, the whipped cream, or the fruit. Did you try any of the variations listed below? Did you top the assembled shortcakes with a drizzle of chocolate sauce? We're looking forward to hearing from you.
And if you're new to our Baking Together column, be sure to check out our other recipes: One Bowl Vanilla Cupcakes with Milk Chocolate Frosting; Pumpkin Cream Cheese Tart with Crushed Pretzel Crust, Butter Pecan Slice-and-Bake Cookies, Lemon Rosemary Parmesan Scones, Pie Plate Chocolate Chippers, Cream Cheese Pound Cake.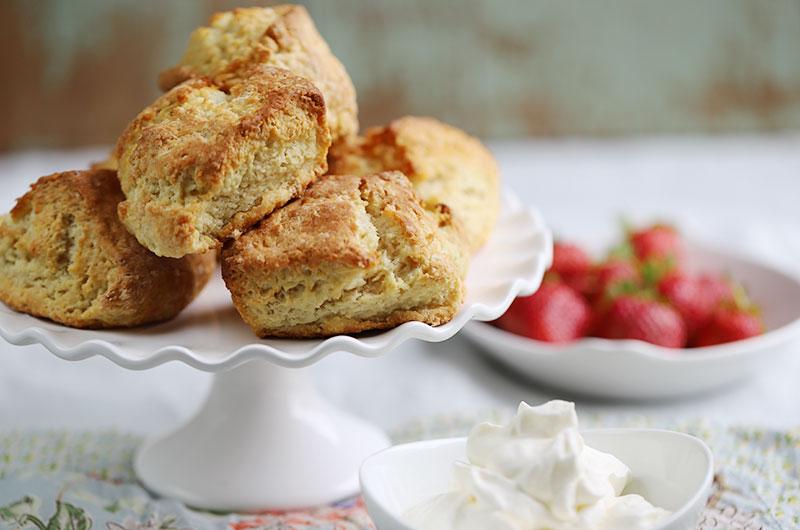 Makes 6 shortcakes
For the biscuits:
2 cups (9 ounces) unbleached all-purpose flour
3 tablespoons granulated sugar
2 1/4 teaspoons baking powder
1/4 teaspoon baking soda
1/2 teaspoon table salt
6 tablespoons (3 ounces) unsalted butter, cut into 8 pieces and well chilled
3/4 cup (6 3/8 ounces) buttermilk, cold
1 1/2 teaspoons pure vanilla extract
For the whipped mascarpone cream:
2/3 cup (5 5/8 ounces) heavy cream, cold
4 ounces mascarpone
2 tablespoons granulated sugar
1/2 teaspoon pure vanilla extract (optional)
For the assembly:
Sliced strawberries
Confectioners' sugar (optional)
Make the Biscuits:
1. Position a rack in the center of the oven and heat the oven to 425°F. Line a cookie sheet with parchment or a nonstick liner.
2. Whisk the flour, baking powder, baking soda, and salt in a large bowl until well blended. Add the cold butter pieces and, using a pastry blender, cut the butter into the flour mixture until the butter is pea-sized. (You can also do this step in a food processor using short pulses, scraping the blended mixture into a large bowl before proceeding.) Stir in any add-ins (see below), if using.
3. Pour the buttermilk and the vanilla over the flour and, using a silicone spatula, stir and fold until it forms a shaggy, moist, dough with some floury bits remaining. Scrape the dough and any remaining floury bits onto the counter and gently knead once or twice until the dough is evenly moist and holds together. Avoid overworking the dough or the biscuits will be dense.
4. Gently pat and shape the dough into a rectangle slightly larger than 6 x 4 inches. Using a large, sharp knife, slice off the raggedy edges to make a 6 x4-inch slab. Make sure to cut straight down and lift straight up as dragging the knife through the dough will pinch together the sides and interfere with rising. Cut the dough in half lengthwise and then in thirds across to form six squares, lightly flouring the knife between cuts, if needed. Arrange the squares upside down (this helps release any slight sealing of the edges and boosts the rise) about 3 inches apart on the prepared cookie sheet.
5. Bake until the tops are golden brown and the bottom edges are browned, 16 to 18 minutes. Move the sheet to a rack and let cool until warm enough to handle, about 10 minutes.
Make the whipped mascarpone cream:
1. In a medium bowl, combine the heavy cream, mascarpone, sugar, and vanilla, if using. Using an electric mixer, beat on low speed until the ingredients are combined, about 1 minute. Increase the speed to medium high and continue beating until the cream is thick and holds firm peaks, 30 to 90 seconds. Be careful not to over-whip or the cream will become grainy. Use immediately or cover and refrigerate up to 1 day.
Assemble the Shortcakes
1. Using a serrated knife, split the shortcakes in half crosswise and put the bottoms, cut side up, on individual serving plates. Layer on some strawberries, a good dollop of whipped cream and a few more berries and top with the other half of the biscuits. Dust with a little confectioners' sugar, if using, and serve immediately.
Make Ahead
Fresh and slightly crispy when they are just out of the oven, I think the biscuits are best served the same day they are baked, but it's still okay to bake ahead. Stow the cooled biscuits covered and at room temperature and, about an hour before serving, refresh them in a 350°F oven for 5 to 10 minutes.
---
Fun Variations
For the Biscuit
Stir one of the following into the flour-butter mixture before adding the buttermilk and vanilla:
3 to 4 tablespoons chopped crystallized ginger
1 teaspoon finely grated lemon or orange zest
1/4 cup (1 1/2 ounces) finely chopped chocolate or mini chips
1/4 cup (1 ounce) finely chopped nuts (please toast them first!)
For the Whipped Mascarpone Cream
Instead of using the mascarpone, use a total of 1 cup heavy cream. Make sure to whip the cream just before serving as it won't hold up for more than an hour.
Instead of the whipped cream, substitute a scoop (or two) of vanilla ice cream.
For the Fruit
Instead of the strawberries, use any combination of fresh berries or sliced stone fruits.
Instead of using freshly cut berries, toss the berries (or sliced stone fruit) with a few tablespoons of sugar and some grated citrus zest or chopped fresh mint and refrigerate for a few hours before serving.