Maybe you've got a half bag of chocolate chips in the pantry; or maybe you're craving chocolate chip cookies but you don't want the whole batch around. Here's your solution: a chocolate chip cookie baked in a pie plate, cut into wedges. Melted butter combined with brown sugar lend a butterscotchy flavor to this blondie-esque cookie. So easy, so delicious.

Makes 12 wedge cookies
1 1/3 cups (6 ounces) unbleached all-purpose flour
1/2 teaspoon baking soda
1/2 teaspoon table salt
8 tablespoons (4 ounces) unsalted butter, cut into 4 pieces
3/4 cup (5 1/4 ounces) firmly packed light or dark brown sugar
1 large egg, beaten
1 teaspoon pure vanilla extract
1 cup (6 ounces) semisweet or bittersweet chocolate chips

1. Position a rack in the center of the oven. Heat the oven to 350°F and lightly grease a 9-inch pie plate (I use Pyrex). Whisk the flour, baking soda, and salt in a small bowl until well blended.
2. Put the butter in a medium saucepan and set over medium-low heat, stirring occasionally, until it is melted, about 2 minutes. Slide the pan off the heat, add the brown sugar, and whisk until blended and no lumps of sugar remain. Using your fingertip, check the temperature of the mixture—it should be room temp but not hot. (If it's too hot, it could scramble the egg or melt the chocolate). If it's too hot, set the pan aside for a couple of minutes before continuing with the recipe.
3. Add the egg and vanilla and whisk until well blended. Add the flour mixture and stir with a spatula until blended. Add the chocolate chips and stir until just blended. Scrape the dough into the prepared pie plate and spread evenly.
4. Bake until the top is golden brown and a pick inserted in the center comes out with moist crumbs, 22 to 24 minutes. Move the pie plate to a rack and let cool completely before cutting into wedges.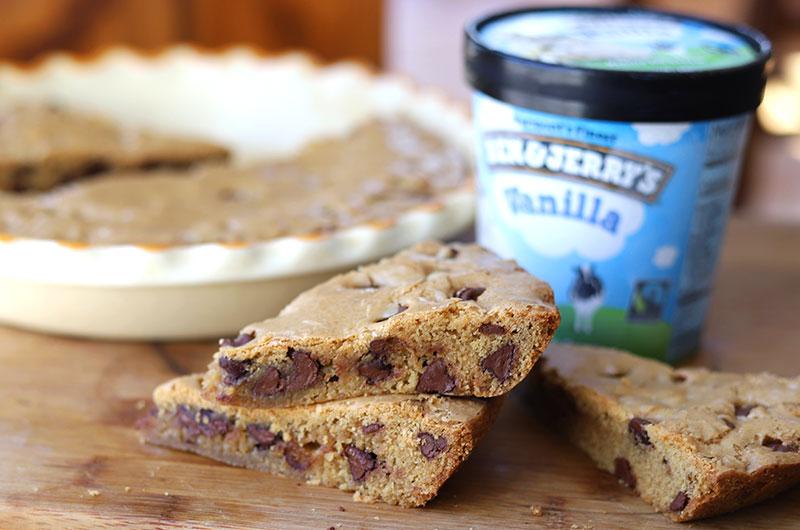 *