I love the provenance of this recipe. It came to me from my friend Sarah Jay, who shared it with Fine Cooking readers when Sarah and I worked at the magazine years ago. Sarah told us then (she now lives in Spain with her own kids) that bread and chocolate together is a popular after-school snack with Spanish kids.
Sarah took the idea and added a twist — olive oil and a bit of sea salt — that she picked up from celebrity chef José Andrés (yes the Andrés who is always the first to feed the hungry during a national disaster). I pass it along to you now not only because bread and chocolate are two of my favorite things, but because we could all use a simple and comforting snack.
Makes 4 slices
2 slices of a large rustic boule (or other artisan bread), cut in half to make 4 smaller slices
Extra-virgin olive oil
2 ounces bittersweet chocolate, very coarsely chopped
Sea salt (I like MV Sea Salt's premium salt)
1. Arrange an oven rack close to the broiler. Heat the broiler.
2. Arrange the bread slices on a sheet pan and toast them under the broiler until they are golden brown on each side.
3. Leaving the slices on the sheet pan, brush the top side of each slice with olive oil. Divide the chopped chocolate evenly and arrange it on top of the bread slices.
4. Turn off the broiler and return the bread to the oven. Shut the oven door, wait a minute or so, and check to see that the chocolate has softened nearly to the melting point. (If not, return to the oven for 30 seconds more).
5. Smooth the chocolate with a knife and sprinkle with sea salt. Serve right away while still warm.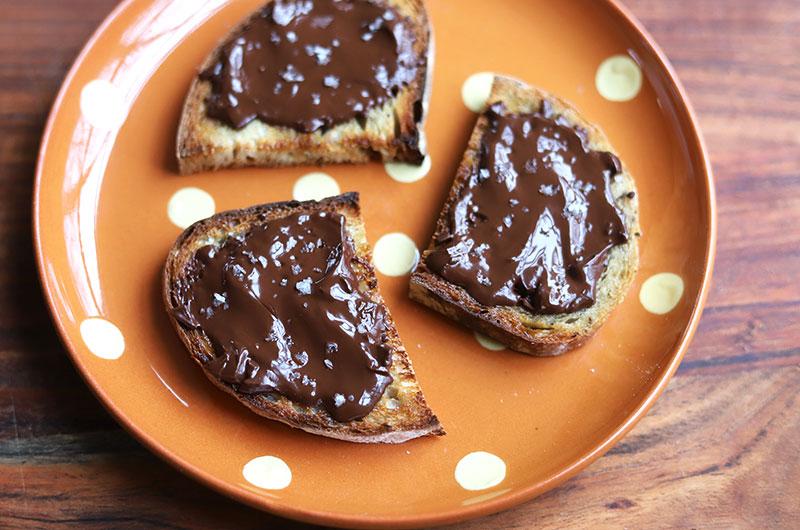 *