In our house we like crispy skin and meat that pulls away from the bone a bit, so we cook our chicken thighs (along with all the other delicious goodies on this sheet pan) about 40 minutes at 425 degrees F. The potatoes are perfectly cooked and the cherry tomatoes have given off most of their moisture and begun to caramelize. But there is wiggle room here so if you find you want to go for a slightly shorter or longer time (maybe you bought very large chicken thighs), or use a few less tomatoes, go for it. The garlic and thyme are optional, but be sure to keep the smoked paprika, which gives the potatoes a wonderfully smoky flavor.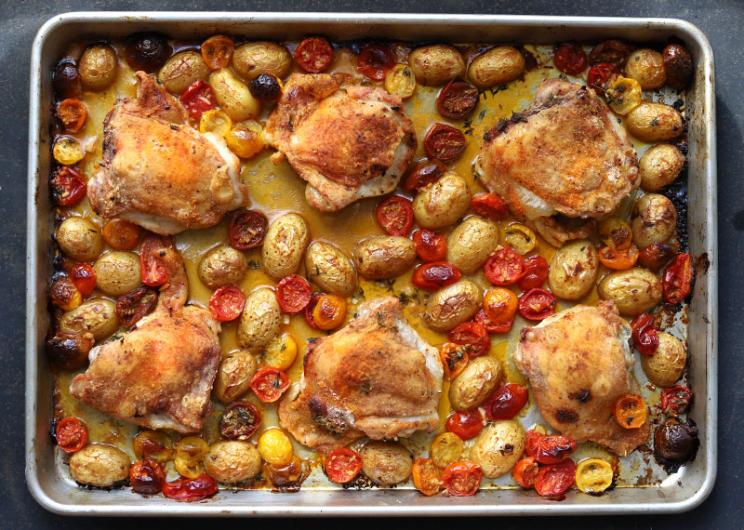 In the summertime, we make this with more veggies — including peppers and tiny eggplants from the garden — and less chicken thighs (four instead of six) to serve two instead of three. (Just FYI in case you are thinking of going in the other direction - more thighs - I wouldn't be tempted to put more than six thighs on one sheet pan. Any more and I'd go to two sheet pans, rotating the pans in the oven halfway through cooking. Expect slightlyl longer cooking time.). For the summery version, we also finish with lots of fresh herb leaves and a sprinkling of raw corn doused with lemon or vinegar and a bit of maple syrup.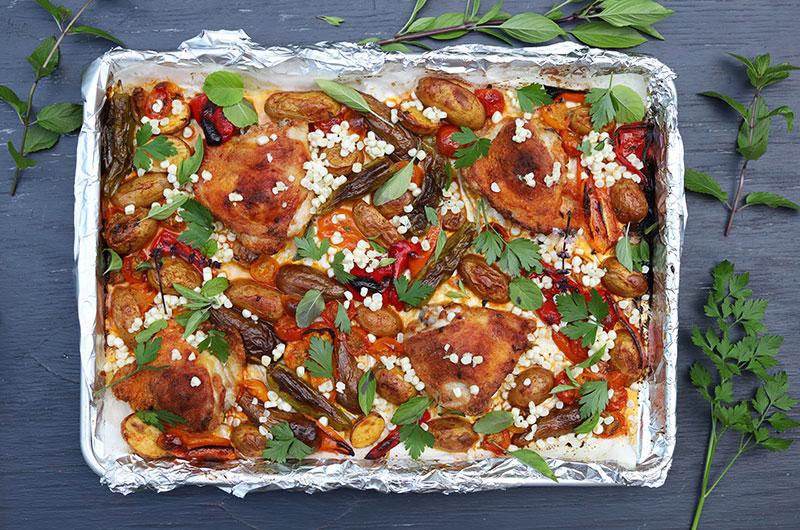 Any time of year, we like to serve this on or with a salad of hearty greens.
I resisted the urge to use parchment paper (which I am very fond of) in developing this recipe, and I found I didn't need it and clean-up was not bad. (Coating the sheet pan with a bit of oil first does the trick.) But if you want the very easiest clean up, cover the pan (all the way up over rims) in foil first and then lay down a sheet of parchment paper. (See summery version photo.)
Serves 3
Extra-virgin olive oil (about 2 tablespoons)
1/3 cup all-purpose flour
1 ½ teaspoons smoked paprika
1 tablespoon fresh thyme leaves (divided into 3 teaspoons)
6 skin-on, bone-in chicken thighs (about 2 ½ pounds)
Kosher salt
Pepper
12 ounces baby gold potatoes, cut in half
12 ounces colorful cherry tomatoes, cut in half
2 teaspoons minced fresh garlic
For serving:
Hearty greens or other salad ingredients and/or fresh corn kernels or pickled corn and summer herbs for summer variation
1. Heat oven to 425 degrees F. (Check your oven temperature with an oven thermometer. They are often off in one direction or another by 25 degrees.)
2. Rub a heavy-duty rimmed sheet pan (Tk x TK) with about 2 teaspoons oil.
3. Combine the flour, 1 teaspoon of the smoked paprika, and 1 teaspoon of the thyme leaves in a mixing bowl.
4. Season the chicken thighs with salt and pepper on both sides and dredge each one thoroughly in the flour mixture, shaking off excess. Arrange the chicken thighs evenly spaced apart on the sheet pan.
5. In a small bowl, toss the potato halves with 1 teaspoon of the thyme leaves, the remaining ½ teaspoon of smoked paprika, ½ teaspoon salt, and 2 to 3 teaspoons of extra-virgin olive oil (enough to coat them). Toss well and transfer to the sheet pan. Arrange the potatoes, cut-side down, around the chicken.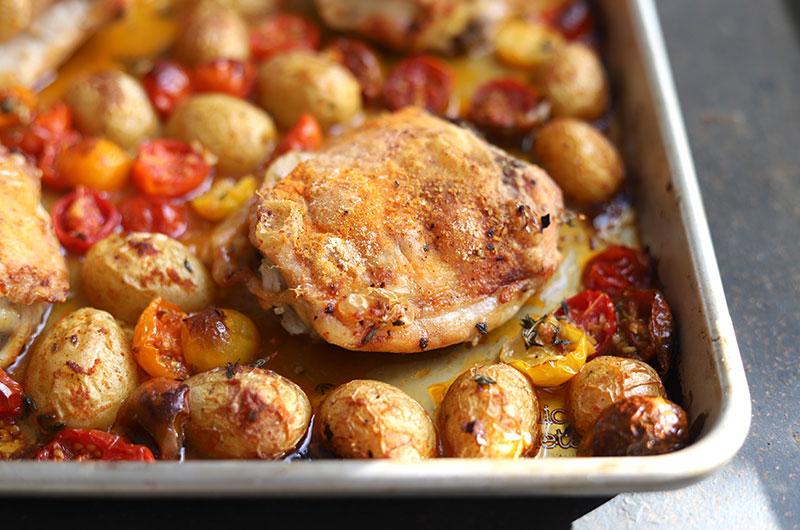 6. In another small bowl, toss the cherry tomatoes with the garlic, the remaining teaspoon of thyme, a pinch of salt, and about 2 teaspoons extra virgin olive oil. Transfer to the sheet pan, tipping the tomatoes out amongst the chicken and potatoes and tucking them into empty spots.
7. Roast the chicken and veggies for 40 minutes, or until the chicken is crisp and cooked through (at least 165 degrees) and the potatoes are tender. Serve warm with or over a hearty green salad. (Or sprinkle with corn and herbs for summery version.)
*