These high-rising savory scones can hold a place of honor at the breakfast, lunch, or dinner table. The scent wafting from the oven is swoon-worthy on its own, but one bite proves that they taste even better than they smell. Similar in texture to a biscuit, these tender, flaky scones come together quickly, making them a great side dish for weeknight dinners. (Be sure to buy buttermilk in advance!) I love them (smeared with butter, of course) with slow-cooker stew that's been simmering all day. But they are equally good next to eggs for brunch; you could also split them to make rafts for eggs benedict instead of using the more traditional English muffin.
This recipe is the fourth in our series on Cook the Vineyard called Baking Together. Be sure and check out our first three recipes: One Bowl Vanilla Cupcakes with Easy Milk Chocolate Frosting, Pumpkin Cream Cheese Tart with Crushed Pretzel Crust, and Butter Pecan Slice-and-Bake Cookies. )
We look forward to hearing from you about your experiences with this and every recipe. Tell us if you did anything differently. Did you change up the nuts or use thyme instead of the rosemary? A sprinkle of sea salt would make a nice topper. Maybe your sweet tooth kicked in and you omitted the cheese and added some sugar (3 or 4 tablespoons would be a good start). Or, instead of the rosemary and lemon, maybe you used orange zest and added chopped chocolate or chopped dried fruit (1/2 to 2/3 cup sounds about right). A splash of vanilla extract (up to 1 teaspoon) would be nice too. Give us the scoop in the comments section below and we will all learn from each other here on Cook the Vineyard.
Be sure and read the "Tips for Scone Baking Success" and the "Make-Ahead and Reheating Tips" below.
Makes 8 scones
2 cups (9 ounces) unbleached all-purpose flour
2 ¼ teaspoons baking powder
¾ teaspoon table salt
¼ teaspoon baking soda
6 tablespoons (3 ounces) unsalted butter, cut into 6 pieces and well chilled
2 ounces finely ground (about ½ cup) or finely grated (about 2/3 cup) Parmigiano Reggiano cheese
1/4 cup (1 ounce) finely diced walnuts, lightly toasted
1 teaspoon finely grated lemon zest
1 teaspoon finely chopped fresh rosemary
¾ cup (6 3/8 ounces) cold buttermilk, plus more to brush on

1. Position a rack in the center of the oven and heat the oven to 425°F. Line a cookie sheet with parchment or a nonstick liner.
2. Whisk the flour, baking powder, baking soda, and salt in a large bowl until well blended. Add the cold butter pieces and, using a pastry blender or two knives, cut the butter into the flour mixture until the butter is pea-sized. (You can also do this step in a food processor using short pulses, scraping the blended mixture into a large bowl before proceeding.)
3. Add the cheese, walnuts, lemon zest and rosemary and stir until blended. Pour the buttermilk over the flour and, using a spatula, stir and fold until it forms a shaggy, moist dough with some floury bits remaining. (I like to use one hand to help mix while keeping the other one working the spatula.) Scrape the dough and any remaining floury bits onto the counter and knead a few times until the dough is evenly moist and mostly holds together. Avoid overworking the dough or the scones will be dense.
4. Gently pat and shape the dough into a 6 1/2-inch-wide disk. Brush some additional buttermilk evenly over the top, if desired. With a large knife, cut the dough into 8 wedges. Arrange the wedges about 2 inches apart on the prepared cookie sheet. Bake until the tops are golden brown and the bottom edges are browned, 19 to 21 minutes. Move the sheet to a rack and let cool until just warm enough to handle, about 10 minutes.
5. Serve immediately or let cool completely, cover and stow at room temperature for up to 2 days; reheat in the oven or toaster oven (see tips below).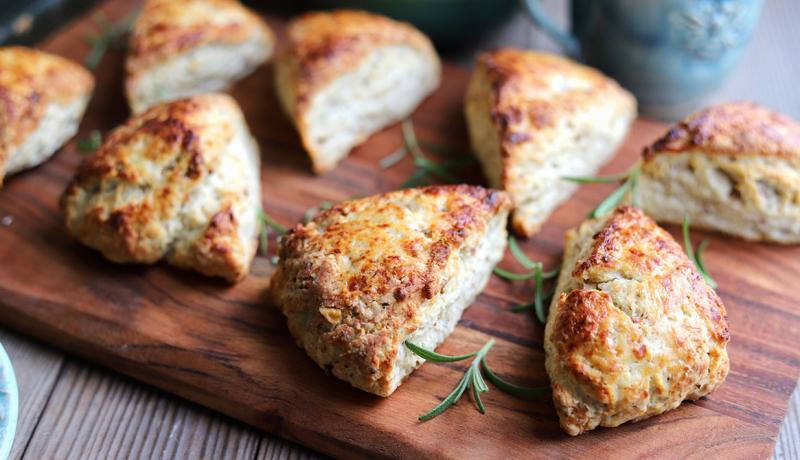 Tips for Scone-Baking Success
• You'll notice that baking recipes that call for butter cut into flour will always give a visual doneness test with the approximate size for the butter. This isn't random, as the butter size will directly affect the finished results. For a flaky, layered texture (like these scones), the recipe will call for butter cut into the flour until pea-sized. For a more tender, fluffy texture, the butter is worked into the flour until the mixture resembles coarse cornmeal.
• For the highest rise and lightest texture, make sure the butter and buttermilk are cold and handle the dough as little as possible. Make clean, up-and-down cuts into your scone disc when cutting the disc into eight pieces, because dragging the knife through the dough can pinch together the layers and inhibit the scone from rising quite as much.
• The sides of these scones develop a crunchy crust during baking. If you prefer softer scones, arrange the unbaked scones on the cookie sheet so they're almost touching. When they come out of the oven, cover them loosely with a clean dishtowel.
Make-Ahead and Reheating Tips
• Cut the butter into the dry ingredients and add the cheese, zest and nuts. Cover and refrigerate along with the additional measured buttermilk up to 1 day ahead. When ready to serve, proceed with the recipe while the oven heats.
• If you're not serving the biscuits immediately, cover the baked and cooled biscuits and stow at room temperature for up to 2 days. They can also be stowed in an airtight container and frozen up to one month. Pull out one or more scones and arrange on a lined cookie sheet while the oven heats to 300°F oven. Bake until warmed through, 15 to 20 minutes. They can also be split in half (crosswise, please) and toasted in a toaster oven or on a lightly greased griddle or skillet. Serve warm and with plenty of butter!
---
---
Plate in photo above by Island artist Leslie Freeman.