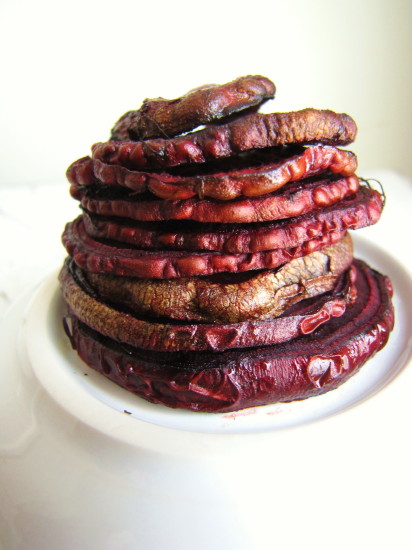 Quick-roasting beets might seem like an oxymoron, but it's not. While I love to roast beets slowly in the oven (I cut them into wedges, toss with herbs and shallots and oil and cover in foil in my
"walkaway" method
), sometimes I just want roasted beet slices for
a salad
or an appetizer. Long ago I figured out that you don't even need to peel beets before quick-roasting. Just slice them thinly, toss in oil and salt, and spread on sheet pans. They'll soften up in about 12 to 15 minutes, and then begin to crisp a bit. They will overcook though if you let them, so keep an eye on them and then experiment with how cooked you want them to be. The very thinnest will get the crispest.
Eat them right off the sheet pan, use them in salads, or make up a quick crostini with blue cheese and a few greens.
Makes enough for 4 small servings as a side or starter or enough for this Quick-Roasted Beet, Arugula, and Strawberry Salad.

1 pound (6 to 8 small/medium) beets (roots only, any color, unpeeled)
2 tablespoons grapeseed or olive oil
Kosher salt
1. Heat the oven to 425°F. Line two heavy-duty rimmed baking sheets with parchment paper or nonstick foil.
2. Using a sharp, thin-bladed knife, trim the ends of the beet roots and then slice each beet crosswise into rounds between 1/8- and ¼ inch-thick. (Don't use a mandolin, which would cut them too thinly). If the beets wobble around, cut a thin piece off the bottom to stabilize.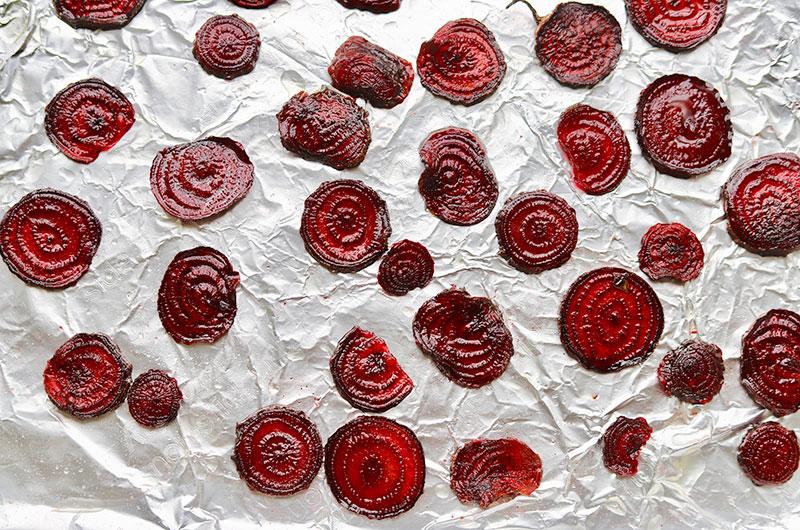 3. If you have both red and yellow beets, put them in separate bowls. Toss the beets with the oil and about 3/4 teaspoon salt. Spread the beets in one layer (preferably keeping the red and yellow beets separate) on the sheet pans and roast, flipping with a spatula once or twice (and rotating the pans in the oven), until tender, glistening, and shrunken, 14 to 18 minutes.