This quick and comforting egg dish is a great midweek supper. Use store-bought tomato sauce (I like RAO's) or your own if you've got it on hand. A slightly thicker sauce is ideal. I like to tuck a few sautéed artichoke hearts and a bit of spinach into the bottom of each ramekin. Fresh mozzarella, Parmigiano, and a bit of cream to cover the egg complete the package.
The recipe here serves two and I usually use two large ramekins (about 1 ¼ cups each), but you can double or triple this to make more for a crowd by using more ramekins or using one larger shallow baking dish.
Be sure your tomato sauce is hot when you add it to the ramekin. A 425° oven gets everything bubbly and the egg just about cooked (the yolk will be soft) in 12 to 14 minutes, but you can cook these a bit less if you like. We cut up big cubes of crusty bread or focaccia for dipping and we're ready to eat. I adapted this recipe from one I did for my cookbook, Simple Green Suppers (Roost Books, 2017).
Serves 2
1 tablespoon unsalted butter, more for ramekins
8 to 10 quartered canned (and well-drained) or frozen artichoke hearts
1 cup (loosely packed) baby spinach leaves, roughly chopped
Kosher salt
4 to 5 tablespoons finely grated Parmigiano Reggiano
2 ounces fresh mozzarella, thinly sliced (quarter first if a large ball)
1 scant cup best quality store-bought marinara, reheated until simmering hot (or your own homemade tomato sauce)
2 tablespoons heavy cream
2 large eggs
Red chile flakes or Aleppo pepper flakes
Coarse sea salt, such as MV Sea Salt
2 thick slices warm crusty bread (I like focaccia), cut into 2-inch chunks
1. Heat the oven to 425°F. Rub two 1 ¼-cup ramekins all over with a bit of butter.
2. Melt 2 teaspoons of the butter over medium heat in a medium nonstick skillet. Add the artichoke heart pieces (if frozen, it's okay if they're still partially frozen) and cook, pressing down with a spatula, until browned on one side, 4 to 6 minutes. Flip over and brown the other side, 3 to 4 minutes. Transfer the artichokes to the ramekins, evenly dividing them between the two and arranging snugly across the bottom. Add the remaining teaspoon of butter and the spinach to the skillet and cook, stirring, until the spinach is wilted. Transfer the spinach to the ramekins, evenly dividing between the two.
3. Add 2 tablespoons Parmigiano and a quarter of the mozzarella to each ramekin. Pour in the hot tomato sauce, dividing it evenly between the two ramekins. Crack an egg into a small bowl and transfer it to one of the ramekins. Repeat with the other egg and the other ramekin. Spoon one tablespoon of heavy cream over each egg and top each with the remaining Parmigiano and mozzarella. Season with chile flakes and a big pinch of sea salt.
4. Bake for 12 to 14 minutes, or until the sauce is quite bubbly and the top is browning in spots. (Store bought marinara will give off much more liquid than homemade so will bubble more. With homemade, you'll be able to jiggle the ramekin to see if the egg has mostly set.)
5. Let the baked eggs cook just a bit (they will be piping hot) and serve warm with the bread.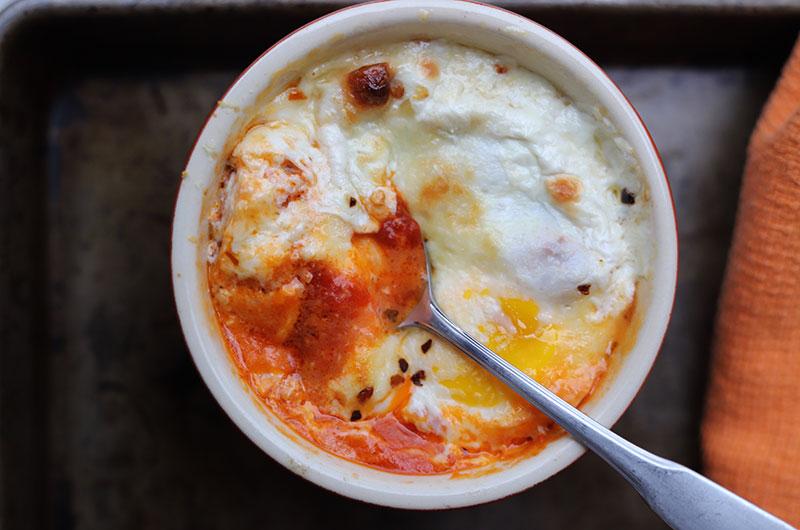 *