This pretty salad, adapted from one I created for my cookbook Simple Green Suppers (Roost Books, 2017), packs in the colorful nutrition with kale, sweet potatoes, and dark berries. If you want to up the protein content, add a big handful of cooked quinoa to the mix. And don't forget the nuts! Feel free to substitute other hearty baby greens for the kale, or raspberries for the blackberries.
Serves 4
1½ pounds (about 2 large) sweet potatoes (unpeeled), cut into sticks, 2- to 3-inches long and 3/8 to ½ inch wide
6 tablespoons grapeseed or olive oil
Kosher salt
1 tablespoon plus 1 teaspoon balsamic vinegar
1 tablespoon maple syrup
1 tablespoon blackberry or raspberry jam
1 tablespoon fresh lime juice
1/2 teaspoon Dijon mustard
4 to 5 cups (packed) baby kale leaves or other hearty baby greens
1 cup cooked quinoa (optional)
1/3 to ½ cup chopped toasted pecans or whole almonds
6 ounces (about 1¼ cups) fresh blackberries or defrosted frozen blackberries or raspberries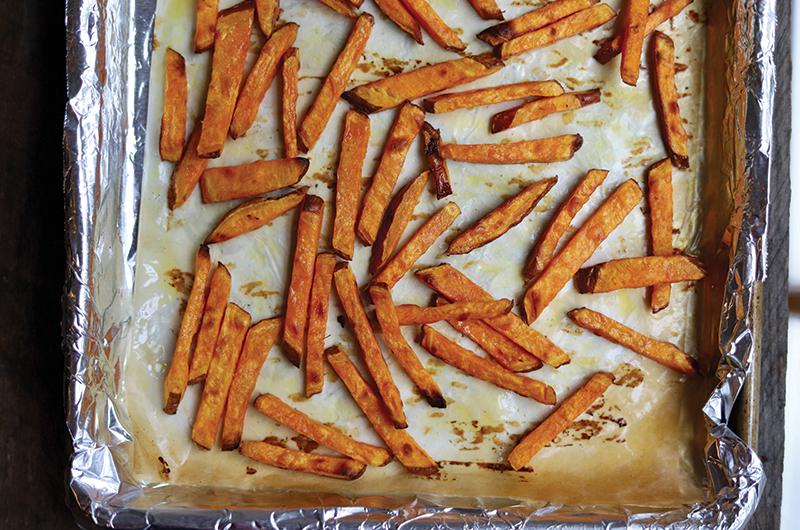 1. Heat the oven to 450 degrees. Line two heavy-duty rimmed baking sheets with parchment paper. In a mixing bowl, combine the sweet potatoes, 3 tablespoons of the oil, and 1 teaspoon of kosher salt. Toss well and arrange on the sheet pans. Roast, flipping once or twice with a spatula (and rotating the pans back to front), until the sweet potatoes are nicely browned in places and somewhat shrunken, 22 to 24 minutes.
2. In a small bowl, whisk together the remaining 3 tablespoons of oil, the balsamic, the maple syrup, the jam, two teaspoons of the lime juice, the mustard, and a big pinch of salt. The dressing should have an emulsified, creamy consistency and a rich, deep color. Taste and add more lime juice if you like – the flavor should be bright.
3. Put the kale leaves (or other greens) and a pinch of salt in a mixing bowl. Add 2 tablespoons of the dressing and use your fingers to massage the dressing into the greens and completely coat them. In a separate bowl, mix the cooked quinoa (if using) with 1 tablespoon of the dressing.
4. Arrange the greens on four dinner plates. Sprinkle a quarter of the quinoa (if using) over the kale on each plate. Arrange a quarter of the sweet potatoes on each plate. Sprinkle each salad with a little more salt, a quarter of the pecans or almonds, and a quarter of the berries. Drizzle the remaining dressing over each salad and serve.