This recipe makes enough stuffing to fill the turkey in the Roasted Turkey with Apple Cider Gravy recipe, the star of Michael Brisson's Thanksgiving Feast Menu. You can certainly make the stuffing without the spiced pecans, but they are delicious and they do double-duty as a pre-feast nibble. Make them up to two weeks in advance.

Yields 14 cups.
• 1-pound loaf sourdough or peasant-style bread
• 2 cups raw wild rice
• 2 teaspoons plus 1 tablespoon salt
• 3 tablespoons olive oil
• 2 medium onions, cut into small dice (1-1/2 cups)
• 4 large ribs celery, cut into small dice (1-1/2 cups)
• 2 small cloves garlic, minced
• 1-1/2 tablespoons chopped fresh sage
• 1-1/2 tablespoons chopped fresh thyme
• 1-1/2 teaspoons white pepper
• 3 Granny Smith apples
• 2 tablespoons butter
• 1 tablespoons sugar
• 1-2/3 cups apple cider
• 4 large eggs
• 3/4 cup homemade or low-salt canned chicken broth
• 1/2 recipe Spiced Pecans, coarsely chopped
Two days ahead:
1. Trim the crust from the bread and cut the remainder into 1/2-inch dice to get 6 cups. Spread the bread on baking sheets to dry overnight.
One day ahead:
1. In a large pot, combine the wild rice, 6 cups water, and 2 tsp. salt. Bring to a boil, reduce to a low simmer, cover, and cook until tender and the kernels start to open, 50 to 55 minutes. Remove from the heat, drain if necessary, and spread out to cool on a baking sheet.
2. In a large sauté pan, heat 2 tablespoons oil over medium-high heat. Add the onions, sauté about 4 minutes; add the celery and garlic and sauté until the onions are translucent, about 4 minutes. Remove from the heat and stir in the herbs, pepper, and 1 tablespoon salt. Cool in a shallow dish.
3. Meanwhile, peel, core, and dice the apples. Return the pan to the heat and add the remaining 1tablespoon oil and 2 tablespoons butter. When the butter sizzles, add the apples and sprinkle in the sugar. Sauté until the apples begin to brown, 5 to 8 minutes. Add 2/3 cup of the cider (reserve the rest), scrape up any brown bits, and let the cider reduce for 1 minute Pour the apples and liquid into the onion mixture and let cool completely.
4. In a large bowl, combine the rice, bread, and apple mixture. Refrigerate.
On the day of serving:
1. Bring the stuffing to room temperature. Whisk together the eggs, 1 cup cider, and chicken broth. Fold the liquid into the stuffing mixture and mix well. It will be fairly wet. Fold in the spiced pecans. Follow the directions for stuffing the turkey and baking the extra stuffing in a pan in the Roasted Turkey recipe.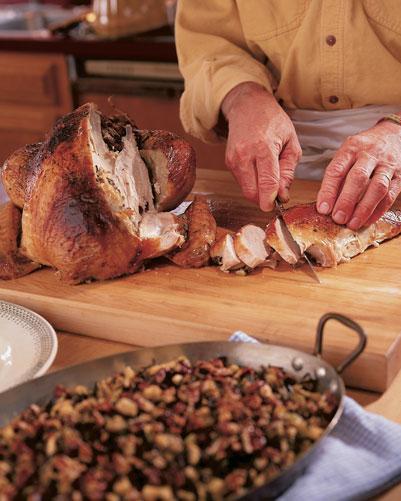 *