On its own, the flavor and texture of the deep chocolate base of this brownie is everything you could ever wish for in a fudgy brownie. What's even better is that this brownie mixes up in one pot, making it super-efficient and easy. While the brownie is stand-alone fabulous, I just couldn't let it, well, stand alone. It was calling for more—a complementary flavor partner and contrasting texture as well as a stunning presentation. Swirling lightly sweetened cream cheese batter into the base offered all of this and more without overcomplicating the recipe or compromising the original brownie. It's brownie 2.0.
This recipe is excerpted from The Everyday Baker (Taunton Press, 2015). Be sure to check out Abby's flavor variation suggestions at the end of the recipe.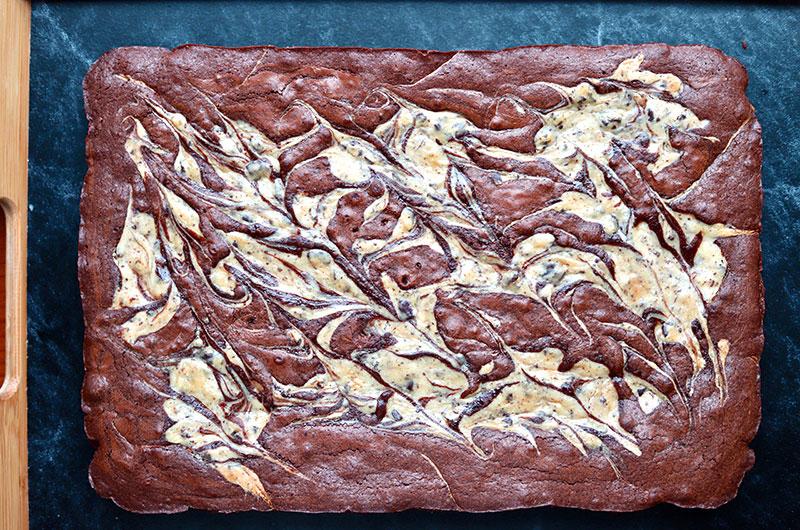 Makes 2 dozen square or 4 dozen triangle brownies
For the cream cheese swirl
8 ounces (227 g) cream cheese, softened
1/4 cup (1 3/4 ounces/50 g) granulated sugar
2 teaspoons unbleached all-purpose flour
1 yolk from a large egg
1 1/2 teaspoons pure vanilla extract
1/3 cup (2 ounces/57 g) finely chopped bittersweet chocolate or mini chips
For the brownies
Nonstick cooking spray or softened butter, for preparing the pan
24 tablespoons (12 ounces/340 g) unsalted butter, cut into 10 pieces
1 1/4 cups (3 3/4 ounces/106 g) unsweetened natural cocoa powder, sifted if lumpy
2 cups (14 ounces/397 g) granulated sugar
3/4 cup (5 1/4 ounces/149 g) firmly packed light brown sugar
1/2 teaspoon table salt
4 large eggs, at room temperature
1 teaspooon pure vanilla extract
1 2/3 cups (7 1/2 ounces/213 g) unbleached all-purpose flour
Make the cream cheese filling
1. Put the cream cheese, sugar, and flour in the bowl of a stand mixer fitted with the paddle attachment (or in a medium bowl using an electric handheld mixer fitted with wire beaters) and beat on medium speed until creamy and no lumps remain, about 2 minutes.
2. Add the yolk and vanilla and beat on medium until blended, about 1 minute.
3. Add the mini chips and beat on low speed just until blended.
Make the brownies
1. Position a rack in the center of the oven and heat the oven to 325°F. Line the bottom and sides of a 9 x 13 x 2-inch baking pan (I like the straight-sided kind) with foil, leaving about a 2-inch overhang on the short sides. Lightly grease the foil.
2. Put the butter in a large saucepan and set over medium-low heat, stirring occasionally, until it is melted, about 2 minutes. Slide the pan off the heat, add the cocoa powder, and whisk until the mixture is smooth. Add the granulated sugar, brown sugar, and salt and whisk until blended and no lumps of brown sugar remain. Using your fingertip, check the temperature of the batter—it should be warm but not hot. If it's hot, set the pan aside for a minute or two before continuing with the recipe.
3. Add the eggs, two at a time, whisking until just blended. Add the vanilla with the final egg addition. Add the flour and stir with a silicone spatula until just blended.
4. Scrape the batter into the prepared pan and, using a small offset spatula, spread evenly. Drop the cream cheese mixture in medium-sized dollops evenly spaced over the batter. You should have a total of 12 dollops. Using the tip of the offset spatula, swirl the batters together, leaving large streaks of cream cheese.
5. Bake until a toothpick inserted in the center of the brownie batter comes out with only small bits of brownie sticking to it, 44 to 46 minutes. Move the pan to a rack and let cool completely, about 3 hours.
6. When the brownie is completely cool, use the foil edges on the short sides of the pan to lift it from the pan. Invert onto a cutting board and carefully peel away the foil. Turn the brownie so it is top-side up. Run a thin, long knife under hot water, wipe it dry, and, using a long ruler as a guide, cut into 24 squares (cut each square into two triangles, if desired), heating and wiping the knife after every cut.
---
MAKE AHEAD TIP
The baked, cooled, and cut brownies can be layered between sheets of parchment or waxed paper in an airtight container and stowed at room temperature for up to 5 days or frozen for up to 1 month.
---
CHANGE-UPS AND OPTIONS
Flavor Swaps
Almond swirl: Reduce the vanilla extract to 1/2 teaspoon and add 1/2 teaspooon pure almond extract. Instead of the mini chips, use 1/3 cup (1 3/8 ounces/39 g) chopped, toasted slivered almonds
Mocha swirl: In a small ramekin, stir together 2 teaspoons instant espresso powder and the vanilla until dissolved. Instead of the flour, use 1 tablespoon unsweetened natural cocoa powder (sifted if lumpy).
Nutty brownie: Stir in 3/4 cup (3 3/4 ounces/106 g) chopped, toasted nuts to the brownie batter and continue as directed.
Finishing Touch
Just before baking, sprinkle the top with a little coarse sea salt.