While I love a hearty frittata, filled with potatoes or pasta, enhanced with sautéed leeks or mushrooms, and always plenty of cheese, I also appreciate a super-quick mini-frittata that's mostly greens and a bit of cheese. It's perfect for a quick veggie supper for one person, or two can eat it with a bowl of soup or a big salad. This one combines very thinly sliced kale (or collard greens), feta, and a little chorizo, but you could substitute spinach and goat cheese (or a combination of goat cheese and Parmigiano) if you preferred. If you've got an 8-inch nonstick skillet, you're in business, and this will be ready in less than 20 minutes. Heat your broiler before you start your sauté since the cooking happens fast.
Serves 1 to 2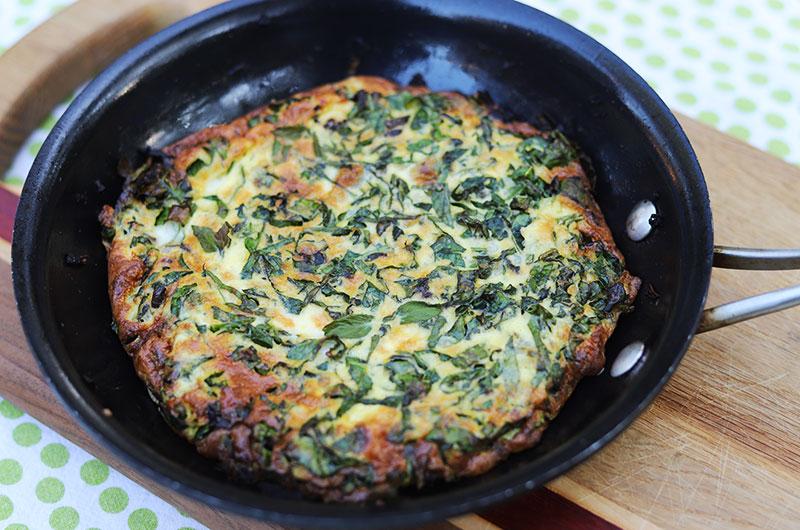 3 large eggs
1/4 cup half 'n half
1 1/2 teaspoons sliced fresh mint
Kosher salt
Freshly ground pepper
4 tablespoons crumbled feta cheese
2 teaspoons olive or grapeseed oil
2 teaspoons unsalted butter
2 tablespoons finely chopped dry-cured chorizo
Red pepper flakes
2 cups very thinly sliced mature kale or collards (ribs removed first, loosely packed)
Sour cream or Greek yogurt for garnish (optional)
Quick-pickled peppers, corn or onions for garnish (optional)

1. Heat the oven broiler to high and arrange an oven rack 4 inches from the broiling element. Whisk together the eggs, half 'n half, mint, ½ teaspoon salt, and several grinds of pepper in a medium mixing bowl. Stir or whisk in the crumbled feta.

2. In an 8-inch nonstick skillet, heat the oil and butter over medium heat. Add the chorizo and a pinch of red pepper flakes, and cook, stirring, for about 2 minutes, or until the chorizo is starting to crisp. Add the sliced greens and a big pinch of salt and cook, stirring, until the greens are wilted, about 1 minute. Continue cooking for another minute, pressing the greens against the pan so that some of them begin to brown a bit.

3. Carefully pour in the egg mixture and slide a silicone spatula around the edges of the pan and across the mixture a few times to arrange the veggies and cheese evenly. Then leave the mixture undisturbed on the burner for about 2 minutes, until the edges look like they are beginning to set (and you might see a few bubbles in the custard.)
4. Transfer the frittata to the oven and broil until the middle is set and the frittata is nicely golden brown in most places (the edges will be puffed up), about 3 to 4 minutes (it happens fast!). Let cool for 5 to 10 minutes before slicing and eating. This frittata, like all baked egg dishes, tastes better the longer it sits.
---

Variation Note: Pictured in the photo below is a frittata in the same size pan with the same amount of custard (eggs & half 'n' half) as the Little Kale Frittata, but with one generous cup of leftover Carrots, Peas & Pearl Couscous with 1/3 cup shredded cheddar cheese as the filling.
-