This noodle dish is a summer variation on Chinese Egg Noodles with Baby Bok Choy and Sugar Snap Peas in Spicy Coconut Broth. The sauce (more like a broth) is so good and so easy that once you've got it in your repertoire, you'll probably find yourself using it for all kinds of different weeknight dishes. Feel free to add a few shrimp or some shredded cooked chicken if you like, too.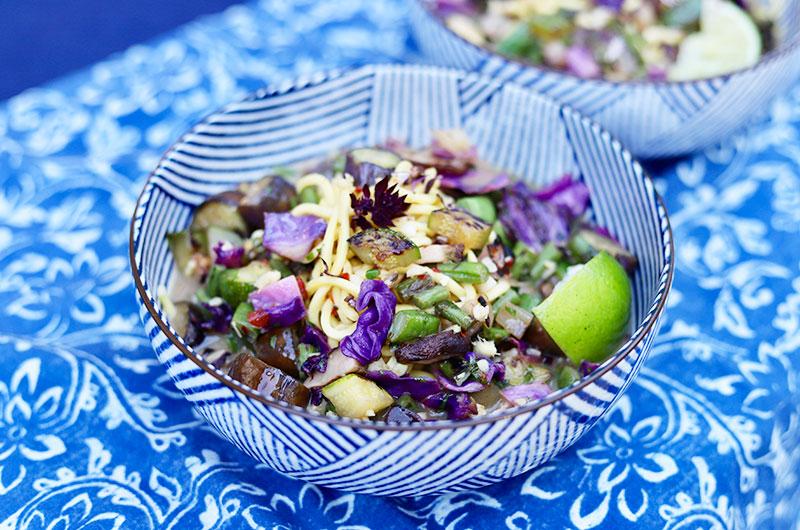 In this recipe, if you portion the noodles four ways and pour the broth and vegetables around them, this serves four. If you combine the noodles in the stir-fry pan with the veg and broth, a couple of hungry eaters can eat the whole thing.
Fresh Chinese egg noodles (lo mein) are available in the produce section of Cronigs' Market.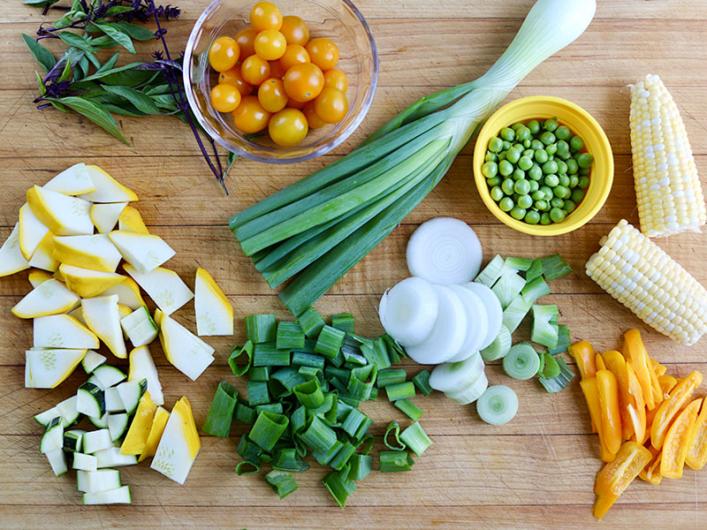 NOTE: I recently made yet another variation on this with summer squash, spring onions, yellow bell peppers, corn, and peas. I sauteed the squash first and set it aside, then sauteed the onions and peppers and added in the corn and peas with the garlic and ginger towards the end. I took note of the fact that I used a total of about 6 1/2 cups vegetables. So if you are improvising, 6 to 7 cups diced or chopped veg is a good amount to aim for. No matter what you do with the vegetables, folow the noodle directions and make the sauce as directed and you will have a delicious, bright-tasting dish!
Serves 2 or 4

8 ounces fresh Chinese egg noodles (lo mein)
Kosher salt
2 tablespoons plus 1 teaspoon vegetable oil
3/4 cup organic (not lite) coconut milk or cream, well mixed
2 tablespoons low-sodium soy sauce
2 tablespoons fresh lime juice, plus lime wedges for serving
1 tablespoon maple syrup
2 teaspoons Asian chili-garlic sauce
1 cup thinly sliced green beans
2 cups stemmed and sliced shiitake mushrooms
3 cups large-diced or thick-sliced summer vegetables (choose from zucchini, eggplant, bell peppers, green or red cabbage, kale, Swiss Chard, collard greens or corn)
1 tablespoon chopped fresh ginger
2 teaspoons chopped fresh garlic
3 tablespoons chopped fresh cilantro, more sprigs for garnish
1/4 cup thinly sliced scallions for garnish
1. Bring a large pot of salted water to a boil. Add the egg noodles and cook until tender, about 3 minutes. Drain, rinse briefly, and let dry a bit. Transfer to a bowl and toss with a big pinch of salt and a teaspoon of oil.

2. In a large glass measure or bowl, whisk together the coconut milk, 1 1/4 cups water, the soy sauce, the lime juice, the maple syrup, and the Asian chili-garlic sauce.

3. In a large (12-inch) nonstick stir-fry pan or deep skillet, heat 1 tablespoon of the oil over medium-high heat. Add the beans, the mushrooms and 1/4 teaspoon salt, and cook, stirring occasionally, until the veggies are browned and a bit shrunken, 6 to 8 minutes. Transfer the veggies to a plate. Add the remaining 1 tablespoon oil, the 3 cups of mixed vegetables, and 1/2 teaspoon salt. Cook, stirring, until all the veggies are nicely browned and tender (turn up the heat if they are steaming, rather than browning), about 8 to 10 minutes. (If you are using mostly greens, the time will be less. Add corn only in the last minute of cooking.) Reduce the heat to medium, add the garlic and ginger, and cook, stirring, until fragrant, about 30 seconds. Add the beans and mushrooms back into the pan, along with the coconut-milk mixture. Stir well and cook until heated through, 2 to 3 minutes. Remove the pan (carefully) from the heat and stir in all the cilantro.

4. Distribute the egg noodles between four soup bowls. Ladle the broth and veggies over each and garnish with the scallions. Alternatively, add the noodles to the pan of veggies and broth, toss well and serve in two or three portions.