Slow-roasting beefsteak tomatoes takes time, but the results are the most deeply flavored summer treat you could ever imagine. (And they freeze well so you can taste summer later!) Don't skimp on the cooking time—you want the tomatoes to be a rich brick red color and to be quite collapsed. (If you're in a rush and have plum tomatoes or small sandwich tomatoes, use the quick-roasting method, which involves higher heat and seeding the tomatoes, but delivers delicious results in under an hour.) This recipe is really just a technique; you can use whatever amount of tomatoes you have as long as you don't crowd your sheet pan too much. If you have a lot of medium-sized tomatoes and a few really huge ones, consider cooking the big ones on a different baking sheet — you will want to cook them a little longer.
Yields 12 to 16 tomato halves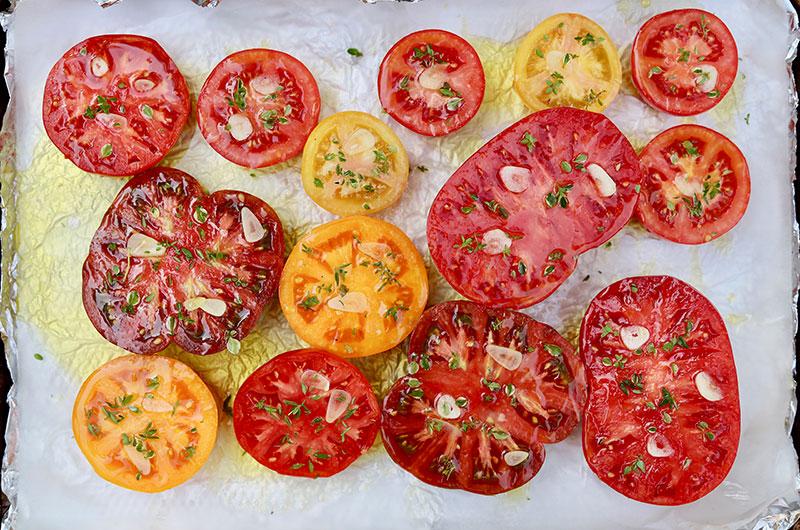 2/3 to 1 cup extra-virgin olive oil
6 to 8 large or medium-large beefsteak tomatoes
Kosher salt
Sugar
Balsamic vinegar
2 to 3 garlic cloves, thinly sliced
2 to 3 tablespoons fresh thyme or oregano leaves
1. Heat the oven to 325 degrees. Cover a large rimmed baking sheet with heavy-duty aluminum foil and then a piece of parchment paper. (The foil will make clean-up easier).
2. Drizzle a few tablespoons of the olive oil over the parchment and distribute it so that the parchment is coated.
3. Cut the tomatoes in half and arrange them on the sheet pan. Season each with a little salt and a little sugar. Spoon just a few drops of balsamic vinegar on each tomato. Arrange 2 or 3 garlic slices on each tomato and sprinkle with herb leaves.
4. Gently pour the remaining olive oil over all of the tomatoes.
5. Roast the tomatoes, rotating and checking every hour or so, until they are very caramelized and collapsed, about 3 hours. The very largest may want even more time, and the longer you can cook them, the more moisture will evaporate, but you may want to turn your oven down a notch so that they don't get too dark on the outside.
6. Serve the tomatoes warm or at room temperature as a condiment or a side dish. Or chop or slice them to use as a pizza or toast topping or an ingredient in just about anything you want to taste better. You can also freeze them in layers between parchment or wax paper in a tightly sealed container for a few months.