Savory vegetable pancakes have a little bit of everything to love. For these ones, I lightly sauté the corn and zucchini first, and I add cornmeal to a fairly traditional pancake batter. (The batter will sit for a bit if you want to make it ahead.)
Most recently I made these with some chopped green coriander seeds added to the batter. And I didn't have a serrano pepper on hand so I thinly sliced a few shishitos I had. The point is that they are fairly flexible as long as you keep the amounts of ingredients in the right proportions.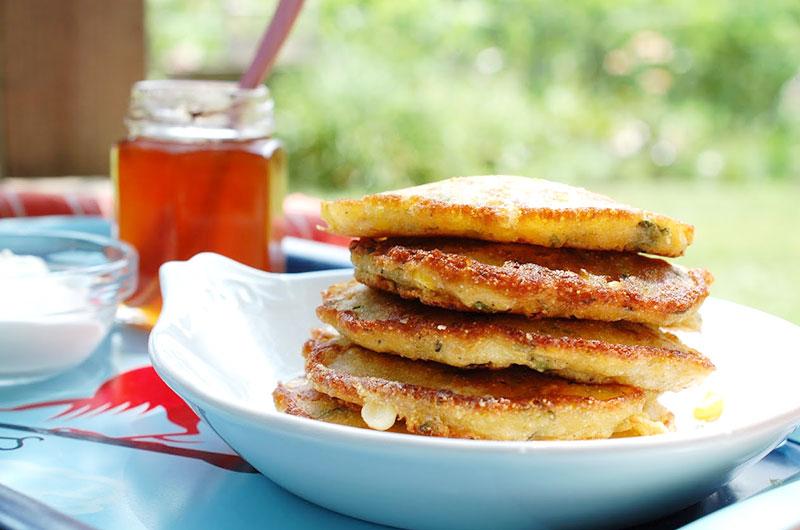 I usually serve the pancakes with either honey and yogurt or honey mixed with melted butter. But you could also use them as a bed for grilled or roasted meat.

Makes 12 pancakes
3 tablespoons unsalted butter, plus more for frying and/or serving
1 tablespoon olive oil, plus more for frying
1 1/2 cups small-diced zucchini (about 1 medium-small)
Kosher salt
1 1/4 cups fresh corn kernels (from about 2 large ears)
1/2 cup sliced fresh scallions
1/2 to 1 teaspoon minced fresh serrano peppers
Freshly ground black pepper
2 tablespoons chopped fresh flat-leaf parsley or cilantro (or a combination)
2 tablespoons sliced fresh chives
1/2 cup plus 1 tablespoon all-purpose flour
1/2 cup cornmeal
2 teaspoons sugar
1/2 teaspoon baking powder
1/2 teaspoon baking soda
1 large egg, beaten
2/3 cup whole milk
2 tablespoons thick Greek yogurt or sour cream, plus more for serving if desired
Local honey

1. In a medium (10-inch) heavy, nonstick, ovenproof skillet, heat 1/2 tablespoon of the butter with the olive oil over medium-high heat. Add the zucchini and a big pinch of salt and cook, stirring occasionally, until the zucchini are shrunken and starting to brown, about 3 minutes. Add another 1/2 tablespoon of butter, the corn, scallions, serranos, and 1/2 teaspoon salt. Cook, stirring occasionally, until the corn kernels are glistening and some are slightly shrunken, 2 to 3 more minutes. Remove the pan from the heat, season the veggies with fresh pepper, and transfer to a mixing bowl. Let cool to room temperature, stirring occasionally. Stir in the parsley and chives.

2. In a medium bowl, whisk together the flour, cornmeal, sugar, baking powder, baking soda, and 1/2 teaspoon salt.

3. Melt the remaining 2 tablespoons butter (in the microwave or on the stovetop) and let cool slightly. In a small bowl, whisk together the egg, milk, 2 tablespoons yogurt, and the melted butter. Make a well in the center of the dry ingredients and pour in the liquid mixture, whisking until they are just combined. Combine the batter with the vegetable herb mixture and stir well. Let the batter sit for 5 minutes or up to 30 minutes.

4. In a large nonstick skillet, heat about 1/2 tablespoon butter and 1 tablespoon olive oil over medium heat. When the butter has melted and is bubbling, use a quarter cup measure to scoop batter into the pan, forming 3 pancakes. Cook for about 2 minutes, until the pancakes are golden brown on the bottom (bubbles will appear on top), then flip. Cook for 1 minute more. Transfer to a paper towel-lined plate and keep warm in a low oven, if desired. Repeat with the remaining batter, adding butter and oil as necessary, and turning the heat down as necessary.

5. Serve warm with dollops of Greek yogurt and a generous drizzle of honey or a drizzle of melted butter and honey mixed together.