Chef Ben DeForest's classic tomato and corn soup delivers huge summer flavor from a handful of ingredients. It's a quintessential August summer dish, perfect for serving to house guests, friends or family. Tip: learn how to cut corn off the cob safely.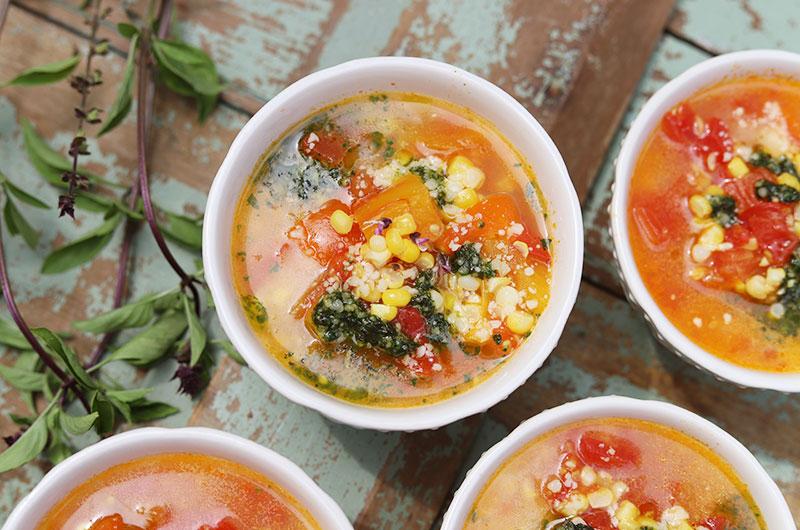 Serves 4 to 6
6 medium ripe beefsteak tomatoes, diced
4 medium-large ears of sweet corn, shucked
1 tablespoon butter
Kosher salt
Freshly ground pepper
¼ cup torn fresh basil leaves or 2 to 3 tablespoons basil oil or pesto
2 ounces (or a bit more) coarsely grated Parmigiano Reggiano
1. Slice the corn kernels off of the cobs and set aside.
2. In a medium Dutch oven or other pot, combine the cobs with 4 cups of water. Add a pinch of salt. Bring to a boil, lower to a very gentle simmer, cover loosely, and simmer for about 40 to 50 minutes, or until the liquid is reduced by about half. Keep a close eye on the pot; you'll want to keep the lid just cracked and the simmer at very low so that the water does not reduce rapidly.
3. Strain the corn broth, discarding the cobs, and return it to the pot. Add the tomatoes (and any liquid), the reserved corn kernels, butter, and salt and pepper to taste. Bring to a boil, remove from the heat, and let sit five minutes.
4. Stir in the torn basil leaves (if using), divide among soup bowls, and garnish generously with the Parmigiano. If using basil oil or pesto instead of the torn basil, swirl some into each soup bowl (and then garnish with the Parmigiano). Serve right away.
Cooking With Heart: Saturday Night at the Red Cat Kitchen