You won't believe how crowded the pan is when you first load it up with all these veggies; but with this great technique, the veggies will slowly soften, brown, and shrink into a delicious tangle of deep flavor. The browning will speed up in the second half of cooking, but don't jump the gun and stop the cooking too soon. Just stir more frequently and really let everything get a deep brown color for the best flavor.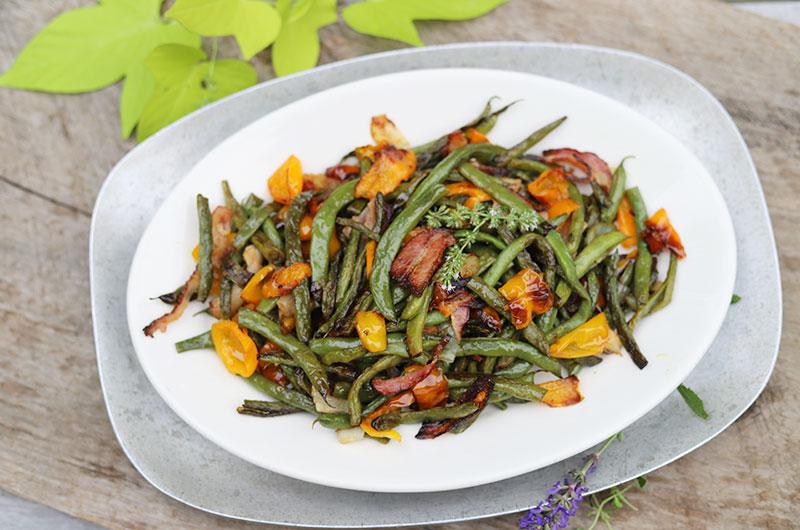 Slow-sauteing is such a great method for cooking late-summer garden green beans that this gets a regular weekly rotation in our house. We love a variation where we use applewood smoked bacon in place of the prosciutto and bell peppers and shallots in place of the shiitakes and garlic. (Use equal amounts of the substituted ingredients by weight. We like thyme instead of rosemary in this version.)
Serves 4
2 teaspoons maple syrup
2 teaspoons sherry or white balsamic vinegar
3 tablespoons extra-virgin olive oil
1 pound green beans, trimmed
7 to 8 ounces shiitake mushrooms, stemmed and halved (or quartered if large)
8 cloves garlic, peeled and halved
2 ounces thinly sliced prosciutto, chopped or torn into small pieces
4 medium sprigs fresh rosemary
Kosher salt
In a small bowl, combine the maple syrup and vinegar.
In a large (12-inch) nonstick skillet, heat the olive oil over medium heat. Add the beans, mushrooms, garlic, prosciutto, rosemary, and 1 teaspoon salt. Toss well with tongs to coat. Cover the pan and cook, stirring occasionally, until all the green beans have turned bright green, are beginning to turn brown, and have begun to lose their stiffness, 10 to 12 minutes. Uncover and cook, stirring more frequently, until all the beans are very deeply browned (the mushrooms and garlic will be browned and tender, too), 15 to 17 more minutes.
Remove the pan from the heat and taste a bean and a mushroom for salt. Season lightly if necessary (the mushrooms may have absorbed more of the salt). Stir in the maple-vinegar mixture. Remove the rosemary sprigs and transfer to a serving platter or plates. Eat right away.