Bouillabaisse is a traditional French fishermen's stew that's usually served with crusty bread and a garlicky sauce called rouille. Kay Goldstein adapted this recipe from one written by Jonathan Reynolds for The New York Times many years ago. That version featured chicken and clams (delicious if you want to go that route), but Kay most often makes this one with local, fresh seafood. Pick up store-made-stock while you're at the fish market, too. You can make the base for the bouillabaisse ahead, then reheat and add seafood just before serving. This recipe first appeared with this article.
Serves 8
For the base:
1/2 teaspoon saffron threads
Zest of one lemon (about 1 teaspoon)
Juice of one lemon
1/4 cup extra virgin olive oil
3/4 cup coarsely chopped onions
3/4 cup coarsely chopped fennel
1/2 cup peeled, coarsely chopped carrots
2 tablespoons minced garlic
12 ounces chorizo sausages (can substitute andouille), cut into 1-inch lengths
1 28-ounce can plum tomatoes, diced or finely chopped (keep liquid)
4 cups fish stock (not bottled clam juice)
1/2 cup dry white wine
1 to 2 tablespoons chopped fresh herbs (choose from thyme, basil or tarragon)
1/4 teaspoon cayenne
1 1/2 pounds medium Yukon gold potatoes, scrubbed and cut into 1-inch pieces, or fingerling potatoes, scrubbed and halved lengthwise
2 tablespoons Pernod (optional, or other anise-flavored liqueur)
Salt and pepper to taste
For the fish and seafood:
Choose four of these, depending on what looks good in the market.
24 littleneck clams
1 1/2 pounds extra large (16-20 count) shrimp
1 1/2 pounds firm-fleshed white fish such as halibut, monkfish, sea bass or cod, cut into 2-inch pieces.
1 pound squid cleaned and cut into rings and tentacles
2 pounds scrubbed mussels or 1 pound scallops
For serving:
1 recipe rouille (below)
A crusty baguette for serving
To make the bouillabaisse base:
Combine the saffron threads and the lemon juice in a small bowl and let sit for 5 to 10 minutes. Heat the olive oil over medium heat in a large heavy bottomed pot or Dutch oven. Slowly sauté the onions, fennel and carrots until soft and lightly golden. Add the garlic and stir and cook until fragrant and softened, about 1 to 2 minutes. Stir in the chorizo and stir and cook again for another 1 to 2 minutes. Add the saffron with the lemon juice, the lemon zest, the tomatoes, the fish stock, white wine, 1 tablespoon of the chopped herbs, cayenne and potatoes to the pot. Simmer uncovered until the potatoes are almost done. (At this point you can let the base sit and make your rouille.)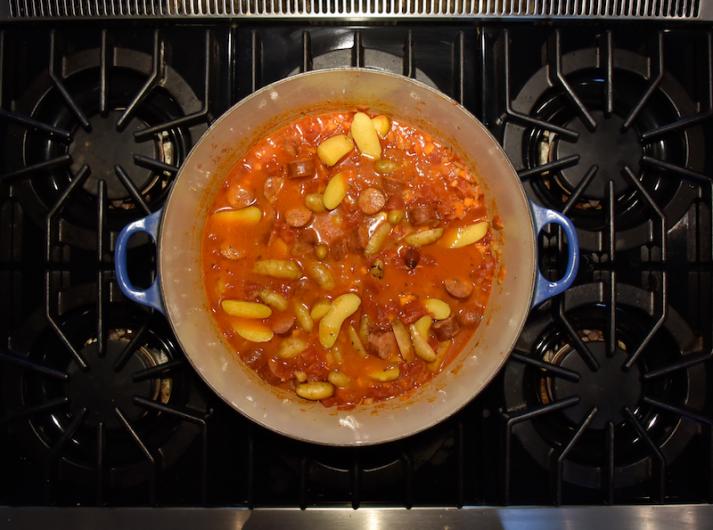 To cook the seafood and finish:
Bring the base back to a good simmer; don't boil as that will cook the seafood too quickly, breaking the fish apart and toughening the shellfish. Depending on what seafood you've selected, begin adding according to how long each will take to cook. Add any large clams first, pushing them down into the broth. Just as the larger clams are opening, add the shrimp, then the fish, the smaller clams, and then the squid. Adjust the heat to keep it simmering when each ingredient is added. This isn't hard, but it takes a little practice to get the feel for getting everything done at the same time.
When all is done, taste for salt and pepper, and add pernod (or other liqueur) if you like. You might not need any salt at all. Have warm shallow bowls ready. Choose some of each seafood ingredient and portion out in each of the bowls. Ladle the base over the seafood. Garnish with chopped fresh herbs and serve. Pass the rouille and the bread.
Rouille
Rouille is a French mayonnaise sauce, similar to an aioli but with a kick of spice. Instead of making it, you could also pick up store-bought aioli at an Island specialty grocer and stir in some Tabasco or cayenne. Kay makes hers with a bit of cooked potato after she makes the base for the bouillabaisse.
1/4 cup cooked peeled potato (from your bouillabaisse or cooked separately)
1/4 cup liquid from the bouillabaisse (or fish stock or other stock or broth)
2 cloves peeled garlic
1/4 teaspoon smoked paprika or paprika
1/8 to 1/4 teaspoon cayenne
1 large egg yolk
1/2 cup extra virgin olive oil
Put potato, cooking liquid, garlic, paprika, and cayenne into a blender or mini food processor. Blend until the mixture is smooth. Add the egg yolk and pulse briefly to combine. Then, as the motor runs, slowly pour in the olive oil to form a mayonnaise-like consistency. Add salt to taste.