Sweet and tangy at the same time, this crisp has an intense flavor and an excellent crunchy topping. Be sure to cook it until the topping is nice and golden (about 45 minutes). I love to make this in a ceramic quiche dish or in a 2-quart oval gratin dish, but a 2-quart Pyrex baking dish will work too. Serve with vanilla ice cream.
Feel free to make the crisp with other summer fruit, especially stone fruit like peaches and plums (photo below).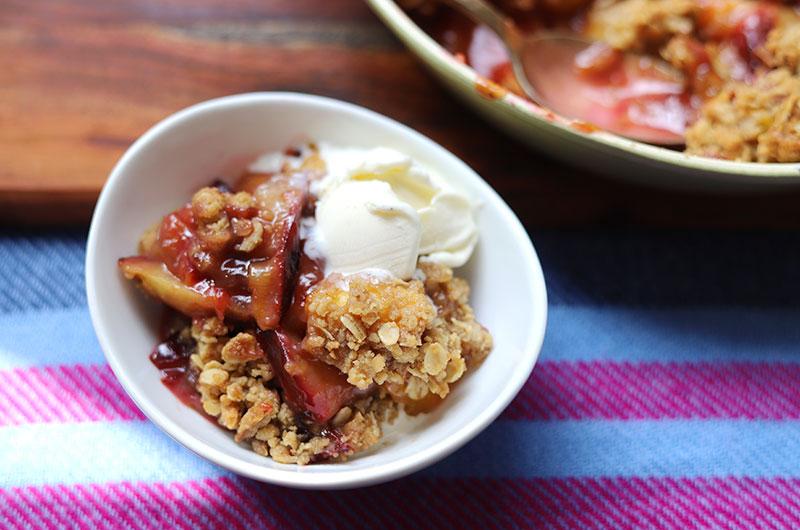 Serves 6
For the topping
8 tablespoons unsalted butter, softened, more for baking dish
1 cup all-purpose flour
¼ cup finely chopped toasted pecans
½ cup light brown sugar
½ cup oats
¼ teaspoon kosher salt
¹⁄8 teaspoon cinnamon
¹⁄8 teaspoon ground ginger
For the filling
2 ½ cups quartered strawberries

2 ½ cups thick-sliced rhubarb stalks

(cut 1/2-inch thick)
½ cup plus 2 tablespoons sugar
3 tablespoons unbleached all-purpose flour
2 tablespoons finely chopped crystallized ginger
2 teaspoons pure vanilla extract
1 teaspoon balsamic vinegar
¼ teaspoon salt
Ice cream, frozen yogurt, or heavy cream for
serving (optional)

1. Heat the oven to 350°F. Rub a shallow 2-quart baking dish or large ceramic quiche dish all over with a little butter.
2. In a medium bowl, combine all the ingredients for the crisp topping and mix together with your fingers until well-combined into large "crumbs."
3. In a large bowl, combine the filling ingredients and mix thoroughly. Arrange the filling mixture in the baking dish and top evenly with the crisp mixture. (Arrange topping only one layer deep. If there is too much crisp topping for more than one layer, freeze the topping for another use.)
4. Bake the crisp until the topping is firm and golden, about 45 minutes. (The juices will have been bubbling around the edges for a bit.) Let cool for 15 to 20 minutes and serve warm with ice cream, frozen yogurt, or heavy cream.
Recipe by Susie Middleton, Fresh From the Farm: A Year of Recipes and Stories